Salty Trends for 2011 in the U.S.
Published: Tuesday, January 18th 2011
by Amy Sung
---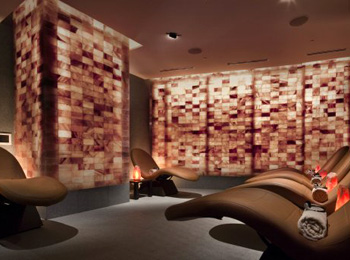 The phrase "pass the salt" has been worn down by the healthy notion to pass on salt altogether, but now, at the spa, taking in salt through inhalation in salt caves and salt rooms is a hot spa trend on the rise. Salt therapy is now being rediscovered at modern spas all over the country.
Basking in salt caves (a centuries-old Eastern European healing tradition) at modern spas is being more widely recognized as a natural therapeutic option to help with respiratory illnesses like asthma, skin conditions like psoriasis and eczema, and even cystic fibrosis. Discover 14 salt spas across the U.S. below, and why they might help ease what ails you, or just make you feel better overall!
SpaFinder's Susie Ellis' predictions for salt spa trends in 2011 include:
•         Stylish new salt rooms/caves at larger stay spas: i.e., salt-drenched grottos or hyper-modern rooms comprised of salt blocks
•         Dedicated day "halotherapy" centers, many with children's rooms
•         Spas using technology recreating natural cave microclimates (infusing pure salt/negative ions in air)
•         Home salt-inhalation devices on rise
•         Attractive to spas, given no therapist costs
•         More "salt time" integrated with massage, yoga, etc.
Here are some salt spas or spas that have salt rooms in the U.S.:
Chicago has many salt therapy spas because of its dense Polish population:
Colorado:
California:
New Jersey:
Florida:
Virginia:
New York City:
Massachusetts:
Nevada:
Do you know of any salt spas in your area? Let us know in the comments section, and read more about the science behind salt therapy and SpaFinder's visit to NYC's Halo/Air!