Ready, Set, Spa in Sedona!
Published: Monday, December 12th 2011
---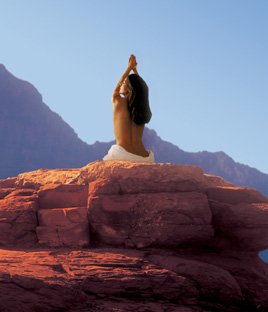 Set to welcome more than 2,500 runners to the Sedona, Arizona, area, along with their family and friends, the 7th Annual Sedona Marathon will be taking place on Saturday, February, 4, 2012. Good Morning America named Sedona one of the Top 10 most beautiful cities in the United States, and runners will get to see why as they sprint through the Coconino National Forest District, known for those renowned red rock formations, and then onto the streets of Sedona, which has become a sizzling spa hub. Whether you are headed there to run or just to take in the scenery, what better way to enjoy a mini-vacation than to take a trip to one of the many fabulous spas Sedona has to offer? Live in the area? Take a spa stay-cation!


Mii amo a Destination Spa at Enchantment – A heavy-hitter in our 2011 Reader's Choice Awards, Mii amo was voted Best Boutique Hotel, Best Cuisine, Best of Hiking, Best of Mind-Body-Spirit, Favorite Spa Manager (Chris Bird) and Best for Yoga.  Whether you're looking to relax and unwind, wine and dine or just get adventurous, Mii amo is the perfect destination for your trip to Sedona.
A Spa For You – Worn out after the marathon? Heal your body with sports massage!
Sports Rebound: Created as the perfect balance of integrative, Swedish and deep tissue massage, this treatment will prepare you for that long hike or relax, recover and rejuvenate thereafter. 60 min: $95 / 90 min: $125
Hilton Sedona Resort and Spa – Voted Best Fitness Program in our 2011 Readers' Choice Awards, this is one of the best places to get ready for the run of a lifetime.
Athlete's Advantage: Whether you golf, play tennis or just like to keep fit, improve your game with an hour of personal training and a 50-minute massage of your choice. Approximately two hours: $165
Sedona Rouge – Sit back and relax at this gorgeous hotel and spa; after the marathon, or just after hiking around, enjoy one of Sedona Rouge's services and unwind.
Desert Renewal: Experience the mystical landscape of ancient volcanoes, red rock towers shaped by eons of desert rain and highly conscious healing plants that have helped shape Sedona. To begin, your body is cleansed with purifying volcanic ash, then you are wrapped in a poultice of native, wild-harvested antioxidant and immune-stimulant herbs. A massage application of regenerative butter cream ends this service. 90 minutes $190
For even more fun events for the family, romantic dinner ideas for couples and some great information for those going solo, check out Sedona Monthly.
For more information on how to register or volunteer for the 2012 Sedona Marathon, go to www.sedonamarathon.com.