Six Senses to Open at Hotel Missoni Kuwait
Published: Tuesday, May 17th 2011
---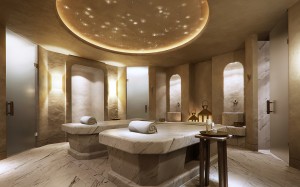 Six Senses Spa will debut at the five-star Hotel Missoni Kuwait in early summer, and we've decided from the look of just the photography that this spa is going to be a stylish addition designed to entice both body and mind. Makes perfect sense to us.
Here's a quick snapshot of the spa and hotel, with its prime seafront setting and interior design overseen by fashion powerhouse Rosita Missoni.
Spa makeup: 1,500 square meters; 13 treatment rooms, including two hammams, separate areas for men and women, and a bridal room with salon, pedicure and manicure stations
Spa menu: Think signature Six Senses treatments and traditional Asian therapies combined with organic, ingredient-rich (dates, olives, Arabic spices) treatments that are a nod to the surroundings.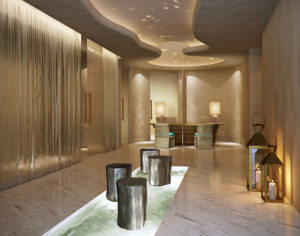 Spa treatments you should ask for: The Sweetness Dates, a two-pronged ritual of a body polish with rice and Arabic herbs and a warm honey and date wrap, or the Gulf Spices Ritual, which begins with a detoxifying ginger- and Gulf Sea salt-infused bath followed by a massage with frankincense essential oil.
Wellness options: Fitness center with a co-ed and ladies-only gym, yoga studio, experience shower, sauna and steam rooms; private and group yoga, Pilates and meditation.
It's all in the design: The spa's natural fabrics and materials complement Six Senses' signature style; inside the hotel you'll find Missoni's trademark stripes, zig-zags, patterns and bold colors intermingled with gold and mosaic accents.
Other assets we want to share: Detoxification, weight loss and health retreats that mix spa treatments with personal training, spa cuisine and wellness activities are also available.
Location, location, location: Located at Kuwait's fashionable Symphony Center in Salmiya, on the famed Arabian Gulf Road, the hotel is within close distance to the city's shopping district.