6 Healthy "R's" of Taking the Waters
Published: Tuesday, February 22nd 2011
---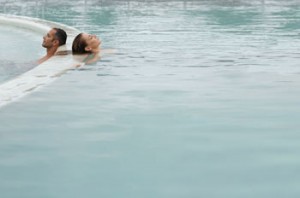 The once-popular practice of soaking in thermal waters is staging a comeback, as spa-goers rediscover the benefits of "taking the waters." It's a tradition that has as of late taken a backseat to weight-loss, beauty, and fitness — and even the world's most famous couple Brad and Angelina are part of this renaissance. (Talk about trend-setting!)
Spa-ing around thermal springs dates as far back as the Middle Ages, as spa-goers tapped into the idea that thermal waters were therapeutic. Aachen, a reveled residence of Charlemagne in Western Europe, was a fashionable bathing/healing place at this time; during the Renaissance era, towns like Spa, Belgium, Baden-Baden, Germany, and Bath, England, ascended around natural thermal waters. Closer to home, Franklin Delano Roosevelt actually built his Little White House in Warm Springs, Georgia, in 1932 so he could swim in the area's mineral-rich springs, as an attempted antidote to his polio.
Bathe in the Benefits
This renewed respect for sanitas per aquas is largely due to the said benefits associated with thermal springs. Soaking in these "healing waters" does more than relax! Healthful benefits include these additional six "R's":
•Releases endorphins, the hormones that help our wellbeing because they boost the immune system, relieve pain and stress, and can leave us in a euphoric state.
•Reduces stress as the heat gets the body's natural sedating substances flowing, causing muscles to relax.
•Raises body temperature therefore eliminating germs and viruses. As the heat causes sweating, it eliminates toxins.
•Reinvigorates blood circulation, which also rids the body of toxins, as well as fuels vital organs, tissues, and cells with oxygen and nourishment.
•Relieves aches and pains, including arthritis. The waters act as a stress buster (as well as a massager) to joints, thus increasing mobility and soothing muscles.
•Reopens nasal/breathing passages and cleans out lungs, allowing better ability to breathe.
Testing the Waters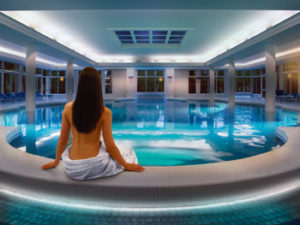 Hot spots for taking the waters include Abano Grand Hotel in Padova, Italy, where guests rejuvenate in three pools of varying temperatures and a steam cave, as well as revitalize with spa treatments, all of which utilize natural thermal waters fed from springs located on the property's grounds. The five-star hotel and its Anti-Aging Thermal Spa don't water down on the luxuries either, offering you an extensive spa menu, including kinesitherapy and medical therapies and fango treatments, Louis XV-style accommodations, and easy access to some of Italy's renowned cities. Lush olive groves, palms, and tropical foliage surround the three pools, providing an idyllic oasis to unwind.
You can also soak it all in at places such as the luxury Terme di Saturnia Spa & Golf Resort in southern Tuscany, or the charming Safety Harbor Resort and Spa, nestled atop five natural springs along the Tampa Bay shoreline—where Hernando de Soto thought he discovered the Fountain of Youth. The spa, which uses its mineral waters in treatments, its drinking water, and swimming pools, will celebrate its Wellness through the Water ritual, a 90-minute treatment combining an Espiritusanto mineral bath and hydrating wrap, during SpaFinder Wellness Week™.