Falling in Love with CastaDiva
Published: Tuesday, July 6th 2010
---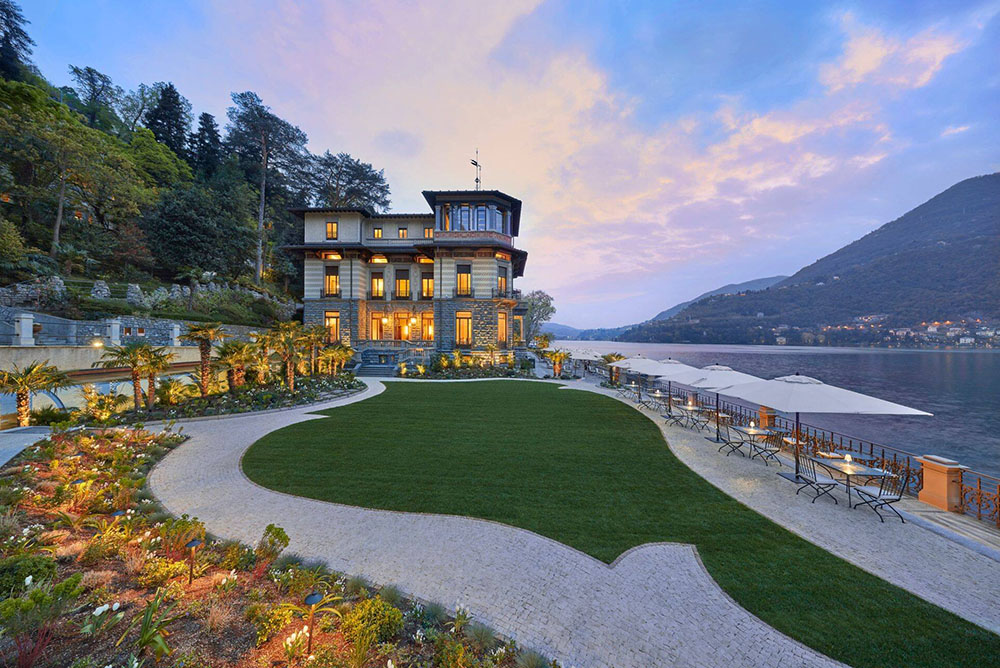 Less than an hour north of Milan lies a stunning, historically rich, brand-new luxury resort and spa that played host to my recent whirlwind weekend adventure in early June. CastaDiva Resort is named for the famous opera soprano Giuditta Pasta (who was composer Bellini's muse) and is located in Lake Como, Italy, a magical summer playground for great artists, celebrities, international soccer stars, and often lovingly nicknamed "Lake Clooney" for being home to debonair every-ladies man actor George Clooney. (Yes, I snuck a peek at his villa during a lake tour!)
CastaDiva Resort, located in the village of Blevio, is a marvel. It is the first five-star luxury resort in Lake Como in 100 years. The décor throughout the nine villas is neo-classical and magnificently regal in the deep reds, silks, and rich textures in the rugs, bold-colored curtains, and furniture, as well as the dark woods and fine details. Savory lake vistas are present throughout the villa (including from every room), which is hard not to get used to.
The main villa, "RoccaBruna," is part of the original estate, which had belonged to the opera diva who regularly entertained famous guests. It was built in the 18th-century and is not only the heart and soul of the resort, it also provides the main services including dining, bar, and spa. My incredible suite in Villa RoccaBruna, one of nine guest villas, was a duplex (and about five times the size of my NYC apartment) with two bathrooms, an enormous balcony overlooking Lake Como and the resort's unique floating pool, a living room and flatscreen TVs– I had to keep pinching myself. Thanks to very gracious hosts, wine and Prosecco were flowing all weekend long, and every meal (prepared by world-class chef Paolo Casagrande) was a work of art – gourmet cuisine with Italian and Mediterranean influences.
My Spa Day…Italian-Style
My spa experience at CastaDiva was fittingly spectacular as well. To reach the spa, I simply walked out my room, and down the stately circular staircase where I was welcomed warmly. I enjoyed the VIP Spa Suite Earth, one of the four exclusive spa experiences devoted to nature's elements. This treatment room was essentially a cabin-like grotto, where I enjoyed a wonderful oil massage. The massage had followed a fantastic mud wrap treatment where a thin but luscious material (comprised of seaweed extract, herb extract, menthol, and eucalyptus) was painted all over my body. I then layed across a warm tile shelf in a steam bath room and waited 15 minutes while the ingredients were absorbed by my skin. My massage therapist then gently brushed off the mud with warm water.
Next, I sat cozily in the relaxation area of my private suite on a huge, heated water bed while I sipped tea. The beauty of the spa suite is that there's no need to change rooms when you receive another treatment. It is ideal also for couples.
Later, I enjoyed the spa's exclusive wet area – pure eye candy and unique bliss! The discovery of the thermal circuit (my first time anywhere) and such gorgeous spa interiors (designed by Bodega Progetti) was unforgettable. I experienced it all including a stunning mosaic Turkish bath, Mediterranean sauna, Finnish sauna, Kneipp circuit, a Himalayan salt room, sensory shower with music therapy, aromatherapy, an indoor pool, and more. It was a VIP spa experience to say the least. In addition, the spa also features a fitness area with equipment by TECHNOGYM. Upon exiting the salt room, guests can go directly outside to experience the floating pool on the lake– a marvel in itself, to be floating on the lake, while floating in the pool.
From the service and cuisine to an opera excursion and lake tour by speedboat to the uniquely modern spa with an array of hydrotherapies – CastaDiva provides? a distinctive, luxurious holiday – which will surely make it a modern classic.
CastaDiva Preview Specials
Before the resort's grand opening in September, while CastaDiva is in 'preview', several excellent deals are being offered, including one for spa-lovers. Long before Clooney, the Italians were living and loving like a CastaDiva amid a magical setting. The views…the aromas… the supreme relaxation at the spa, on the lake and poolside, create pure pleasure for all the senses. I can't wait to return with my someone special because while CastaDiva embodies sophistication and the sensory experiences are unsurpassable, what also makes this refined resort on the magical, breathtaking Lago di Como is how incredibly romantic it is. Plus, there are six golf courses for him…and more spa for me!
Most recent from Editors' Picks