SpaFinder's "What Does Wellness Look Like?" Photo Contest Live on Facebook
Published: Wednesday, March 7th 2012
---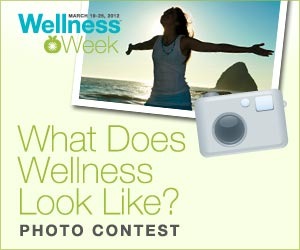 A relaxing yoga pose. A quiet shoreline. A day at the spa. What does wellness look like to you? If you haven't already entered our "What Does Wellness Look Like?" Facebook photo contest, now's your chance to share your answer for a chance to win amazing spa and wellness prizes!
From now until March 25th, SpaFinder Facebook fans can upload an existing photo or take a new one, and describe how it represents wellness to them. Whether it's a soothing sunset, a healthy dish you made, or a pet that brings you joy, it can be absolutely anything that shows your definition of wellness. If you aren't a SpaFinder Facebook fan, don't fret, just click "like" and you too can enter to win! Once you enter make sure you "thumbs up" your favorite photos for the Viewer's Choice Award, the photo with the most likes, who will win a $250 SpaFinder Gift Certificate plus, a Wellness Goodie Bag filled with books, CDs and spa and wellness products!
Another Grand Prize winner will be decided by a distinguished panel of judges and will be awarded a $250 SpaFinder Gift Certificate plus a Wellness Goodie Bag.
Three second prize winners will receive $25 SpaFinder Gift Certificates and a Wellness Goodie Bag.
You must be at least 18 years of age to enter. Need more details? Read the Official Rules. Good luck and be well!