A Tale of Two Spas: Girlfriends Getaway to SoCal
Published: Thursday, March 29th 2012
in Beauty
---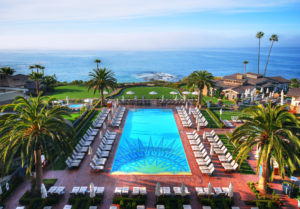 One of the main reasons to escape to the spa is to de-stress. And what better way is there to relax than with your BFF? Social spa-ing was where the spa scene began (think back to the days of the Roman baths.).
Whether it's quality spa time spent with mom, sis, or best friend, a girlfriends' getaway, mother-daughter spa getaway or couple's getaway is a therapeutic solution for relaxation.  It can also be a motivational jump start to help lead you on the path to wellness (who better to push you during a tough exercise class than your best bud?) as well as the chance to set aside quality relaxation time together. (Read further for tips for an enjoyable girlfriends' getaway.)
So when the opportunity for a California trip arose one wintry afternoon, I quickly packed my bathing suit, sunblock and twin sis, and the two of us headed for a spa girlfriends getaway in the dreamy SoCal climate.
A Pair of Twins at a Pair of Sister Montage Spas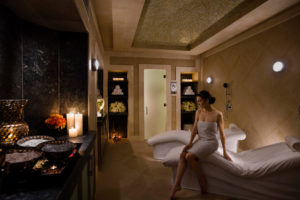 Our travels took us first to Montage Beverly Hills, followed by its sister property, Montage Laguna Beach (Montage Deer Valley resides in Park City, Utah). While the hotels stem from the same brand, each offers a slice of individuality – though are identical in copious luxury. The decadence is all the more apparent with Spa Montage, available at both locations.
Montage Beverly Hills
Adjacent to Rodeo Drive, the Montage Beverly Hills is the haute couture hotel of the Montage brand. This frequent haunt of celebrities poses an air of understated elegance, embodying a Spanish-Revival architectural aesthetic evocative of the '20s and '30s, with arresting columns, arched windows, ornate mosaic walls, manicured gardens and carved fountains. Scarpetta restaurant is the epitome of stylish, Mediterranean-inspired sophistication, where seasonal Italian dishes, under the direction of Chef Scott Conant, are an epicurean work of art, and neutral-toned interiors reflect the earthy vibe of the cuisine. Guest suites like ours are exquisitely adorned, from the private balconies that usher in warm California sunlight and the marble bathrooms with LCD TVs, down to the finest detail of stitched monogrammed pillowcases.  The rooftop pool deck affords its own splendor, with views stretching from the Hollywood sign and beyond.
An A-List Spa and Surrender Treatment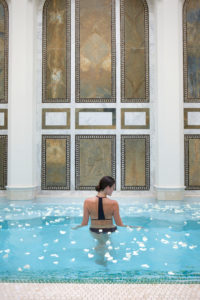 Spa Montage, imbued in Moorish charm, bejeweled with flecks of bronze and deep blue and fashioned with stunning mosaic-tiled intricacies, including tiled fireplaces in relaxation lounges, expands over two stories of symbiotic 9th-century Andalusian-Spanish elegance. Though there are separate men's and women's saunas, steam rooms and whirlpools, a co-ed mineral pool is available to spa-going couples, or, in our case, spa-going sisters.
My spa therapist sits me in a cozy corner of the pool's relaxation area with a cup of herbal tea for an "Elements Prep" session, a precursor to the signature Surrender (120 mins). Surrender is a custom program created together by spa-goer and spa/fitness therapist based upon body type and health issues. Together, we run down my list of concerns from a lengthy questionnaire and conference about recommended treatments, which include a Kneipp-like ice wrap (oh my!).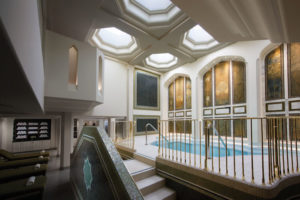 Surrender begins with a hydromassage in a jetted tub; though my massage is an enticing one, as detoxifying elements like salt and algae are sprinkled into the water, my glance continuously shifts to the oversized bowl of ice water where a full-size bed sheet was soaking. I slip out of the tub to the massage table and, after wringing out the ice-cold sheet, my therapist expertly wraps me in it. The ice wrap is definitely the most daunting of treatments I've tried thus far in my spa career, but my body automatically goes into survival mode, and I warm up quicker than I expect, as my therapist tightly tucks dry towel after towel around me. An insightful reflexology session follows.
Montage Laguna Beach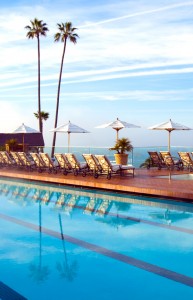 Situated in an artsy seaside town, but no less spectacular, Montage Laguna Beach resides on a 30-acre bluff, with sparkling Pacific Ocean vistas. The coastal, albeit plush, property delivers its own designer quality, though with a more laidback beach-y vibe befitting of its locale. Interiors are an expression of unassuming chic, offset by an arts and crafts style and plein air landscapes; guest accommodations such as our own bring their own panache, with feather-top beds, Irish cotton towels, marble bathrooms and, in some cases, Catalina Island views.
Montage Laguna Beach is a fountainhead for living well. A mélange of dining options showcase the season's freshest coastal California ingredients. Loft restaurant, where we enjoyed Chef Casey Overton's tasting menu with wine pairings, is an appealing epicurean adventure, while the signature Studio, fusing French fare with a regional twist, uses elements from the 1,000-square-foot garden just outside the restaurant. Indoors, airy interiors feature floor-to-ceiling windows and an artistic vibe that, similar to Scarpetta, echoes the cuisine. The Lobby Lounge, crowded with locals and guests who come for the live music and spirits, plays a dual role: It sets the tone for an entertaining Montage evening, or provides a flawless finale to one.
Life's a Beach…and I Surrender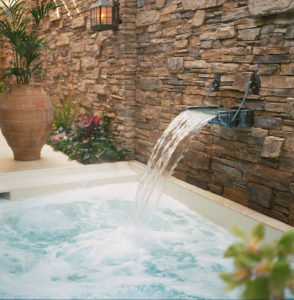 Laguna's Spa Montage embodies the dreamiest wellness lifestyle; the oceanfront spa centerpiece features separate men's and women's grotto-like areas enveloping whirlpools, saunas and steam rooms. The spa pool, where a healthy lunch from Mosaic Bar and Grille tempts taste buds, and fitness areas, like the yoga movement studio, thoughtfully face the ocean. (Let's be honest: An intense workout or an invigorating private yoga session is much easier when you're overlooking calming sea views!)
My Beverly Hills therapist had considerately called in to the Laguna spa prior to my appointment arrival to ensure upcoming Surrender treatment was in tune with the program I'd already enjoyed. This time around, I indulge in an algae scrub, comprising a rich cascade of textures, followed by a rich cascade of a warm Vichy shower and a (not ice!) wrap. Surrender concludes with a lymph drainage facial massage, followed by a scalp massage.
Tips for a Fun Girlfriends' Getaway:
Sit down with your girlfriends prior to the spa trip and discuss what you're each looking for and what you hope to accomplish while there: Relaxation? Physical fitness?
Ask the spa if it offers dual services like a couple's massage or has a designated couple's treatment room (Remember, "couples" doesn't have to refer to you and your significant other – it can mean best friends, sisters, mother-daughter duos, etc.).
Take turns exploring what wellness offerings your traveling companions adore. Try them out and expand your own wellness repertoire.
Ask the spa resort or hotel if they have any special promotions, deals or rates for groups.
Have fun and enjoy your time together!