Taste of Toronto: A Weekend of Eating & Exploring
---
Toronto is underrated as a vacation destination. It's Canada's largest city, with a vibrant culture and easy accessibility – within a 90-minute flight for more than half of the U.S. and Canadian population. Toronto is also one of the world's most progressive and global cities, with half the population born outside Canada. Naturally, the food scene reflects this diverse population with its eclectic styles and flavors.
Visiting Toronto during Taste of Toronto weekend means one thing – eating and drinking are top of mind. The weather was perfect, sunny but not too humid, and the festival was a fun chance to taste bites from many of Toronto's top toques, along with local, artisanal food products. I'm still dreaming about FUMI-Ice's vegan ice cream, made with soybeans, in flavors like matcha green tea, roasted white sesame, and strawberry mint. Thankfully, I had a chance to walk around the city in between all the eating to work up my appetite. The Distillery District and Queen Street West are both fun to wander around in, with plenty of shopping, art, and yes, great food, to keep you occupied.
Where to Stay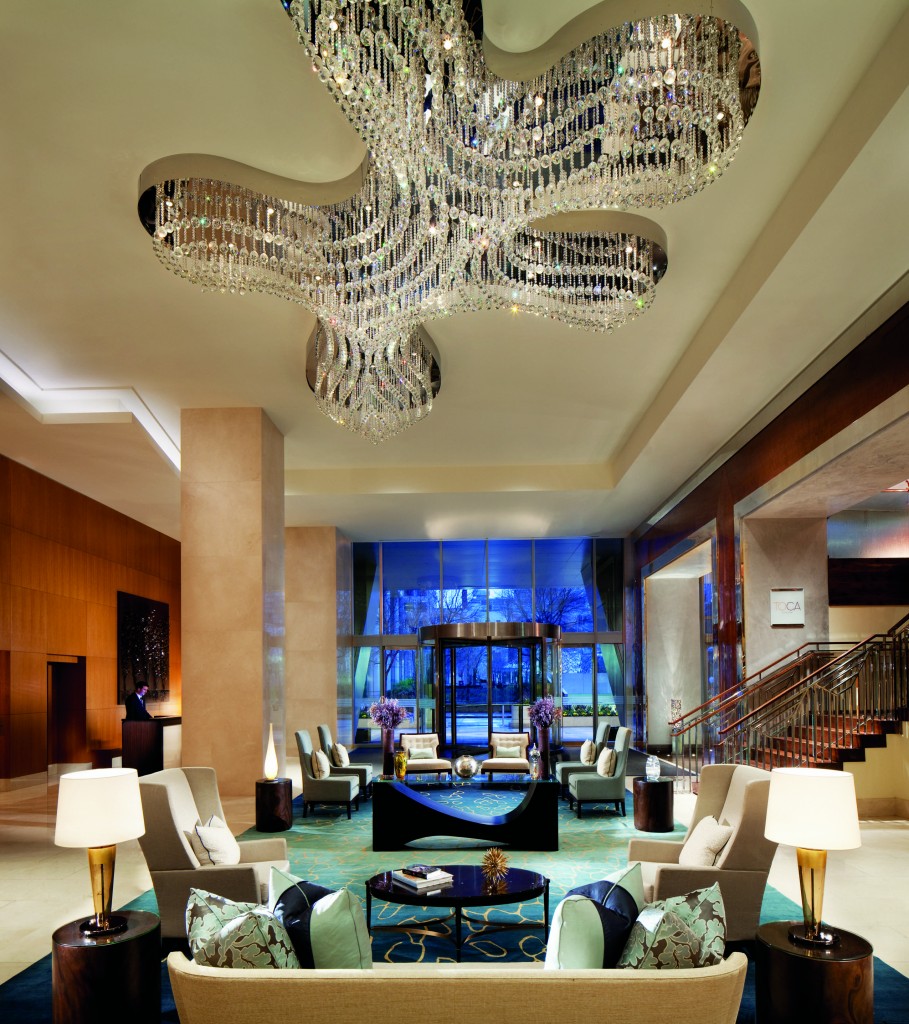 There's a regal feeling about The Ritz-Carlton Toronto, a contemporary yet refined vibe that rubs off on you as a guest. After a few days staying here, you won't want to check out. From the gracious service and spotless guest rooms to the beautiful art collection, this may be the premier luxury property in the city.
There are more than 450 original works of art from local Ontario artists on display throughout the hotel and suites, depicting Canada's natural beauty in an understated fashion. From bronze maple leafs inlaid in the lobby floor to sweeping photographic landscapes, you almost feel as though you're in a contemporary art museum. You're not, but the AGO (Art Gallery of Ontario) is just a 15-minute walk away if you want to be.
Splurge on club lounge access and take advantage of all the amenities on the 20th floor. The polished executive lounge really sets the Ritz apart from other luxury hotel brands. Magnificent views of Lake Ontario and a rotating selection of delicious food attract a steady stream of guests throughout the day and late into the evening. Even when I was stuffed after extravagant dinners, I couldn't help but sneak up for a late night snack of chocolate fondue, cheesecake, and a raspberry macaron.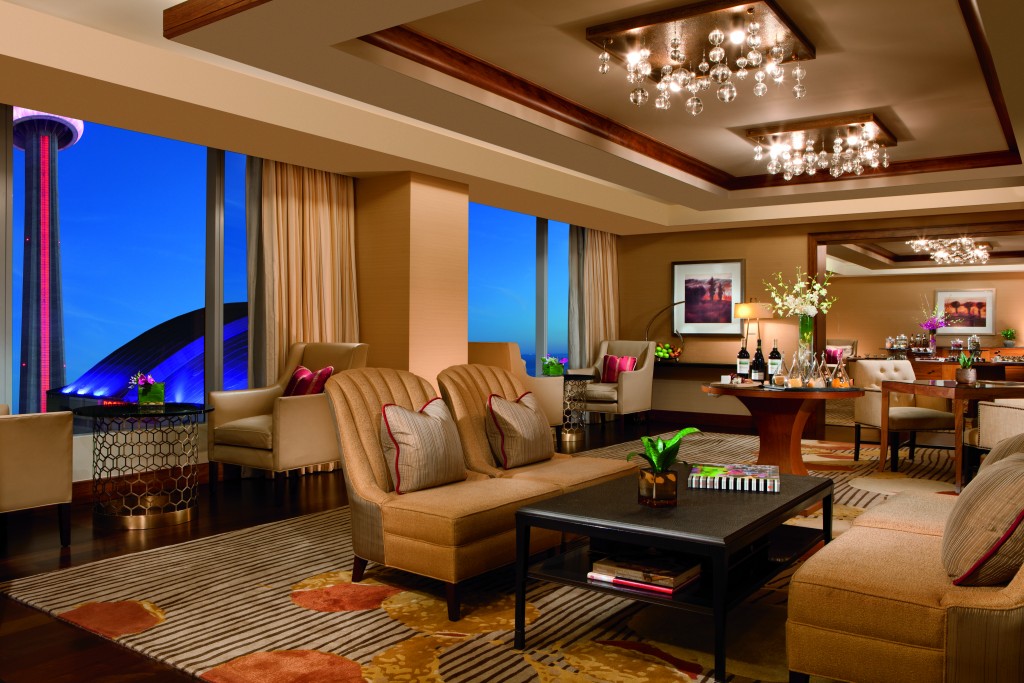 Sunday brunch is an even more decadent affair, starting off with a mimosa or bellini. There's a buffet of hot breakfast items, pastries, sushi and chilled seafood, and an array of beautiful desserts hidden away in the wine cellar. I had to have a small piece of the Ritz-Carlton signature Grand Marnier chocolate cake, along with a mango mousse, and pistachio entremet, strawberry financier cake, rhubarb tart, and apricot almond gratin. I had a salad first, promise!
Where to Spa
The entire fifth floor at the Ritz-Carlton is dedicated to Spa My Blend by Clarins. The French cosmetics company has only two spas worldwide, in Toronto and Paris.
If you have any skin concerns whatsoever, I highly recommend the signature My Blend facial, which incorporates a concentrated booster serum depending on your skin concerns. My therapist, Sumi, was incredibly knowledgeable not only about Clarins products but also other lifestyle factors that cause breakouts. She deftly mixed a speedy recovery booster into a stress management lotion to help heal my blemishes after a thorough extraction.
Another facial worth trying is the HydraFacial, which exfoliates and extracts even the most infinitesimal impurities from the skin with a gentle suction machine. Sumi told me that all the therapists at Clarins get the HydraFacial when they have the chance. After your treatment, relax on the chaise lounges in the dim women's relaxation room or the brighter co-ed lounge lit by natural light from a ceiling full of skylights. There's an excellent sauna, steam room, and even a small pool with green-tea infused water to detoxify the skin. The champagne nail bar could be the perfect finishing touch before going out for a night on the town.
Where to Dine
It's rare to find a trendy bar with truly great food, but contemporary Japanese hotspot Kasa Moto, just opened in June, delivers on both counts. You won't go wrong with luscious pork belly from the robata grill, whole grilled fish seasoned with wasabi chimichurri and the spicy greens salad. Head upstairs to the spacious rooftop terrace after dinner to dance the night away. You'll want to dress to impress, this is Yorkville after all, Toronto's poshest neighborhood.
For a fine dining experience like no other in the city, book a table at Splendido. The restaurant recently did away with its abbreviated menu in favor of one tasting menu that featured 15 courses on my visit. From the first one-bite canapé of mustard ice cream and caramelized apple tart, I knew I was in for a treat. The seasonality of ingredients at Splendido is apparent. It was asparagus and strawberry season and both were featured multiple times throughout the evening, in both savory and sweet courses.
Even though the menu is extensive (allow the entire evening for a leisurely dining experience), you won't leave bloated, but satiated and craving one last bite – you'll receive a strawberry peppercorn macaron to enjoy the next morning on the way out. Playful courses like sea urchin with pickled ginger on nori brioche pack fireworks of flavor into small portions. Even the foie gras course had levity – frozen foie grated over preserved strawberries on a strawberry tapioca chip that could be fairy food. Tony, the sommelier, gravitates toward Canadian wines and even a local sake, distilled in Toronto, for his pairings, matching Chef Victor Barry's distinctly Canadian flavors.
Travel Activities
All foodies will enjoy a visit to the St. Lawrence Market, which National Geographic ranked as the best food market in the world in 2012. The market began in 1803 and is now home to more than 120 vendors serving fresh produce, meats, cheeses, and fish, along with an array of prepared foods to nibble on. Sample Toronto classics like a peameal bacon sandwich on a soft country bun, butter tarts, peppercorn camel jerky, and St. Urbain Bagel's Montreal-style Jewish bagels. These bagels come fresh out of the oven, liberally dusted with sesame or poppy seeds, and boiled in honey water, which gives them a subtly sweet aftertaste. No cream cheese necessary. Call me unpatriotic, but they're better than any New York bagel I've ever tried.
Take a gourmet tour of the market, or a food tour of any of Toronto's other delicious neighborhoods with Chef Scott Savoie and The Culinary Adventure Co. Not only will you be stuffed to the brim, but you'll learn a lot about Toronto's history as well. Savoie's guides all have strong culinary backgrounds working in the restaurant industry – some are even former restaurant owners – so you'll get a true insider's look at the city.
To take a break from all the eating, visit Casa Loma, the former estate of a prominent 19th century Toronto financier and industrialist. You can take in some sun in the gardens and take a self-guided tour of the majestic Gothic Revival castle, which is now a museum. There's an opulent library, conservatory and extravagant bedrooms suites that are a sharp contrast to the clean lines and contemporary furnishings at the Ritz.