The Oaks of Ojai: An Inside Look
Published: Thursday, August 20th 2015
by Debra K.
---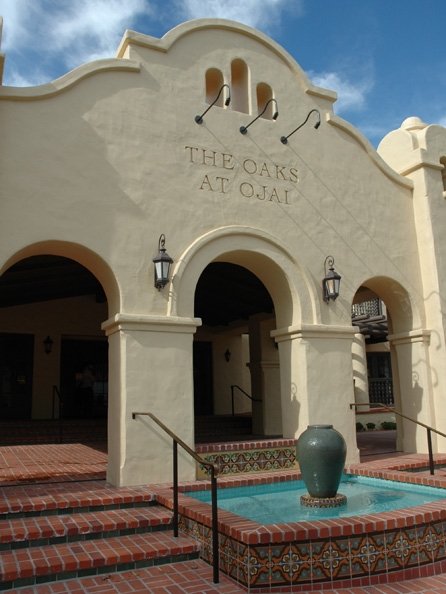 There are certain places, that, when you arrive, you know you have come to somewhere special. Trust me, there is something sacred and wonderful about the small valley town of Ojai, California; possibly remnants from the Chumash Indians who first settled in the valley and made it their home. Ojai is located 90 miles north of Los Angeles and boasts a population of about 8,000. It is a spiritual place that attracts souls who are free, open, and live close to the land.
Located right on the main strip, the Oaks at Ojai has been helping guests improve their health since 1977. Founder, and a recent inductee into the Spa Hall of Fame, Sheila Cluff had big dreams when she opened the doors to this destination spa. Her dream was to take her passion for health and fitness and create a space that would help others lose weight and get fit. With the support of her husband and family, the Oaks opened… almost 40 years later her team is still holding on to her original mission.
In her 70s now, Sheila is still going strong and regularly leads hikes and lectures with guests. Her daughter, Cathy, President and CEO, has taken on many of the leadership responsibilities to ensure the property moves forward and continues to inspire health changes in the lives of others.
Accommodations and Events
The guest portion of the property contains a total of 46 rooms in the Inn and casitas. Built in the style of the Spanish Mission Revival, several of the cottages have recently been remodeled. Rooms include standard twin lodge rooms, medium double lodge rooms, double cottages, double courtyard suites, and mini spa suites.
The property has a swimming pool, fitness center, workout room, full kitchen, spa and a retail shop. The activities you can expect to participate in during your stay range from strenuous to moderate hikes, water aerobics, nutritional classes, and a plethora of fun activities in between. A complete destination spa, the Oaks at Ojai offers an all-inclusive experience which you can enjoy for as long as you wish to stay.
Every year, the property offers unique theme weeks that focus on a particular activity. If you love yoga, Pilates, aqua aerobics, and dancing, then most likely they have a special week for you. Also of interest are some special guests: for example, this year is the inaugural Grey Pride where you can enjoy special talks and classes that celebrate graceful aging. From October 11 – 21, you can set sail with Sheila Cluff and Elizabeth Horton, fitness pro and longtime employee, aboard the Caribbean Princess. Guests will travel from New York City to Quebec, exploring all of the autumn offerings.
Regardless of whether there is a special event or not, guests have access to regularly scheduled activities and everyone's invited to join in. If you feel adventurous and want to try something else, the staff is can connect you with great local events and activities such as art classes, more expansive hikes, and a trip to the beach. The employees are happy to work with you on ensuring a great wellness experience.
The Spa
If planning a visit to Ojai, staying a few nights at the Oaks is a must as is a visit to the spa. A comprehensive a la carte spa treatment menu offers skin and body treatments such as anti-aging facials, reflexology, acupuncture, massage, and aromatherapy treatments. Specialty treatments include the Ojai Olive Oil Body Soufflé, Vitamin D Lifting Facial, Sweet Slumber Massage, and a Lemongrass Lavender Pedispa. I personally enjoyed the Sweet Slumber Massage. The incredible scent of lavender was amazing and I think I actually did doze off, which never happens.
Recently the Oaks welcomed two new additions to their menu;
Skin Authority: Led by skin care expert Celeste Hilling, this skin care company is known for its results-driven products and technological innovations. For the Oaks, they have created an exclusive Fit and Firm series of facials and body treatments.
Himalayan Hot Salt Stone Massage: Created by Ann Brown, a long-term spa industry professional, this treatment offers a full body Himalayan Hot Salt Stone Massage which balances the central nervous system. The recipient of a Himalayan Salt Massage absorbs a veritable ocean of healing energy and nutrients from the primal sea.
The Food
The Oaks provides a calorie-conscious food plan that consists of three healthy meals, snacks and beverages. Following sensible eating principles, the all-inclusive eating program offers guests at least 1,200 calories each day and can be adapted to fit each person's personal goals. The varied menus feature natural foods, fresh fish and poultry, locally-grown fruits and vegetables, homemade salad dressings, salsas, and soups – all without a touch of additional salt or refined sugar used in the preparation.
Executive Chef Christine Denney takes personal pleasure in educating guests on how to create healthy and hearty dishes that are full of flavor and packed with nutrition. Many meals feature freshly grown herbs from The Oaks' gardens. One of my favorite snacks from the week was the Chocolate Spa Bark. The recipe is posted on my Recipe Redo Blog so you can make it at home.
If you find yourself in a place where you are seeking to focus on healthy eating, learn more about health and wellness, and choose from a plethora of activities, a trip to the Oaks at Ojai just might be the trip you need.
Your Wellness Tip To-Go:
Take a virtual trip to The Oaks at Ojai on spafinder.com right now. Plus, get a taste of some of the fabulous dishes they're serving up at The Oaks by trying some of their fabulous recipes at home!
About The Author:
In The Journey into Wellbeing on PBS, Debra K. uncovers the secrets to living a high-energy, vibrant life. A former Fortune 250 executive who turned her passion for natural health and wellness into her life's mission, Debra K. is also founder of Well World Productions and author of "Success from the Start". Known as the natural health explorer, she is a regular writer, blogger, and national speaker. You can follow Debra on Facebook and Twitter @DebrasJourney.