Top 10 Historic Hotel Spas
Published: Friday, June 29th 2012
---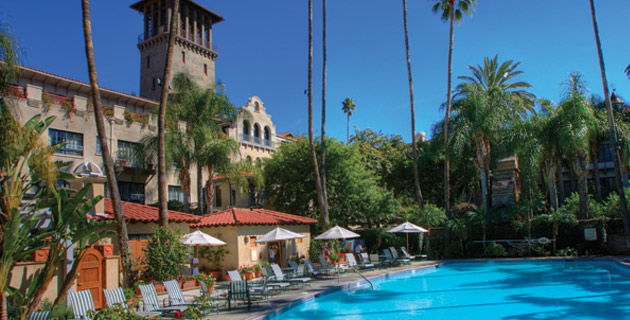 Happy 4th of July! Okay, so we know it's summer break, but we'd like to share a brief history lesson (it'll be fun, we swear – it includes spa!). In honor of our nation's Independence Day, we present our favorite Top 10 Historic Hotel Spas. Play where Frank Sinatra and Elizabeth Taylor played. Hide out where Al Capone hid. Tee off for a round of golf where the president hit the links. Enjoy, history buffs and spa enthusiasts!
There are so many other historical hotels/resorts with spas, but we only have space to name 10 in the U.S. Tell us YOUR faves in the comments below!

Image: The Mission Inn Hotel & Spa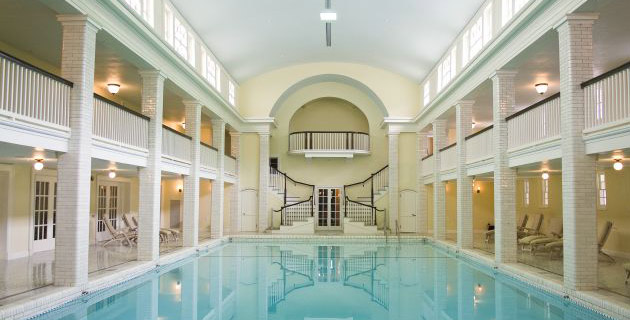 Blast from the Past
We elect Omni Bedford Springs Resort & Spa, just two hours from Washington, D.C., as a fave since it's been the relaxation getaway for 11 U.S. presidents since its 1796 opening. Eight natural mineral springs and an 18-hole golf course, one of the country's firsts, still exist at this prez-hot spot in Pennsylvania's Cumberland Valley (image at left). Read more.
Omni Shoreham Hotel, Washington, D.C.: Every president from FDR to Bill Clinton has kicked up his heels at this Washington institution, which has held inaugural balls for each, and nine of the hotel's presidential suites take their name from former leaders of our country. (Not into politics? The hotel can remove the nameplate if a guest so desires.)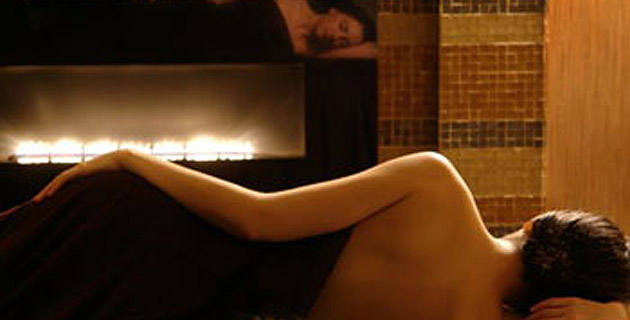 History at Its Finest
Here's a little bit of historical nostalgia: The Mission Inn Hotel & Spa was constructed as a 12-room adobe boarding house in 1876 and now occupies an entire city block in downtown Riverside, California. Honeymoons and/or wedding ceremonies for Bette Davis and the Nixons were performed at this National Register of Historic Places Landmark, which currently houses the region's only hotel chapel, St. Francis of Assisi.
Next on our campaign trail is the Potosa Spa at the historic Hotel Julien Dubuque, set on Main Street in Dubuque, Iowa's downtown district. With views of the Mississippi River, this Midwest hotel has survived a fire, played host to Abraham Lincoln, "Buffalo Bill" Cody and Mark Twain and was an alleged hideout for Al Capone (rumor has it he was once hotel owner). (image at left)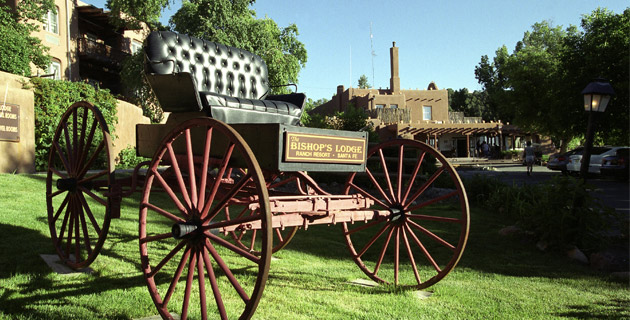 How It All Began
It was a dark and stormy night…no, seriously. Though it sounds like the beginning of a cliché novel, the history of Mountain View Grand Resort & Spa in Whitefield, New Hampshire, is anything but. The real story: A rainy night in 1865 and an oversize mud hole caused two passengers to find refuge in a nearby farmhouse, owned by William and Mary Jane Dodge; the Dodges were later inspired to make several additions to the property throughout the years until it became the AAA Four Diamond property it is today.
A Santa Fe vacation retreat, the Bishop's Lodge Ranch Resort & Spa's property (image at left) was once owned by the Pulitzer family. With its spectacular Tesuque Valley setting, historic chapel listed on the National Register of Historic Places and award-winning spa, it was also the backdrop for the Academy Award-winning film Crazy Heart.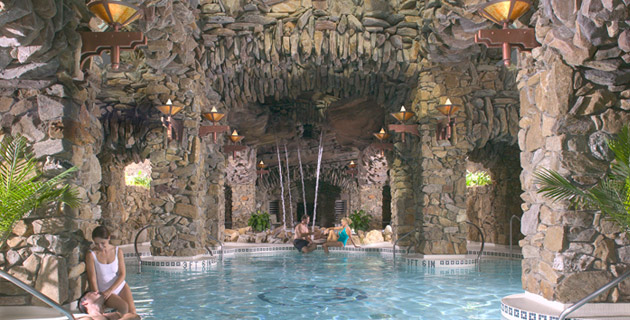 A Spa-Spangled Good Time
Norwich Inn hit the ground running with its 1929 opening and became a favorite for the rich and famous, including George Bernard Shaw, Frank Sinatra and the Prince of Wales. Hilary Swank and Chris Rock have been seen at this eastern Connecticut compound in recent years, and it's no surprise – this Inn features a classic Georgian Colonial revival design and spa surrounded by gardens, manicured lawns and a golf course.
Grove Park Inn Resort & Spa: One of the American South's oldest and modern famous grand resorts, the Asheville, North Carolina-based resort (image at left) has attracted 10 presidents, including Barack Obama (First Lady Michelle Obama visited, too). Highlights include an 18-hole championship golf course (originally opened in 1899) and a 43,000-square-foot spa built underground. Read more.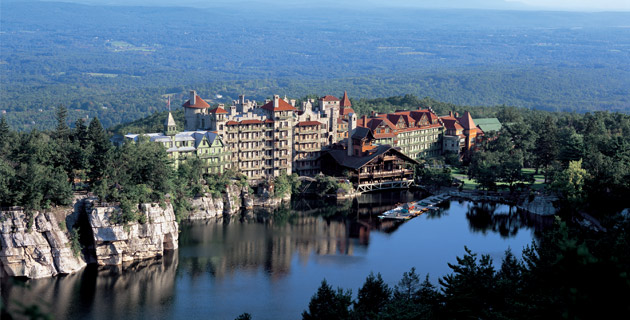 From East to West
Martha Washington Hotel & Spa: This place had a storied past before it became a hotel in 1935, beginning as a private home for a Virginia general before transforming into an upscale college for young women (sit in the Inn's main lobby and you're sitting in the general's original living room). Several actors performing at the Barter Theatre (the longest-running professional resident theater in America) also stayed here (Liz Taylor frequented, too).
Mohonk Mountain House: Albert Smiley purchased the spa destination, a National Historic Landmark, in 1869. Five presidents have stayed at this spa in New Paltz, New York (image at left), and the family still operates and owns the property – more than 20 family members from three generations are involved. Read more.
Most recent from Editors' Picks