Top 10 Other-Worldly Spa Treatments
Published: Monday, July 9th 2012
---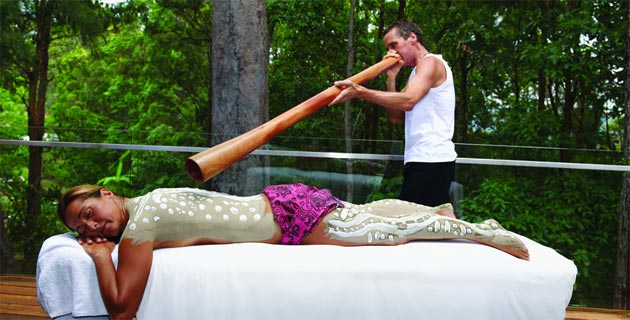 Gwinganna Lifestyle Retreat's Aboriginal-inspired, experiential spa ritual offers a uniquely Australian journey. It begins with an Intention Ceremony (to welcome new abundance into all areas of life), Smudging, Ochre Clay application, Didgeridoo Healing and more, "designed to soothe the mind, body and soul, and encourage release of the old, through the intention of the new."  (2 hours 30 min, USD$402)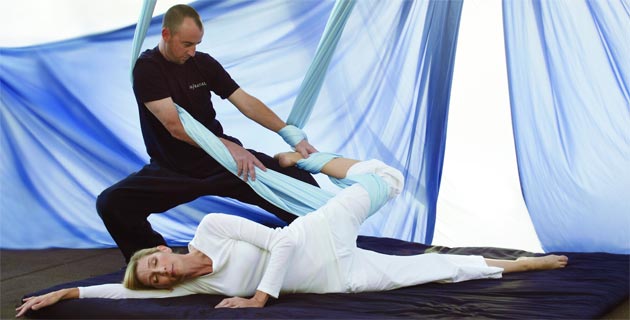 Naga
Miraval's original Naga treatment is derived from the healing principals of Thai massage. Guests wear loose clothing and are positioned on a Thai mat.
"In Buddhist tradition the Nâga can take the form of a half human half serpent. Your therapist uses strands of richly colored silk suspended from above as an extension of their body. The silks are used by your provider for entwining and gracefully suspending themselves as well as wrapping and supporting your body, taking you deeper into the stretches and releasing restrictions impairing full movement.   (50 min, USD $215; 100 min, USD $295)  — Miraval Resort and Spa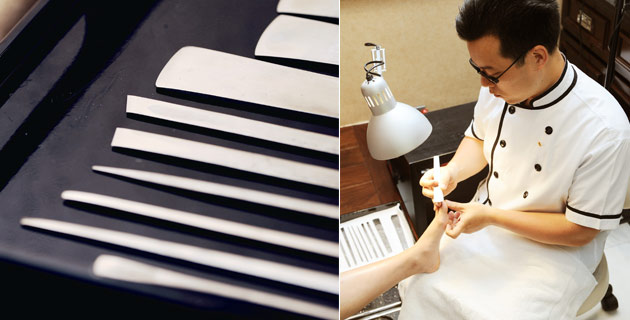 Shanghainese Pedicure
Mandarin Oriental, Hong Kong's famed Shanghainese Pedicure is performed by Samuel So, whose family has shared their craft at the hotel since 1989.
"The hotel's legendary Chinese medical procedure where skin is "shaved" away using sharp blades, leaving the feet soft and supple."  (60 min, USD $90)  — Mandarin Oriental Hong Kong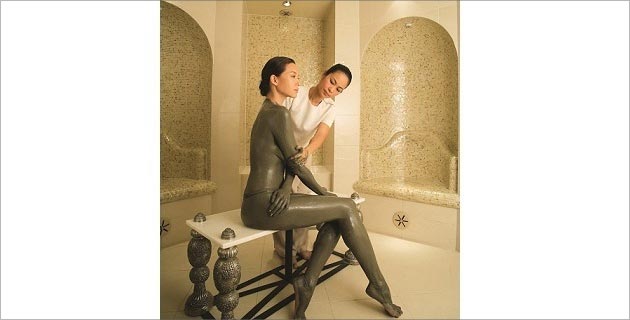 Rhassoul
Rhassoul is natural, mineral clay originating in Morocco and used for centuries by North African, Southern European and Middle Eastern women for hair and skincare.  Several Mandarin Oriental spas offer the Rhassoul ancient healing ritual.
"A skin smoothing treatment which blends mineral rich mud, steam and heat to provide an experience that cleanses, releases toxins and rejuvenates. The treatment begins with an exfoliation using natural herbs before the mineral rich mud is applied to the body. Upon exposure to dry heat, the pores open and toxins are released. Guests are then escorted to our traditional mosaic-tiled treatment room to relax in the hot steam, which softens the mud aiding absorption of the nutritious, natural minerals." (25 min, US$100) —  Mandarin Oriental, Las Vegas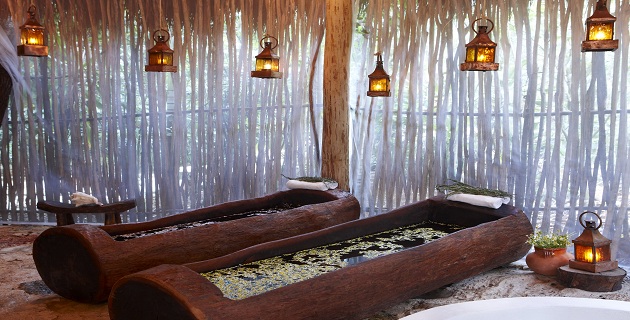 Couple's Fertility Treatment
This Mayan-inspired couple's experience at Viceroy Riviera Maya, Mexico takes place in an outdoor treatment room, offering the hypnotic sounds of a nearby jungle waterfall.
"Relive ancient rituals and share the magic together while we spoil you in our Xaman Ek Cabin—the South Star cherished by the Mayan people and said to guide couples through a path of love, comprehension, harmony and welfare.  Massage beds are positioned for Xaman Ek, asking her to grace the couple with a sense of abundance. Enjoy a relaxing massage…continue with our herbal touch bath by resting inside a tub made from a Zapote Tree and infused by medical herbs harvested from our garden that surround your body and your soul. Experience the magical effect of Mirne Essence that awakens the senses and brings good luck, peace and rest while celebrating your union with two glasses of drinks that bind the couple and the Divinity."  (80 min, US$180) — Viceroy Riviera Maya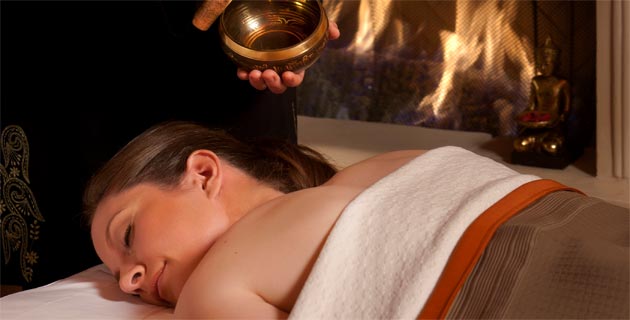 Tibetan Sleep Ritual
"Steeped in Tibetan traditions and philosophies, this ritual focuses on soothing the body's energy points that affect sleep. Traditional blends of oils are gently applied on to areas of the feet, abdomen, head, back and hands using Tibetan massage and healing techniques. This cultural experience concludes with tones from a Tibetan singing bowl to promote a deep state of relaxation."  (50 min, US$185) — Spa at the Wynn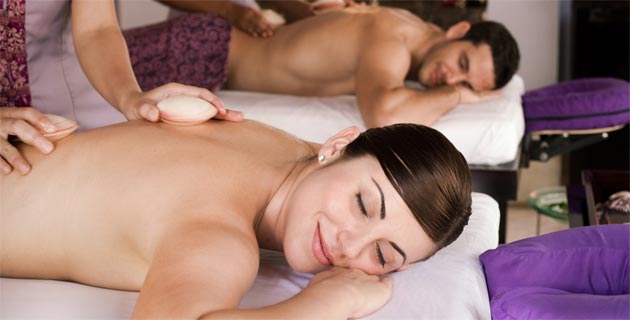 Hot Shell Massage
"For centuries, cultures around the world have honored seashells as a source of food, decoration, trade and for their spiritual connection to the divine feminine. Experience the magic of these gems of the sea through a deeply relaxing Hot Shell Massage to melt tired muscles and soothe your spirit. Shells and sand are used to exfoliate your feet before a massage using dozens of warmed shells sourced from around the world, to specifically target different parts of the body. The types of shell used ranges from spiral shells such as 'cowries' and 'nautilus' (which targets the heart chakra) to clams and coral, each naturally smooth from the ocean. The high note of your experience is a unique seashell layout on your body to balance your energy centers, and a refreshing shell facial massage."  (90 min, US$188) — AYANA Resort and Spa Bali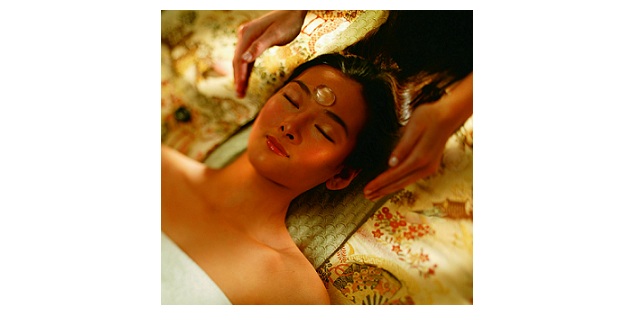 Gemstone Vitality
"Designed to refresh and restore optimism, the experience begins with a welcoming foot ritual followed by a scrub of ground calendula seed, a flower native to New England, combined with the healing powers of one of Mandarin Oriental Signature custom-blended oils. A soothing full body massage incorporates locally mined gems of Garnet, Tourmaline, Smoky Quartz or Amethyst with the selected signature oil. By combining sense of smell, touch and color, the result is a sense of calm, balance and vitality." (1 hr 50 min, USD$295) — Mandarin Oriental, Boston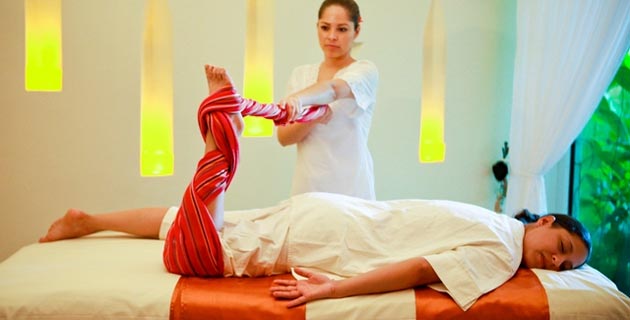 Mayan Shawl Massage
"An experience that aids in posture alignment, thereby establishing an important emotional connection and creating a rhythm to activate relaxation and self-healing. In this traditional technique shawls are used, moving from one side of the body to the other in order to work with accumulated tension and emotions, resulting in relaxation and immediate liberation from these feelings. Ending with a smooth relaxing massage." (80 min, US$198) — Grand Velas Riviera Maya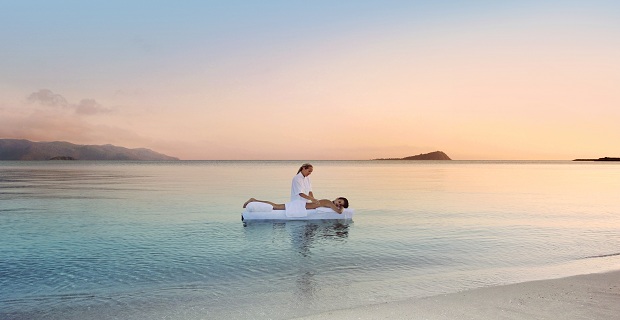 Ocean Massage
"The ultimate sensorial spa experience in the most beautiful of settings; let yourself drift away to a world of total relaxation and comfort in tranquil waters surrounded by gentle tides and tropical fish in the warm Whitsunday sun." (1 hour 30 min, USD$408) — Hayman Great Barrier Reef