What Can You Do With a Spafinder Wellness 365 Gift Card?
Published: Friday, December 14th 2012
in Beauty
---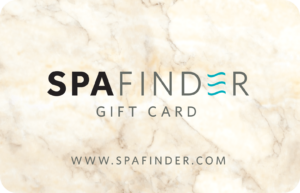 True story: A couple of Christmases ago, I gifted my mom a Spafinder Wellness 365 Gift Card.   The next year,  I decided to change up the gift-giving ideas a bit. Once all the presents were unwrapped, mom looked at me point blank and asked, a bit forlornly, "No Spafinder Gift Card?" No joke.
That incident kind of sealed what I already knew. Spafinder Gift Cards are pretty much the best gift to give (and get!) for absolutely anyone on your gift list. Redeemable at over thousands of spas, fitness locations and travel destinations, spa gift cards make it easy to discover the ideal wellness experience. Here are a few ideas to share or use yourself.
$25 Gift Card
Eyebrow-raising beauty: Or, get those eyebrows waxed and groomed and nails polished oh-so-pretty in time for your next holiday fete—here's a list of spas in the Spafinder Wellness Network that offer waxing and manicure services.
Please note, treatment and wellness prices noted throughout are approximate and may vary depending on region.
$50 Gift Card
Fit figure: Get your heart rate pumping and keep that holiday weight in check by participating in a yoga, Pilates, spinning, bootcamp or other fitness classes. It's a win-win! Try muay thai kickboxing at Ambition Training Academy, dabble in CrossFit at CrossFit South Bay, or get your groove on in a Zumba class, courtesy of Yo Dance and Lifestyle Studio. Been dying to find out what Kundalini yoga is? The list goes on and on…search fitness locations on spafinder.com. And with a $50 gift card you'll most likely be able to sign up for more than one class!
Style savvy: More of a beauty lover than an exercise devotee? Schedule a fabulous pedicure or other salon appointment—hairstyling, makeup session, eyelash tinting, hand or foot massage, etc.—and get glam for the New Year.
$100 Gift Card
On the spa menu: Spoil yourself with a traditional massage or classic facial, or use the opportunity to try something different—a gift card gives you the flexibility to enjoy something new you might not have otherwise. Bamboo massage or Ayurvedic ritual, anyone?
Swedish, deep tissue, hot stone, anti aging, deep cleansing…the options are endless. View the various massage and facial types here to find the perfect modality for you.
$150 Gift Card
One-on-one: Make it a New Year's resolution to take some "me time" and treat yourself to a personal wellness experience: Reserve a couple of private Pilates or yoga classes or personal training sessions. Schedule a few nutritional consultations and get on the right healthy eating track for 2013.
Or, go for a bit of extravagance and opt for a 50-minute reiki massage at Miraval's Life in Balance Spa, or the Vino Bello grape-seed scrub and wine and rosehip mud wrap at Meritage's Spa Terra. Ever wanted to try ashiatsu? It's your chance to be adventurous!
Budget-friendly: As well, search for a wellness or spa package combining one or two (or more!) treatments for a discounted rate without breaking the bank. Search wellness and spa deals—last minute deals, products, services, travel—here.
$200+ Gift Card
Travel in style: Make sure to include your Spafinder Wellness 365 Gift Card on your travel packing list; use it at a getaway or destination spa you've been dying to visit—extravagant spa experiences await you with this gift card, like an exotic hammam ritual at the Spa at Trump SoHo, a mood mud massage at Maruba Resort Jungle Spa, a breathtaking outdoor hiking adventure at Rancho La Puerta, a romantic private island rendezvous at Park Hyatt Maldives Hadahaa and more.
Check out the extensive selection of resort/hotel or destination spas accepting Spafinder Wellness 365 Gift Cards.
Note that some resort/destination spas put a limit on gift card amounts, so it's best to call the property in advance.