Destination Vancouver: Discovering 5 Spa Gems
Published: Tuesday, April 10th 2012
by Amy Sung
---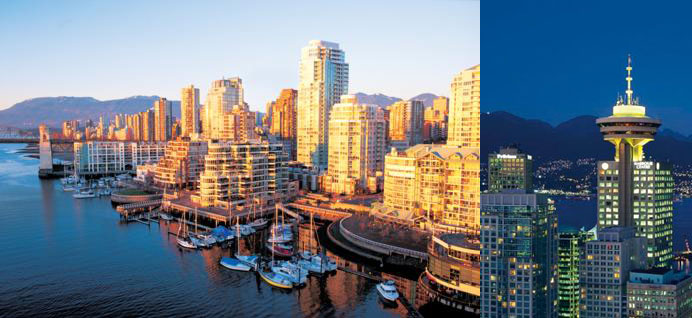 Sophisticated, fresh and extremely welcoming, Vancouver is like an alternate version of New York City but with regal, grandiose mountain views, clean water and a stately skyline. With top-notch spa, dining and shopping offerings, in addition to unparalleled views and outdoor activities all within a span of 44 square miles, Vancouver is a diverse city with the ability to cater to a variety of cultures and lifestyles.
While Condé Nast Traveler magazine named Vancouver the "Best City in the Americas" in 2010, it can be argued that it is still largely un-recognized by tourists as a destination, but from one spa, food, shopping and outdoor enthusiast to another – go, and go now! And run, don't walk; plenty of restaurants await to satiate that hungry belly, spa treatments to treat those achy, well-traveled muscles (dehydrated skin!) and spectacular views to put even the most-stressed at ease. Here are just a few of the city's great spas that I experienced during my spa sojourn there. I'm already planning my next visit.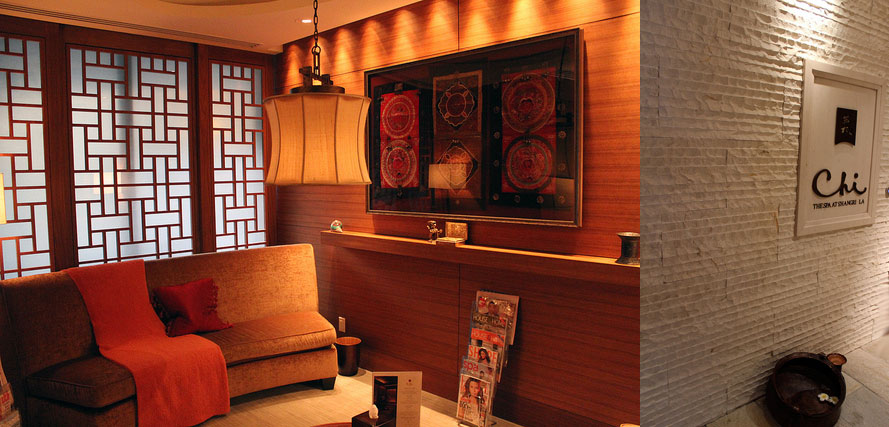 Walking into the only North American location of this elegant and well-known Asia-centric spa was like walking into one of the old Chinese movies my parents used to watch (you know, the kind that are at least seven VHS tapes long), complete with rich wood paneling, intricate pieces of decor and sliding screen doors featuring traditional wood designs.
My 75-minute Jade Jewel Facial was held in a lush spa suite, which featured an area for a foot cleansing ritual, a steam room and shower (available only with Signature Journey packages), fireplace, private changing quarters and restroom, massage table and bath. These private treatment suites are CHI's way of offering a "spa-within-a-spa" environment.

As I lay down on the massage table, calming music played in the background, and my therapist went through the usual steps of a facial, but this time, two specially handcrafted jade pieces glided across my face in a soothing massage with a focus on acupressure points. In Asian culture, jade is an ancient stone carrying luck and energetic properties. My therapist took the aventurine jade gemstones, exclusive to CHI, The Spa, and skillfully massaged my face in swift strokes to smooth and ease tension, while the bio-active skin products used in the facial hydrated and nourished my face. A choice of a hand or foot massage was given while a mask did its work.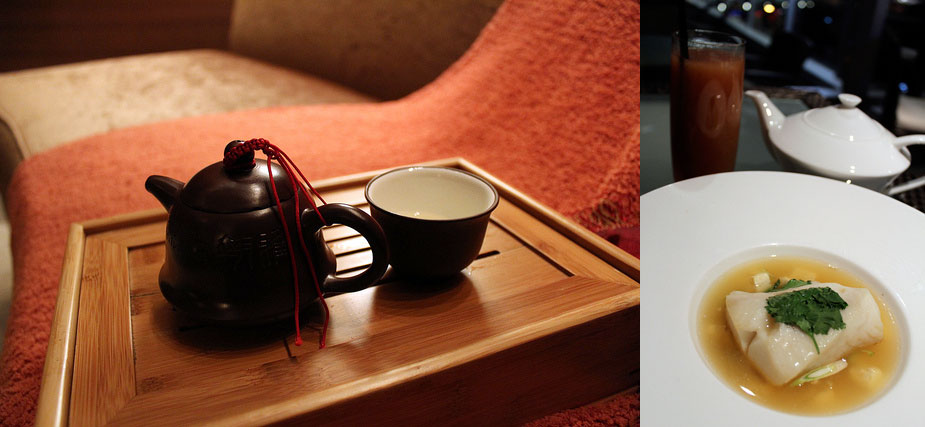 After a relaxing facial, and after enjoying some cleansing ginger honey tea in the waiting area (because of the private suite nature of the treatment rooms, there is no relaxation room, per se), I also got a chance to try out the superbly delicious spa cuisine. Before arriving, I was asked to fill out a form to determine my elements (CHI's signature therapies are based on the Five Elements Theory, in which Metal, Water, Wood, Fire and Earth are in balance to harmonise with the positive Yang and negative Yin energy within the body). Based on that, special spa cuisine dishes are offered at the adjacent Ginger Bar, which offers smoothies, juices and more.
Shangri-La Hotel | Vancouver 1128 West Georgia Street, Vancouver, BC | 604.689.1120 | Jade Jewel Facial 75 min. $175 CAD
Sense Spa, Rosewood Hotel Georgia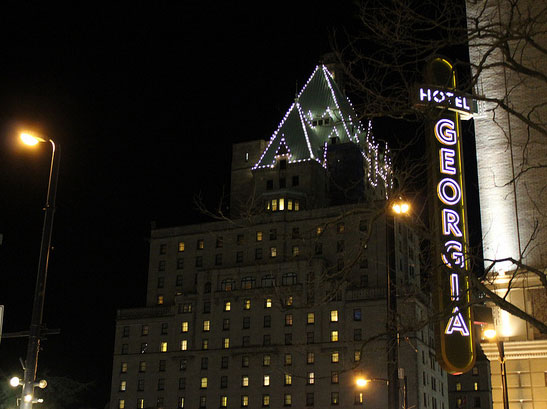 While this hotel first debuted in 1927 in the heart of downtown Vancouver, Hotel Georgia recently reopened last July as a Rosewood Hotel after a three-year renovation. Superbly elegant and classically chic, Hotel Georgia is a 156-room boutique hotel that is home to the minimal, classic and sleek Sense, A Rosewood Spa, located next to the hotel's indoor saltwater pool.
I opted for the Vancouver Signature Sensation treatment, particularly because it uses techniques to reconnect to the natural elements of Vancouver. Before stepping into the treatment room, I filled out my information card in the classic relaxation room decorated in soft grays and calming purples, while sipping on a little cup of vanilla rooibos tea with mint and the tiniest lemon wedge floating atop. Also appreciated was the warm towel to refresh my hands.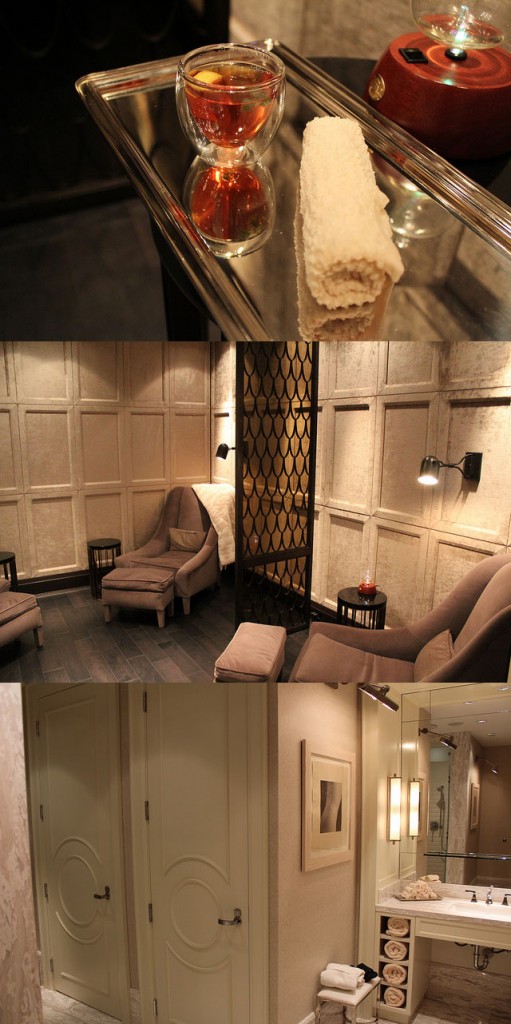 Through a full-body exfoliation, which is usually performed with a peppermint- and herb-infused sea salt, a Vichy shower and then a hydrating massage with a local seaweed and shea butter blend, the 80-minute Vancouver Signature Sensation will leave you feeling calm yet refreshed – and not to mention, very clean. Because of my dry skin, my technically diligent therapist substituted a honey sugar for the salt exfoliation. The honey came from bees on a lavender farm in Mexico, she told me.
What set this spa experience apart was the attention to detail that the therapist provided – she not only moved swiftly between treatment phases and simple steps like taking care to make sure a dry towel was on me as soon as possible after the Vichy shower, but she took care to make sure I felt comfortable voicing any special requests. A few seconds after asking "Is the pressure ok?" she made sure to follow-up with "Would you like it firmer or softer?" The same went for the water temperature during the Vichy shower portion of the treatment. While some may find this excessive, I felt it was done in just the right way to make me feel that I was being accomodated to, the same feeling I got from the minute I walked into the hotel doors to the minute I left to catch a cab to Yaletown for lunch before heading to my next spa appointment.
Rosewood Hotel Georgia | 801 West Georgia Street, Vancouver, BC | 604.682.5566 | Vancouver Signature Sensation 80/110 mins., $175/$225 CAD
Sometimes you just want a facial that's simple and effective with no frills or fluff. For a quick and practical – yet effective – day spa experience, head to Skoah Spa in Yaletown, the flagship of all eight Skoah properties.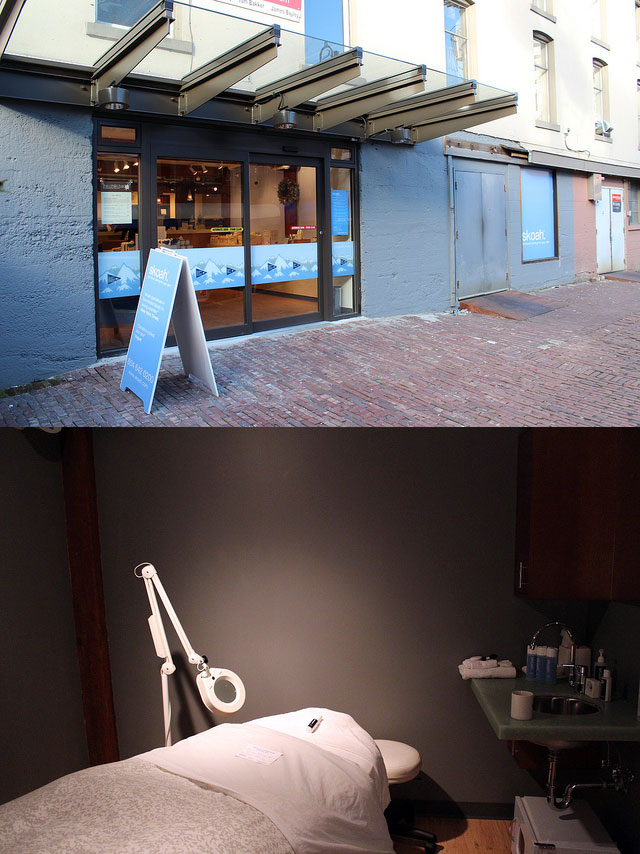 Located on the industrial-turned-quaint Hamilton Street, getting to the facial-focused day spa is convenient and easy, plus, there are a plethora of truly great restaurants, coffee shops and other beauty boutiques to peruse before or after your appointment (I highly recommend getting a bite at The Flying Pig). Having had just celebrated its 10th anniversary, it's no wonder this day spa that specializes in "personal training" for your face has lasted so long – warm smiles greet you at the door, a bright, clean and fresh atmosphere surrounds you and estheticians (together with the Skoah products) get down to the nitty gritty while giving a great face massage, or "sweat-free skin workout," as they say.
Complete with extractions, I experienced the Double Dose Facial, which left my pores minimized and skin hydrated – much needed after so much traveling. Not to mention, my esthetician Lisa had great recommendations from the Skoah product line, all of which are free of parabens and preservatives and loaded with high-performance plant extracts and peptides, vitamins, minerals, organic compounds and actives. I loved the Dewlux Face Kream Lite 30, a lighter cream with sun protection that my skin drank up (drinking water isn't enough to hydrate dehydrated skin – sometimes it needs a little help from the outside, Lisa explained to me). And wait, it gets better: If you don't like your product, you can return or exchange it within 60 days – even after you've used it!
Skoah Yaletown | 1007 Hamilton Street, Vancouver, BC | 604.642.0200 | Double Dose Facial 45 min., $100 CAD
Willow Stream Spa, Fairmont Pacific Rim
This expansive spa sits on the fifth floor of the fabulously new Fairmont Pacific Rim. Located on the water across the street from the Vancouver Convention Center, beautiful rooms boast beautiful views and walnut wood throughout gives a mid-century modern feel to the hotel and an earthy, grounding feel in the spa. The 15,000-square-foot Willow Stream Spa, the first in Vancouver, is surrounded by water views and features amenities galore, including nine treatment areas (one of which is a couple's room with deep Japanese Zen tub), a nail spa, three lounges (two with fireplaces), spacious locker rooms with a steam room and a hydrotherapy shower experience, outdoor spa terrace, Jacuzzis, an infrared sauna and a full fitness center.

The 90-minute Van Active Body treatment was another exfoliating, shower and massage experience – the second of the trip. Meant to relieve the muscles and joints of those who take full advantage of the great outdoor activities that Vancouver has to offer, the treatment took place in a room equipped with a separate shower and steam room attached. On top of every treatment bed sits a Moroccan energy stone, which is left outside at night to absorb energy from the moonlight and/or sun. The rock placed on the beds is meant to transfer energy for a pleasant spa experienc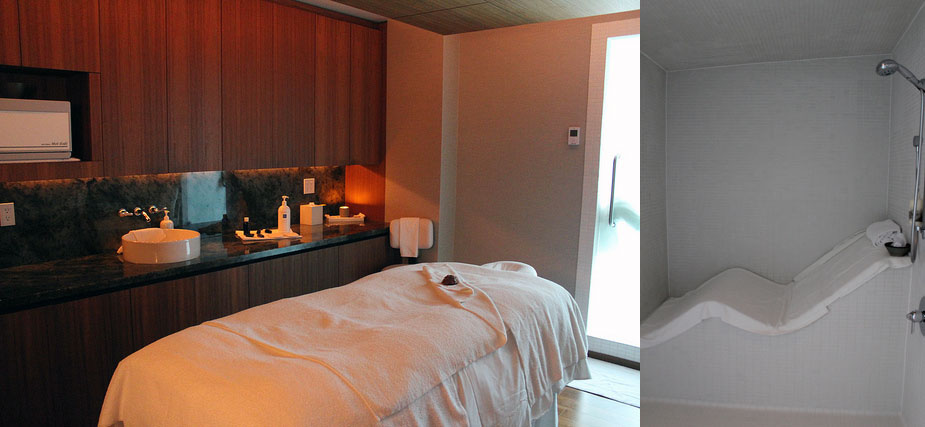 e.
After an invigorating geranium, pine and ylang-ylang exfoliation, I hopped in the shower to rinse off, and then was told to sit in the steam room until the therapist came to get me again. I was given a cold towel over ice and I lay back on the recliner-shaped tile and soaked it all in. After I left the fog of the steam room, I was back on the table for a detoxifying massage using organic juniper, fennel and lavender, which left my muscles feeling relieved and my skin moisturized. If you visit, be sure to take the opportunity to utilize this spa's impressive amenities. From tea in the comfortable lounge featuring a fireplace and large windows and the double steam and overhead rain shower to the fully-equipped fitness center, outdoor Jacuzzis with views of the city skyline and the infrared sauna, this spa – and hotel as a whole (the hotel rooms may just have been my favorite ever) – is at the top of my list.
Believe it or not, the night after my treatment, I made sure to try out the Japanese soaker tub and bath salts in my room while watching the bathroom mirror TV. Utter bliss in mid-century modern chic.
Fairmont Pacific Rim | 1038 Canada Place, Vancouver, BC | 604.695.5300 | Van Active Body Treatment 90 min., $209 CAD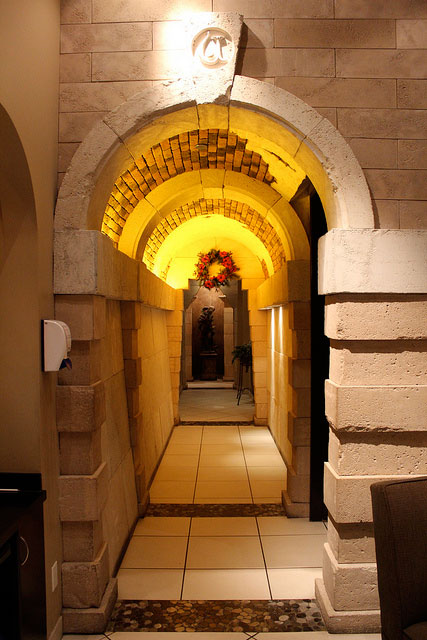 Located on the lower level of the waterfront Pan Pacific Hotel, Spa Utopia features an extensive retail boutique, as well as hair and makeup services. The stone walls and pillars, arched walkways and garden patio furniture create the feel of an ancient Roman castle, and while the locker room is small, it has everything you need from showers to a steam room.
Looking at the spa's treatment menu, the Advanced Therapeutic Massage section caught my eye. Featuring massage services to treat tension headaches and digestion, I honed in on the 80-minuted Postural Restoration that said, "If you find that your posture is affected by daily activities such as sitting at a computer, driving long distances or working long hours, this session is for you." Yes, please.
After enjoying some tea, my registered massage therapist brought me to the treatment room where he proceeded to assess my posture, looking at things like my shoulder alignment and my back, and asking questions about what I do for a living, how often I stretch, which shoulder I carry my bag on and so on. After suggesting a number of exercises and stretches to address my problem areas, it was time to get down to business with one of deepest and most thorough massages I've ever had; "Picture yourself at the beach," he even said at one point, as he worked under my arms and I grimaced. An intense massage, but worth every bit of it.

Spa Utopia, Pan Pacific Hotel | 300-999 Canada Place, Vancouver, BC | 604.662.8111 | Postural Restoration 50/80 min., $110/$155 CAD
From the Bright Lights in Stanley Park show and holiday shopping in December to hiking Grouse Mountain (and getting a massage after) or eating your way through the city's food trucks in warmer weather, Vancouver is a year-round destination. No matter what the season, this city is teeming with enough culture and nature to satisfy a lover of anything and everything.
If you go, here are just a few of the many things to check out in Vancouver:
– Visit Chinatown for great eats and some cultural learning. This area east of downtown boasts North America's third-largest Chinatown after New York and San Francisco. Highlights of a Chinatown visit include the Dr. Sun Yat-Sen Classical Chinese Garden, the Sam Kee Building (world's narrowest commercial building) and the Chinese Cultural Center. Festivals, parades and the summertime Night Market also spice up the flavor of this neighborhood.
– Shop, eat and drink in the hip and historical Gastown neighborhood. As the birthplace of Vancouver, Gastown was initially a settlement that sprung up around a tavern founded in 1867 by sailor and gold prospector John "Gassy Jack" Deighton. This historic district's cobblestone streets are lined with Victorian buildings that today house everything from souvenir shops and First Nations galleries to stylish clothing boutiques. Choice eats and drinks include Salt Tasting Room, Chill Winston, Guu and more. Walk here from Fairmont Pacific Rim and Spa Utopia.
– Check out the Granville Public Market, where a bevy of merchants sell seafood, fresh produce, cheese and breads. The island's offerings are much more diverse than just one of North America's best markets, with theater, culture, restaurants and unique attractions drawing millions of people each year.
– Take a stroll or bike ride through Stanley Park, one of the city's main tourist destinations, attracting approximately 8 million visitors each year. Enjoy lovely beaches, miles of well-maintained paved and dirt trails, Canada's largest aquarium, roughly 500,000 cedar, fir and hemlock trees, and an array of can't-miss kid-friendly spots (including a pool, water park, miniature railway and more).
– Get groomed and fed in Yaletown. Formerly a warehouse district where textile shops and train yards provided little in the way of beauty or entertainment, Yaletown has been transformed into one of Vancouver's hippest areas, filled with sidewalk cafes, trendy restaurants, a thriving nightlife scene and intimate boutique hotels. Plenty of beauty boutiques scatter Harrison Street, and a meal at The Flying Pig comes highly recommended by me!
Most recent from Editors' Picks