Vienna Visions
---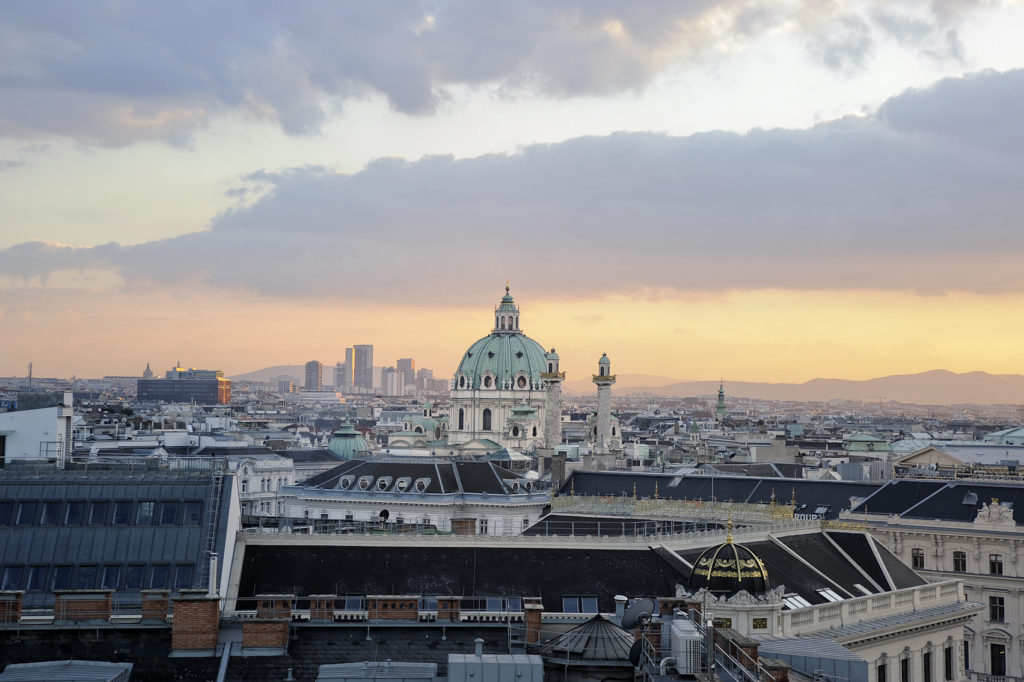 A gateway between East and West Europe, Vienna's spectacular architecture and rich cultural heritage make it a favorite among American and international travelers. There's beauty to be found around every corner and friendly locals will point you to a great meal.
Where to Stay
The Ritz-Carlton, Vienna opened in 2012, repurposing four 19th century palaces while preserving the grand walnut doors, stone staircases, frescoes and architecture that give the building such character. Book a club level room for access to the seventh floor club lounge, where you'll find an array of bites and beverages from morning until night along with an apfelstrudel showcase each afternoon. My junior suite was well-appointed, with a small terrace perfect for watching the sunset. The hotel's Ringstrasse location is a perfect home base for exploring the palaces, museums and opera in the heart of the city.
Where to Spa
The Ritz-Carlton Spa in Vienna is the only spa in the city using organic skincare products from Austria's own Susanne Kaufmann in body and facial treatments. The Imperial Rose Ritual is a signature treatment, combining a head-to-toe body scrub with hot stone massage. This 90-minute treatment is a great cure for jetlag. I also experienced a truly intense deep cleansing facial. These extractions are not for the weak!My esthetician was so thorough, even using a needle at times, and she tweezed my eyebrows too. The spa also offers rooftop yoga on Saturday and Tuesday mornings during the summer and has an 18-meter pool with underwater music. From November 18-20 the Ritz-Carlton, Vienna will host the city's first yoga retreat.
Where to Dine
With such a rich imperial legacy and a love of life's everyday pleasures, it's only natural that the Viennese know how to dine in style. Restaurant Steiereck is the crown jewel when it comes to fine dining. Your sumptuous meal here begins with choose from 18 different breads sourced from eight local bakeries, then tasting menu of generous proportion follows
including char cooked in beeswax at your table, a warm romaine lettuce salad topped with Viennese sturgeon caviar, impossibly tender wild venison wrapped in black nettle with coconut and pickled onions. End with your choice of 53 cheeses aged in house from the trolley and a playful "milk & hay" dessert with raw milk ice cream. Other great dining options include TIAN for thoughtful vegetarian cuisine, Konstantin Filippou and Bitzinger sausage stand for traditional Viennese sausage with sweet or spicy mustard.
Where to Shop
The Innere Stadt is home to many top international designers and global brands but for signs of true quality that you won't find anywhere else in the world, look for the K&K (kaiserlich und königlich)stamp on the door of former imperial court purveyors. There are exquisite chandeliers and intricately engraved glass at J. & L. Lobmeyer, menswear at Knize and royal jewels at A.E. Köchert. You can see the workshops where craftsmen are diligently working and even if you can't afford bespoke €5,000 shoes at Scheer, you should stop in and visit the archival basement museum and the third floor private collection at Lobmeyer.
For an off-the-beaten-path shopping experience, head to the 4th District. Serious shoppers should book a customized Shopping With Lucie tour for the inside scoop from former New York fashion stylist Lucie Lamster Thury. Lucie knows all of the shop owners, from avant garde Susa Kreuzberger, who designs theatrical pieces all in black, to Gertrude Henzl who makes jams, vinegars, salts, sugars and pickles from fruits and vegetables she forages herself. Visit StattGarten for organic and natural beauty and skincare, including Austrian lines Susanne Kaufmann and Rivelles. Gabarage sells fun upcycled items like street sign tables, escalator benches and bowling pin vases all handcrafted by socially disadvantaged people re-entering the job market.
Where to Explore
You'll definitely want to take a leisurely stroll or jog around the Ringstrasse boulevard, home to landmarks like the Hofburg Palace, Museum of Natural History and Kunsthistorisches Museum Wien to see incredible works by Pieter Bruegel and Peter Paul Rubens. The Ritz-Carlton has a running concierge so you can book a personal tour and get your workout in while learning about Vienna's history. Art lovers should also visit the graphic arts collection at Albertina, the world's largest collection of Gustav Klimt's works at The Belvedere and the Museum of Applied Arts.
Schönbrunn Palace is stunning, with great tours available in a host of languages. Trace the royal Hapsburg lineage from Maria Theresa to Empress Sisi while wandering through the palace and surrounding gardens inspired by Versailles
There are countless concert halls and opera houses for a night of music. The Vienna State Opera may be more famous, but check the schedule at the Volksoper Wien too for more lighthearted opera and operetta, like Johann Strauss' Die Fledermaus.