A toast to the Cabernet scrub
Published: Tuesday, July 20th 2010
in Beauty
---
Mixing wine and spa time is my taste of heaven, and Caudalie Vinothérapie Spa at The Plaza, with its wine-inspired treatment menu, caters to us vino enthusiasts, connoisseurs or not. The spa specializes in vinotherapy, utilizing products containing ingredients from grapes and grape seed extracts, known for their restorative polyphenols. On the menu? A fine blend of Merlot wraps and scrubs, fresh grape massage, and red vine and grape marc barrel baths. I opt for the sumptuous-sounding Cabernet scrub, one of Caudalie's signature staples.
My service takes place in one of the spa's 14 elegantly designed treatment rooms. Near the front is a bed trimmed with a plastic sheet (I have a feeling this treatment is going to be messy!) and two blankets. A shower stall lines the back wall.
My lovely therapist Carol says I can choose to strip down completely, or don underwear or bathing suit bottoms (it's a good rule to remember to bring a second pair of bottoms with you to change into following your treatment). If the decision to bare or not to bare makes you more than apprehensive, know that most spa therapists, as is mine, are trained to maintain guest modesty, stepping out of the treatment rooms while you disrobe and slip under the blanket on the table. Plus, in many cases, room lighting can be extremely dimmed, which also helps to ensure modesty while in the buff.
Safely under the blanket, belly down, Carol applies a warm, sweet mixture of aromas and textures.  The scent is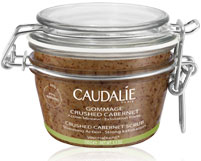 faint but luscious; the scrub, made up of grape extracts, natural honey, brown sugar, and thick moisturizer, feels a bit grainy yet sumptuous all at the same time. The treatment could almost be described as a massage as Carol uses long strokes to coat the blend over my back, legs, arms, stomach, and décolletage.   Once complete, I'm cocooned in the blanket and sheet while I receive a scalp massage.
Carefully lifting the sheet and blankets, Carol helps me shuffle to the shower (not an easy task without leaving a trail of grape seeds behind!), which was equipped with overhead and handheld showers, hands me a bottle of shower gel, and says she'll be back in a bit.
Following my scrub, I'm escorted to the spa's private French Paradox Wine Lounge, where I raise my glass to Caudalie and its concept called vinotherapy.