Wellness Travel at Peter Island Resort & Spa
---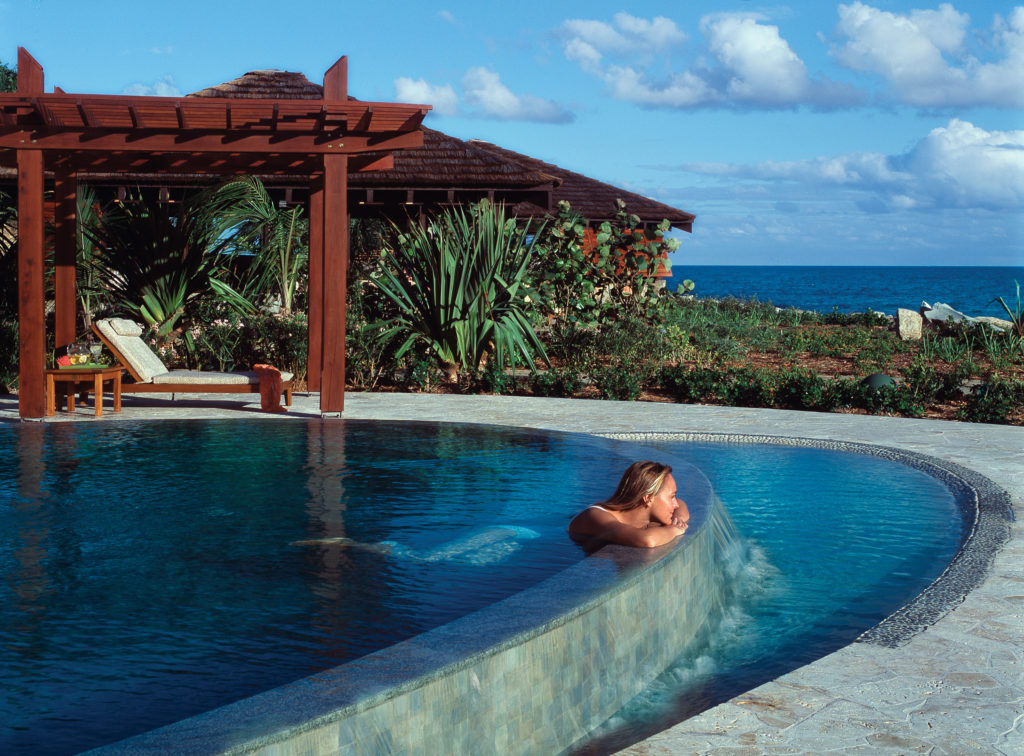 Photos Courtesy of Peter Island Resort & Spa
Peter Island Resort & Spa, a private island in the British Virgin Islands, is set on 1,800 tranquil acres with five unspoiled beaches, four incredible villas and 52 charming beachfront and ocean-view rooms. It's casual enough to feel unstuffy, but it's also one of the most romantic and relaxing destinations you will ever discover. Often called a private Eden, the views—regardless of where you are on the island—are breathtaking. With hammocks outside each guest room and also sprinkled along the beach, no televisions in rooms and zero cars except those belonging to island employees, digital detox is simple and required here. The island has recently embraced a healthy slant, including offering complimentary daily yoga classes in the spa garden, access to mountain bikes and water sports, updated healthful menu items inspired by new chef Todd Howard and a new Ayurvedic Spa Director, who specializes in Ayurvedic treatments, a traditional system of Indian medicine renowned for detoxifying and rejuvenating the body.
Despite the peacefulness on Peter Island, you will encounter plenty of adventure and wellness activities, such as kayaking, windsurfing, paddlebaroding, sail boating, snorkeling, deep-sea fishing, scuba diving, tennis and more. Hang around the island for morning yoga or a challenging hike or mountain bike ride, or opt to see more of the Virgin Islands with a day trip to St. Thomas or a guided snorkeling trip to Virgin Gorda.
There are two restaurants on Peter Island, and the menu changes at both. New healthful breakfast offerings at Tradewinds, the oceanfront restaurant, include a daily green smoothie, egg white omelets, avocado toast and more. On at least one morning of your stay, be sure to indulge in the island's classic breakfast entrée—Jean Kelly's Coconut Crusted French Toast (it's a years-long menu staple!). For dinner, try the Seafood Buffet night for an array of healthful options including fresh sushi, salads and light seafood dishes.
For the ultimate in pampering, the island's 10,000-square-foot spa includes 10 indoor treatment rooms, two outdoor bohios and couples' suites. Rejuvenate above the ocean as you enjoy an all-day spa getaway starting with morning yoga, a hot tub soak and lunch by the spa pool, followed by a treatment for two in the spa bohio listening only to the sounds of fresh salt breezes and waves.
"Peter Island has always had a phenomenal spa program, one of the best in the Caribbean," says General Manager Scott Hart. "We are blessed with 1,800 acres of space, beaches and trails. Our guests are very active and health-conscious. In my first year at the property, I've witnessed the growing trend toward wellness; it's a natural direction for us at Peter Island," he says.
If you're seeking a workout as well as relaxation at Peter Island Resort & Spa, head to White Bay Beach to sunbathe, snorkel or sea turtle watch. The staff will deliver a box lunch of healthful and tasty options and also arrange for your own tiki hut while you hang out here for the day. Take the five-mile morning walk (or mountain bike) across the island. It's uphill at first, but the trail levels out to stunning views. Later, head to the spa for any of their wonderful treatments. If you have time for an Ayurveda treatment or spa package, go ahead and pamper yourself to the fullest—you won't regret it.
This fall, the island is also hosting the Peter Island Resort & Spa Caribbean Food Festival (November 11-12) for the first time, so it's an amazing time to plan a visit.