10 Must-Try Treatments in New York
---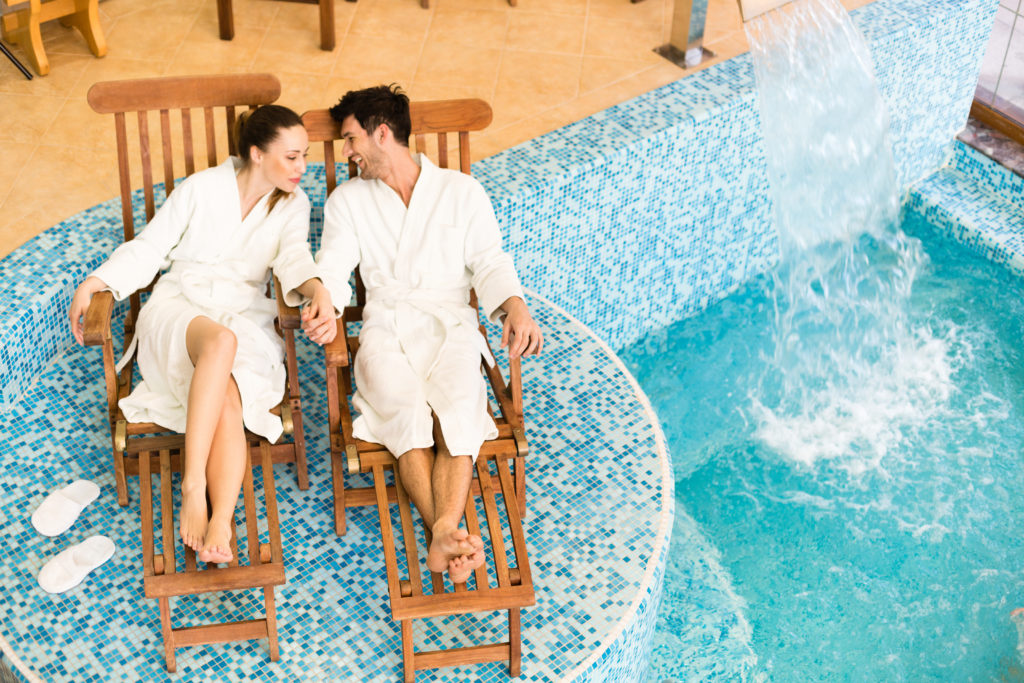 Seek a Valentines Day treatment with plenty of flair? From stellar celebrity facials to LED Light therapy and soulful bathing, a spa in New York is always a good idea!
There is only one treatment on the menu at the legendary Erno Laszlo Institute in Soho and it's a rare gem! My 75-minute Facial Treatment was delivered by Lead Skin Therapist, Judit Galambosi, who is master in her craft. She personalizes each facial, mixing mine up with diamond microdermabrasion, Bioptron Light Therapy, LED Light Therapy, Oxygen infusion and layers of serums. Needless to say, my skin looked firm and sculpted for days.  Famous for high-profile clients including Jackie O, Audrey Hepburn and Marilyn Munroe, the spa is thoughtfully furnished with memorabilia from the glory days including original Vogue covers.
The buzz: Up until a year ago, this was a membership-only spa but today everyone is welcome! Visit today! 
For a quintessential New York experience The L'Instutut Sothys, is an established French-style salon located on West 57th.  I was fortunate to try their Post Party Cocktail (perfect for dolling up for Valentines Day) that comprised of a classical facial and well-executed manicure.  I was impressed to discover that most technicians have been here since its opening over a decade ago  – how's that for staff retention!  This is type of place you'll see a grandmother take her granddaughter for her first pedicure).   Says Spa Director, Trena Ross: 'We change our facials seasonally to keep everything fresh and interesting.'
The buzz: Can't make it to New York? Sothys treatments and products are available throughout 15,000 spas around the world.
Now if I were opening an upscale spa then there's no that Tracie Martin is the facial brand I would select for my menu. And if you didn't already know Tracie Martyn is where Emma Stone, Madonna Amber Heard got their glow at the Met Gala last year. The former yoga teacher and make-up artist has been delivering her famous Red Carpet Facials to folk like Kate Winslet for years now.  The spa itself is a white washed timber and amethyst little number located on 5th avenue with a 'less is more' boutique menu of treatments. A standout for me was the Ruby Ray LED therapy that promised to regenerate at a cellular level.  Tracie Martyn knows what she is doing!
I stumbled across Naturopathica Chelsea a few months ago and it's a rare gem of a place! In a nutshell:  a herbal skincare apothecary, vitality bar and meditation refuge all in one. Inside the coal white and cobalt blue space, I sipped on a freshly made Turmeric tonic and journeyed through shelves lined with enticing herbal tinctures, elixirs and remedies. I couldn't resist purchasing their best selling Arnica Muscle & Joint Gel and so a must-try is the treatment to match, the Arnica Deep Tissue Massage. But if its some om away home you seek, they also offer twice-weekly Mindfulness Meditation sessions in their Meditation and Sensory Lounge, an urban space propped with cushions and candles. Whether you select a healing spa treatment or meditation time (or both), this is urban renewal at its best! Visit today!
I first met the founders of Ling Spa a few years ago at a spa conference in Dubai and could hardly wait to check out their flagship spa on Union Square. Even better, I was one of the first to sample their new Instant Lift Bar tailored to time-poor folk like me who need an instant glow.  For me it was a miracle worker. In a nutshell: it's an express booster comprising of a carboxy oxygen mask followed by a far infrared infusion – all designed to increase collagen, circulation and moisture retention.  I'm equally obsessed with their extensive line of products, in particular the Dual Moisture Emulsion made from hyaluronic acid, rosewater and plant-based squalane oil – my thirsty skin drank it up in moments.
The buzz: Ling clients have included Madonna, Naomi Campbell and Mariah Carey. Visit today!
The most memorable companies have a genuine story behind their brand and Sisley Spa Boutique situated in the West Village is a haven of history. Inside Sisley, the world feels lush and plush. Treatment-wise, the must-try is the signature Sisley Facial that is gentle and relaxing and incorporates a mind-soothing facial massage. Founded by Hubert d'Ornano who named Sisley brand after the famous French impressionist painter Alfred Sisley.  Hubert himself paved the way for the marriage of aromatherapy and science and today the brand is in its fourth generation.  Cherry pick from their extensive range of French botanicals products available in over 90 countries worldwide. A standout is their Black Rose Precious Face Oil made from rare black rose oil and camelina oils.Visit today!
The buzz: A Sisley Spa is also located at The Carlyle New York.
For a more spiritual spa ambience then Aire Ancient Baths located in Tribeca is my pick for the most soulful spa in the city.  Inside Aire feels so hushed and zen. You descend to the lower floor into a world of swirling steam and sauna and soak in thermal baths of varying temperatures for a few hours. It's the kind of place you can go solo or why not bring a friend ! The space all lit by scented candles that creates such a sacred atmosphere not to mention created a more comfortable atmosphere for communal bathing. There's something about warm water that helps one exhale the stressors of a busy brain away. Next on my list is to try one of their treatments that include classical massages, the unique 'Yoga & Bath. And their famous 'Flamenco Acoustic Concert Experience' offered twice a week – where you drift, dream and float to the sounds of live classical guitar.
I must admit I felt a somewhat tentative to venture into the world of La Prarie, concerned that once I'd experienced this iconic brand there would be no turning back. But what's not to love about the famous La Prarie facials renowned for transforming complexions within the hour – and an exclusive product range to boot.  On the menu at the iconic Ritz Carlton Hotel overlooking Central Park South, the luxe hotel spa offers the full spectrum of the deluxe Swiss-born La Prarie facials – from the Caviar Lift to Gold Radiance and the signature Gentemens Facial. As well, they offer the microdermabrasion alongside a host of muscle-soothing deep tissue and hot stone massage therapies.  La Prarie rocks!
Another place to consider, is THINKHEYDAY, a face-focused spa in NYC!  Their spa space is one of the coolest in the city. Simply select your 30, 50 or 75-minute facials from a, slip into a cubicle and voila – highly trained skin therapists will return your complexion to radiance within the hour! What's refreshing here is they don't over complicate things and the menu is easy to absorb. Even better, you can add on enticing and affordable enhancers (I selected the Microdermabrasion as the prequel to my 50 minute facial as my skin required a deeper exfoliation) but you can also add on peels and Phototherapy as well.  Gender neutral, it's all so simple and affordable.  They stock niche brands including Naturopathica, Grown Alchemist, One Love Organics Herbivore Botanicals, Image Skincare as well as men's grooming aids – all without any parabens or petrochemicals. The buzz: They have just opened a second brand in Tribeca! Visit Today!
NEXT STOP: I'm plotting to get another pre-treatment at KUR Skin Lab located in Midtown East. Like all the best spas in New York, they also have the LED Light Therapy Facial on their menu. LED facials are my new obsession and I believe one of the most advanced non-invasive facials on the market right now. LED works by using light energy to regenerate skin cells that in turn helps to reduce the appearance of fine lines and boosting collagen (I am planning to depart looking fabulous).  And the good news is whether you seek Microneedling, IPL, Microdermabraison or Mesotherapy, Kur's got it covered. Visit today! 
Remember to pair these visits with a Spafinder gift card for the perfect Valentine's day gift for her! Valentine's day is a day to express love for your sisters, mothers, girlfriends, wives and best friends. These are great options to show her you care!