Say What? Checking Out Fire Monkeys At The Mandarin
Published: Monday, May 16th 2016
in Spa
---
Why?  It's the year of the Monkey and in Chinese Astrology it means a year of change, requiring strength and agility in order to succeed. I can relate, I've recently moved to Miami as the new editor-In-chief at Spafinder Wellness 365. In my world, change is what it's all about at the moment. Two months in, I've carefully selected the first spa moment to try out in my new role: The Year of the Fire Monkey Spa Experience at the Mandarin Oriental (available only this year at its global spas) designed to inspire renewal, energy and determination – it's everything I need.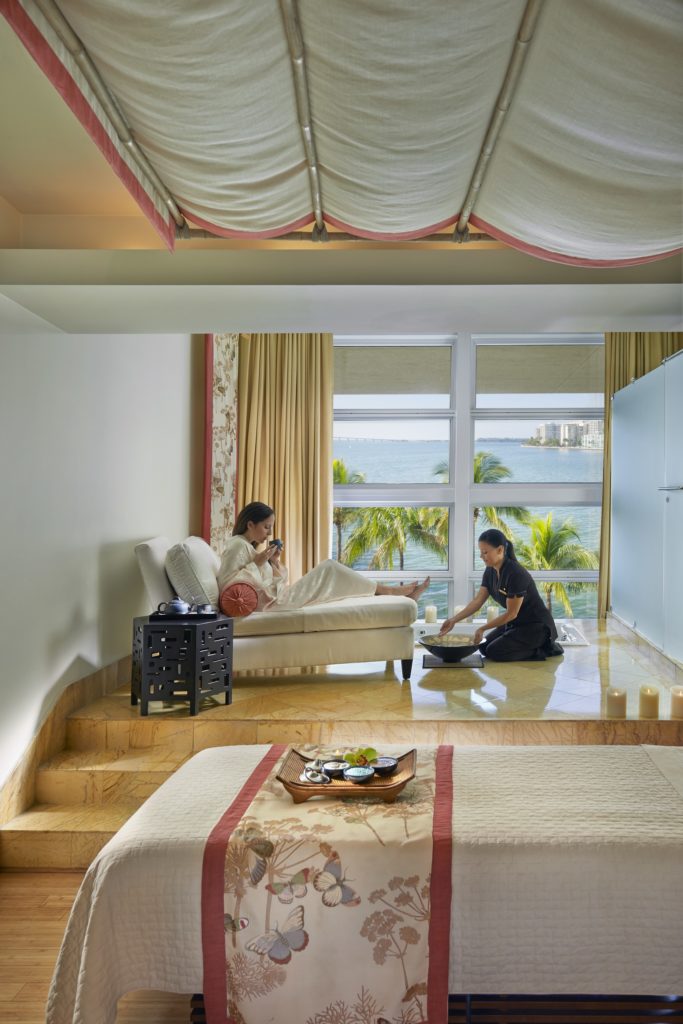 How it went: When I walked in I was welcomed with cold towels infused with mandarin orange symbolizing good tidings along with a tea of Chinese red dates, honey and goji berries, which helps to destress and encourage sleep. While sipping my tea, walking  to the suite pictured on right, Jessica, my therapist explained the ritual in detail, succinctly describing the 1 hour 50 minute treatment designed to help to dispel negative energy and ignite my natural defence systems, with the goal of leaving me re-energized and renewed. I need it! Then she began the whole thing, a foot massage with rose oil, then a full body exfoliation incorporating chrysanthemum flowers which are good for relieving stress, followed by a warm shower with pomelo water traditionally used to wash away negative feelings (an oil based concoction which smelled so delicious it was as if I had a pomelo tree right in the shower with me), then a short guided singing bowl session. Prior to starting Jessica had explained that each bowl is hand hammered by people in Nepal, (watch a video of them doing it here) which is fascinating because they are each so perfect yet so unique. When she gently placed a bowl on the bottom of my feet and the singing sound started I felt a physical vibration, it was kind of hypnotic and brought be to another zone (where I'm not sure, not Nepal but somewhere A.K.A. it was working!). The goal is to stimulate for the body's energy channels (magically it did), she then took different sized bowls and went around different areas of my body, when she go to my ears they literally started to itch and I felt like they were opening up, again, magic! The soothing hands-on body massage that followed was stimulating and soothing all at once, Jessica had explained it was a ying yang approach, brisk in one direction and soothing in the other.
The result: Bliss. Refreshed and ready for the next chapter.