Currently Craving: FarmHouse Fresh Body Moisturizers
Published: Tuesday, March 29th 2016
---
We were craving relief from our winter skin blues, and then we discovered FarmHouse Fresh's delectable line of body creams, lotions, custards, and oils. Every one is 96 percent natural, and like all FarmHouse Fresh products, paraben and sulfate free. We chose three to highlight, but we think you'll love everything at FarmHouse Fresh, as each product possesses its own unique texture, ingredient blend, and delicious scent that says, "Hello, spring!" And who can resist the adorable packaging? Perfect for gifts or on your bathroom shelf.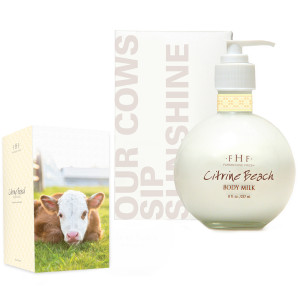 Citrine Beach Body Milk Lotion
FarmHouse Fresh calls this light body milk a "beach party in a bottle," and we agree. This hydrating moisturizer features a blend of coconut, lime, and rum (plus, you'll smell yummy!). Citrine Beach Body Milk contains Texas grapefruit extract, an antioxidant designed to regenerate damaged, tired skin; potassium within the extract works to help smooth wrinkles and age spots. 8 oz.; $28
Agave Nectar Body Oil
To give your skin a beautiful, camera–ready, just-moisturized sheen, use Kim Kardashian West's secret: body oil. But rather than applying a greasy baby oil, Kim's makeup artist has used FarmHouse Fresh's Agave Nectar Body Oil on her. Perfect for a luscious after-bath or after-shower moisturizer, Agave Nectar has a light oat/milk scent and a custom blend of extracts that reduce the rate of your skin's water loss. Barley, sandalwood, and amurense bark marry with agave nectar and natural oils to really hydrate the skin without leaving it feeling greasy. 4.5 oz.; $18
Marshmallow Melt Shea Butter Cream
This shea butter whip is vegan and gluten free; like other FarmHouse Fresh Shea butter products, the Vitamin E-packed jojoba and soybean oils calm extremely dry skin. A "marshmallow-y light," all-natural blend of tonka bean and sandalwood smells as good as it sounds. 8 oz.; $30
And every purchase from FarmHouse Fresh helps save something furry. Learn more about how this dedicated team helps local rescue groups save forgotten and abused animals.