Beauty & Brains
Published: Tuesday, April 20th 2010
in Beauty
---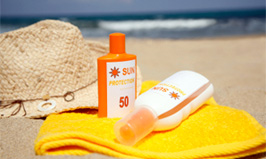 Sunscreen
Short of staying indoors or covered up, there's no better defense against sun damage than wearing sunscreen daily, says Dr. Ostad, a skin-cancer treatment specialist.  The most sophisticated products offer broad-spectrum protection, such as La Roche-Posay's Anthelios Sunscreen SPF 40 with Mexoryl, the gold standard of sunscreens, according to leading dermatologists, that yet to receive FDA approval.
Because UV rays also cause premature aging of the skin, making many 40-somethings look 50-something, many sunscreens now also contain ingredients to treat those effects. Estee Lauder's Multi-Protection Sun Lotion for Face SPF 30 contains five chemical sunscreens, including
avobenzone, which goes after wrinkle-causing UVA rays. It also has a melanin inhibitor to help prevent sun spots. And Bliss's Sunban Face SPF 30 contains encapsulated antioxidants that are actually released by UV rays—they breakdown the capsule coating—thereby offering sun damage protection at the time of exposure.
Also on the rise are mineral sunblocks, such as zinc oxide and titanium dioxide, because they're not absorbed into the skin like chemical sunscreens are and are therefore less irritating. Colorescience's Suncanny Face Colore SPF 20 dispenses the powdered sunblock in a retractable brush for one-handed application.
Antioxidants
About 80% of sun damage occurs before the age of 20, according to Ariel Ostad, M.D.  That's why products with free-radical fighters (from alpha lipoic acid to vitamin C), are necessities as we age.  These products help fight the damage done by slowing the oxidation process which
causes sun spots and wrinkles, and preventing further damage (collagen and elastin breakdown).
These ingredients play key roles in antioxidant serums like EmerginC's Complexion-Perfection with alpha lipioc acid, sea buckthorn, and retinol and Juice Beauty's Green Apple Antioxidant Serum, which contains alpha lipoic acid and co-enzyme Q10, plus AHA's and peptides. 
SkinCeuticals' Serum 20 AOX+ is a potent vitamin C serum with ferulic acid, a "performance-enhancing antioxidant."  Ferulic acid has been a hot topic in peer-reviewed medical journals for its proven antioxidant protection.  (The serum is also an exfoliant, so you must wear sunscreen over it when going outside.  SkinCeuticals has given Prevage with idebenone, a run for its money.
You would think that antioxidant serums would also contain sunscreen, but that's not the case. Kerstin Florian's Spa Sun Face Serum SPF 25, with vitamin E and chamomile oil, is the lone example of such practical thinking.