A Caribbean Mom's Solution to Soothe Her Daughter's Skin? Create her own line! Itiba is born.
Published: Wednesday, April 13th 2016
in Beauty
---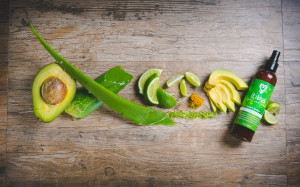 Yoki Hanley's infant daughter inspired Itiba's creation, and family continues to be the brand's backbone.
By Sarah Greaves-Gabbadon
When Frederiksted, St. Croix postal worker Yoki Hanley couldn't find products that wouldn't irritate her five-month-old daughter's delicate skin, she decided to make her own.
"Every time I'd bathe her she'd cry, and when I realized her discomfort was being caused by commercial soap, I had to do something," says Hanley, whose parents had long used "bush" remedies harnessing the medicinal properties of their U.S Virgin Island herbs, plants, and fruit.
"Growing up in the Caribbean, 'bush' is your first doctor; that's how I was raised. So when my daughter developed this severe reaction it was instinct for me to turn to natural remedies," Hanley says. "I started tinkering in my kitchen and eventually made a soap with skin-soothing ingredients such as coconut oil, lemongrass, and lavender. The results were dramatic. Her crying stopped, and we both got our first proper night's sleep since she was born."
The soap bar Hanley made back in 2009 sparked a passion for creating a business inspired by the island's bounty that would simultaneously help nourish and heal others.
And today, Hanley is the powerhouse behind Itiba, a collection of all-natural, minimally processed lotions, soaps, oils, and body butters. It is the only locally made skin care line that carries a dermatologist's recommendation. Her family samples each potential product; if any item irritates someone's skin in any way, the sample is tossed.
Moving from her kitchen to a production plant and eventually into her own Frederiksted store has been an exciting journey for the mother of six, but Hanley encountered hurdles far greater than learning how to make aloe vera juice and coconut oil. As Hanley's venture gained steam, she faced her biggest challenge: "My husband, the love of my life, was murdered while I was pregnant with our sixth child. I was devastated. I wanted to quit the business. But with the support of my friends and family, I somehow found the strength to go on."
While the name is a reference to Mother Earth, Itiba's logo, based on the Ghanaian Sankofa symbol, is a tribute to Hanley's husband. "Similar symbols are found in the petroglyphs on our neighboring island of St. John and were believed to have been carved by the island's original inhabitants, the Tainos. My husband was half Taino, so the logo is my way of honoring his memory."
Hanley plans to open a second store in May 2016 in St. Croix's capital, Christiansted. Despite her success, creating a retail empire has never been the end game. "Ultimately, I hope that I make a difference in people's lives, whether with my products or with my story," Hanley says. "I just want to encourage others to follow their dreams."
Shop Itiba at the King Street, Frederiksted store on St. Croix, or online at itibabeauty.com.