How to Remove Your Acrylic and Gel Nails; Beauty DIY
---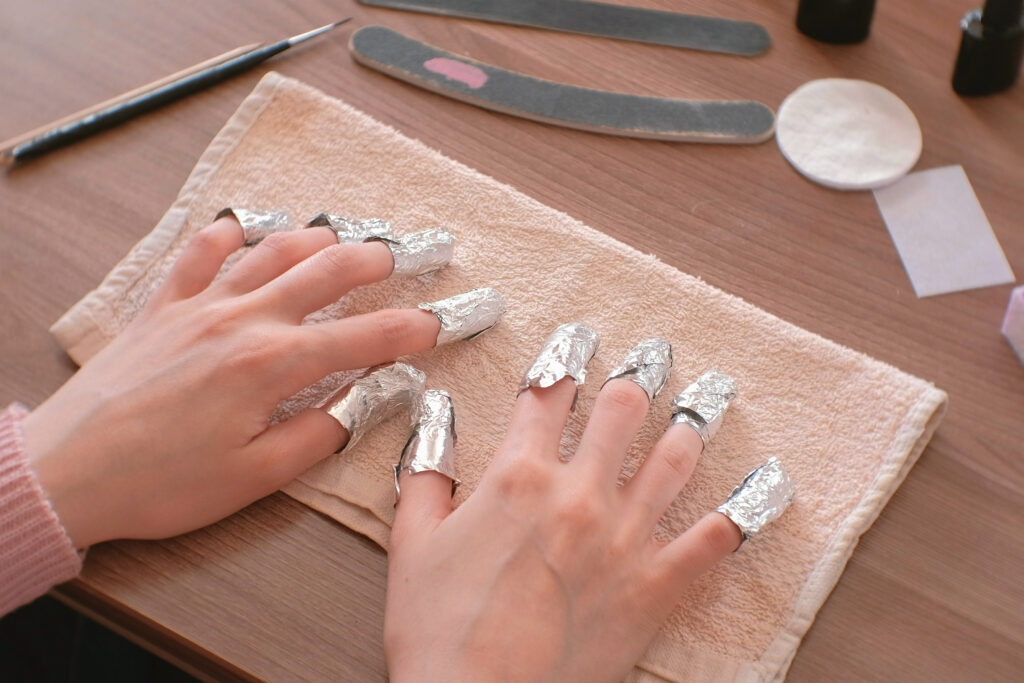 We've all been living in Coronavirus-land long enough that our regular beauty routines have been disrupted. Maybe those acrylic nails that you get so many compliments on are now in desperate need of removing. Or your gel nails are looking shabby and it's beyond time to replace the polish. While it's always best to let a nail professional remove acrylics or gels, we're living in challenging times. And with a few simple tools you can manage this process at home. Then the next time you hit up your favorite salon, treat yourself to a professional polish and a dreamy spa manicure. We can't wait.
Removing Acrylics with a Classic Acetone Soak
This method requires a bowl of 100% acetone. The trick to making the removal a bit more manageable is to warm the acetone first by dipping the bowl in a warm water bath. Do NOT microwave the acetone as it is extremely flammable. And remember to open a window while undertaking this nail removal journey – fresh air keeps your mind fresh.
Cosmopolitan magazine breaks the process down into these helpful steps.
How to Safely Remove Your Acrylic Nails
Carefully clip off your excess acrylics
Be mindful of cutting them as close as possible to your real nails.
Use a nail buffer
Nail buffers are great to rough up the surface of the polish until the shine is gone. Removing the top layer helps the polish to soften faster in the acetone.
Pour 100 percent acetone
Once you pour the acetone into a tray or bowl and soak your nails in it for five minutes.
Use a metal cuticle pusher
With a metal cuticle pusher, gently push the polish off your nails, pushing from your cuticles to the top of your nail.
Re-dip nails
Re-dip your nails for five mins, then gently push again. Repeat until your acrylics have completely soaked off.
Buff, buff, buff
Buff off the rest of the smaller pieces with your nail buffer.
Massage cuticle oil
Massage cuticle oil into your nails to rehydrate them, them buff it into your nails with the soft side of a buffer. Finish with another layer of cuticle oil.
And this video makes it easy to do the job right.
Level Your Nails with an Electric File
If you've been in the acrylics game long enough, odds are you've already taken your nails into your own hands a few times and have invested in an electric nail file. If you're in possession of one, here's the method for you.
Safely Remove Your Gel Manicure
This step-by-step video from PopSugar shows how to remove your gel manicure at home. It's all done with cotton balls, acetone and aluminum foil – no sanding, no peeling.
Follow Up with Nail TLC
Be sure to give your nails a little extra love and attention after both processes. Rub in some vitamin E on them and pamper your hands in lotion – after all that hand washing, they deserve some TLC.
Plus, it's good to give your nails a chance to breath. This is the perfect time to take a temporary break from acrylics and gels and go with chic, buffed nails. And – you guessed it – here is a fun DIY video. https://www.youtube.com/watch?v=SPHtYfqcAAg
SPAFINDER LIVE!
Spafinder is supporting wellness at home with classes in meditation, yoga and more. Check out the SPAFINDER LIVE! April calendar.
October 2023
M
T
W
T
F
S
S
1
2
3
4
5
6
7
8
9
10
11
12
13
14
15
16
17
18
19
20
21
22
23
24
25
26
27
28
29
30
31
Special occasions call for Spafinder. Gift today, spa tomorrow.