Beauty Gets Real–CVS Commits to Full Transparency in Images
---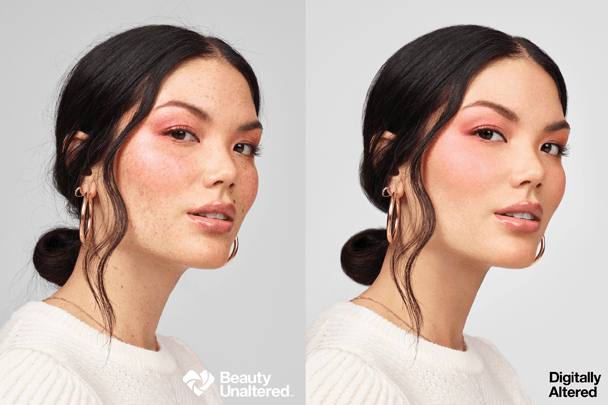 For years, there have been conversations about how digitally altered images of models and celebrities in media negatively impact how girls and women see themselves. In fact, Harvard reports altered images create unrealistic proportions standards for beauty so extreme that 50% of three-to six-year-old girls worry about their weight.[1]  One company, CVS Pharmacy, has committed to full transparency for all beauty imagery by year-end 2020 and its campaign is in full force. What's a real image? What's been digitally altered? CVS Pharmacy locations vow to let consumers know.
Beauty Unaltered  
CVS recently provided consumers a glimpse of its commitment to beauty transparency at a star-studded event in Times Square. Following its Beauty Mark Initiative rollout last year, the company says about 70 percent of the beauty imagery in CVS Pharmacy sites nationwide will be "CVS Beauty Mark" compliant.  How will this manifest itself? Images will contain a watermark specifying they were not materially altered or will be visibly labeled as "digitally altered." This pertains to beauty images in CVS Pharmacy locations. It also impacts brand partner imagery used on cvs.com and in consumer marketing promotions like social media and advertising. Even CVS Pharmacy beauty influencer partners are contractually obligated "to create and share only imagery that has not been digitally altered and does not use social filters," CVS says.
Beauty Redefined
What does this mean to you? According to the CVS website, the company "…will not digitally alter or change a person's shape, size, proportion, skin or eye color or enhance or alter lines, wrinkles or other individual characteristics. We want our beauty aisle to be a place where our customers can always come to feel good, while representing and celebrating the authenticity and diversity of the communities we serve." This means children and adults will see images that reflect who they are as an important step in creating positive feelings of self worth.
Joining The Pledge
National key brand partners on board include Aveeno, Almay, Burt's Bees, Covergirl, L'Oreal, Neutrogena, Olay and Revlon, which followed suit with unchanged beauty images for new 2019 campaigns. Ayesha Curry (Covergirl Outlast Lipstick campaign model) was among those in attendance at the Times Square event. Other notable names appearing in digitally unaltered images include supermodel Ashley Graham (Revlon brand ambassador) and actress Kerry Washington (Neutrogena brand ambassador).
"As a purpose-led health care company, as well as the second largest beauty retailer in the country, we want the millions of customers that visit CVS Pharmacy locations each day to see a more authentic and diverse representation of beauty," says CVS Pharmacy President Kevin Hourican. "We applaud the brand partners that truly embraced this initiative and helped us in taking significant steps forward in our effort to change an industry standard that has an impact on the health and self-esteem of our mutual customers."
[1] Harvard, "Advertising's Toxic Effect on Eating and Body Image," T.H. Chan, 2015