Color Me Beautiful: Shedding Light on LED Facials
---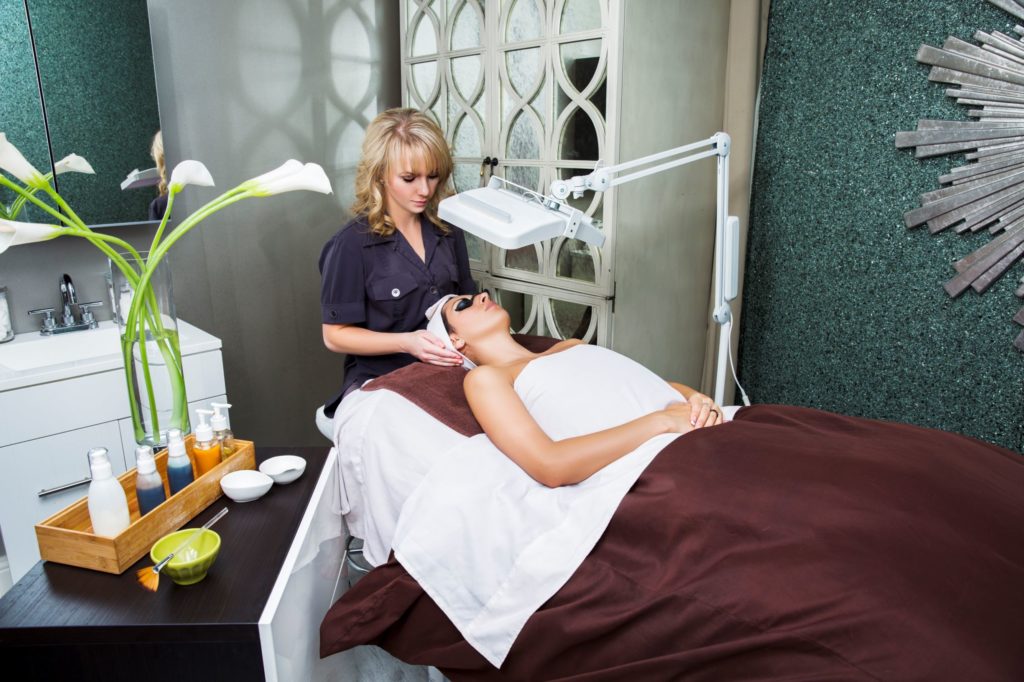 A LED facial is a type of non-invasive photo facial that uses colored lights to stimulate collagen, even out skin tone or even kill bacteria that triggers acne breakouts. Said to be pain free and milder than IPL (intense pulsed light) treatments, there is no risk of burning with LED facials and fans report no discomfort. We're here to tell you what to expect and to understand why this high tech beauty treatment is so popular.
How LED Facials Work
An LED facial machine uses varying wavelengths of non-invasive lights (think different colors) to achieve specific benefits. For example, blue light treats acne and red light boosts collagen and diminishes fine lines/wrinkles. However, green light reduces hyperpigmentation and sun damage and amber light treats spider veins, etc.
The idea is that various colors of light cause the skin to react in different ways below the epidermis, which is the top of three layers of skin. The lights penetrate the skin at different depths, causing specific reactions.
What to Expect
Book your LED facial (sometimes called at anti-aging facial) at a medical spa or dermatologist's office. This popular skin care treatment can be an add-on service to other facials, and studies show it is effective.
• First, your esthetician will thoroughly clean your skin while you relax on a comfortable table.
• Although the machine does not touch your skin, you will wear goggles to protect your eyes during the treatment. (If you are being treated near your eyes, you will wear small eye "stickers.")
• Depending on the LED machine, she may also apply a special gel that helps convert the light into different wavelengths.
• Here's a happy thought: During your facial, you will feel like you are relaxing in the sun.
• Depending on other steps in the facial, the entire session takes from 20 to 50 minutes. For example, your esthetician may turn the LED machine off and perform extractions, which will heal quickly thanks to the blue light.
• After your treatment, she will apply a moisturizer and SPF sunscreen to protect your skin.
Immediate Results
LED facials don't use harsh chemicals or involve "needling" the skin, so you won't experience redness or peeling after your medi-spa treatment. Expect to see immediate results: your skin will be more vibrant and clear–oh, joy! Most people see full results, including wrinkle reduction and lighter dark spots in three days.
Good to Know
You will notice better results with a series of treatments. LED facial cost from $125 to $195, and up, depending on the length and add-ons. However, with immediate results and no downtime, we think they are a good investment.
Find facials near you.
Give the gift of beauty with a Spafinder gift card.