Editors' Picks: Our Favorite Beauty Products of 2015
---
Before the holiday season begins and your focus turns to finding the perfect gift for someone else, why not find the perfect something special for you? We've rounded up some of our favorite beauty products of the year to help you make "me time" a little more special!
Jackie's Picks: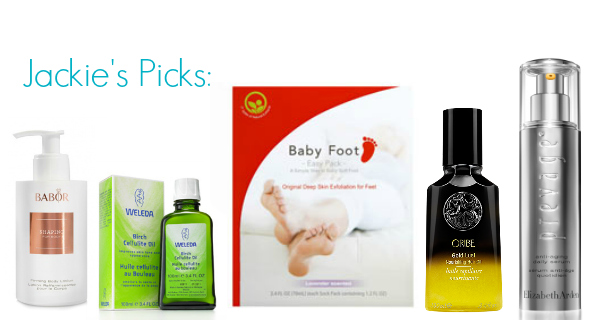 Babor Firming Body Lotion + Weleda Birch Cellulite Oil: Just add a dry brush and you've got a seriously effective way to beat cellulite. The Babor Firming Body Lotion uses the brand's exclusive elsberry stem cells to promote skin elasticity and leaves skin moisturized and supple. Weleda's Birch Cellulite Oil uses a potent birch leave extract known to detoxify and purify. Apricot kernel and jojoba seed oils nourish skin while rosemary leaf extract stimulates circulation. Adding the dry brush routine in the morning and massaging in this combo concoction morning and night will decrease the appearance of cellulite in just a few weeks, especially when paired with exercise and a healthy diet. Babor Firming Body Lotion, $40, us.babor.com;  Weleda Birch Cellulite Oil, $27, usa.weleda.com
Baby Foot: Say goodbye to calluses and dead skin thanks to Baby Foot. This at-home foot peel is like a glycolic facial for your feet. The two plastic booties are filled with a gel that is packed with 17 types of natural extracts. After soaking your feet in water for maximum impact you'll place the booties on your feet, secure with the included tape, and sit for an hour. In 5-7 days the skin on you feet will begin peeling away (kind of like a sunburn) leaving behind soft, smooth skin in its wake. $25, babyfoot.com
Oribe Gold Lust Nourishing Hair Oil: If you ever splurge on one product for your hair let this hair oil be it. As the name suggests, it's pure liquid gold! Well not, literally. The light oil is actually a blend of jasmine, edelweiss flower, lychee, sandalwood, cassis, bergamot, and argan extracts. It conditions hair without weighing it down leaving locks shiny, frizz-free, and unbelievably soft to the touch. I use it before blowing out straight and when I air dry my curls. $49, oribe.com
PREVAGE® Anti-Aging Daily Serum: By far my biggest skin care splurge, this anti-aging serum has dramatically improved the appearance of my skin. It has improved the overall tone, minimized the appearance of pores, and left my skin looking radiant even when it's makeup-free. $162, elizabetharden.com
Kate's Picks: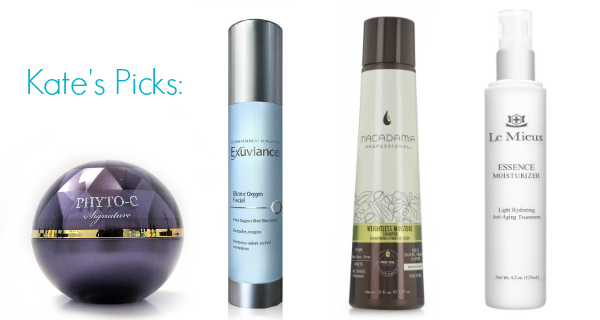 Phyto-C Signature
I'll admit it: I love when beauty products come in pretty packaging. However, I'm also picky because these beauty products in pretty packaging have to pack a punch in terms of effectiveness. That's where Phyto-C Signature anti-aging product comes into play. Pricey but worth it, the cream is silky and glides on my skin, and I've noticed the tone of my complexion has become brighter and more even the longer I use it (plus, it's packaged in a snazzy round purple and gold case). $240; myphyto-c.us
Exuviance Bionic Oxygen Facial
Exuviance Bionic Oxygen Facial is my newest obsession. It's quite quick—I simply massage it on my damp skin and leave on for about five minutes—and my skin appears instantly plumped and brighter. I definitely plan on using it prior to upcoming holiday parties (and probably the morning after following the too-much-fun festivities!). $65; neostrata.com and ULTA stores
 Macadamia Professional Weightless Moisture Shampoo
At first, I was hesitant to try Macadamia Professional Weightless Moisture Shampoo—it's infused with macadamia, argan, avocado, and walnut oils, but it's supposed to be weightless?—but am glad I did! Chalk one up for Macadamia because the shampoo not only deeply conditions my hair without leaving it greasy, but it also adds volume. $22; macadamiahair.com & ULTA stores
Le Mieux Essence Moisturizer
At $45, Le Mieux's Essence Moisturizer is more affordable than many skin-care products I've tried and keeps my skin hydrated. What I like best about this Le Mieux product is that it is fragrance free while being rich in antioxidants and peptides. $45; lemieuxcosmetics.com
What are your favorite products for skin, hair, and body? Let us know in the comments below!