'Hair' Today, Gone Tomorrow: 5 Tips to Picking the Perfect Stylist
---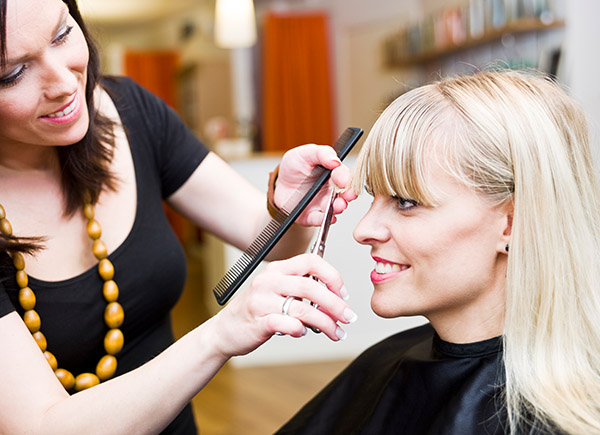 No matter what the treatment, it's important that you feel comfortable and confident with the salon and stylist you've chosen. We've gathered five tips about how to optimize your salon experience to ensure that you leave your appointment feeling great about the outcome.
When seeing a new stylist, it is very important that you feel comfortable and confident in his or her hands. While we've all heard, "it's just hair, it will grow back," a bad haircut can be particularly upsetting. Here are some general tips on picking a stylist that should help you leave the hairdressers happy and confident:
1 Getting to Know You: While all hair salons run on a tight schedule, make sure the initial consultation time with your stylist is thorough, rather than glossed over or rushed. This is the time when you have the opportunity to communicate to your stylist what you want out of the appointment, and when you and the stylist can make sure you're on the same page before the cutting commences. Not only should the stylist be listening to what you're looking for, but he or she should also be taking into account your energy and style, deciding whether or not you're ready for a high-maintenance cut and colour, or a more wash-and-go style.
2 Get Inspired: If it is your first trip to a particular hairdresser or you are hoping for more of a drastic style change, take along some magazine clippings or create a Pinterest board of styles you admire to show your stylist – before they reach for the scissors! Remember, just because you would love an 'Alexa Chung' or 'New Girl' fringe, it does not mean that it will suit your hair type or face shape. A good stylist will offer alternatives to achieve the look you want, while working with what you have got.
3 Ask for a Tour: If it's your first time in a salon, sometimes the different stations (washing sinks, cutting chair, blow-dry chair) can be confusing. Ask your stylist to walk you through the process and tell you where you will be going and when, in order to feel more comfortable with the entire salon visit.
4 Speak Up: If, at the end, or at any point during your appointment, you feel unhappy with the result or the way things are going, speak up. Your stylist wants to give you the best look possible and should work to turn things around if you're not pleased with the style.
5 Give and Take: Even the best hair stylists in the world are not clairvoyant; to really create a lasting relationship, a little trust and openness goes a long way. Most salon professionals love people, and they want you to be feeling your best every time you leave their salon chair. Take the time to get to know them a little too – your hair will have never looked better and you might just make a friend for life.
Before you head to the salon follow our haircare tips for a healthy scalp or whip up our DIY Ylang Ylang Hair Oil Recipe at home. Do you have any healthy hair tips or recipes? Share in the comments below, we love to hear what you think.
To enjoy a head massage or spa treatment, at thousands of locations , be sure to purchase a Spafinder Gift Card!