Just in Time for Fall–Apple Recipes, Hints and Tips
---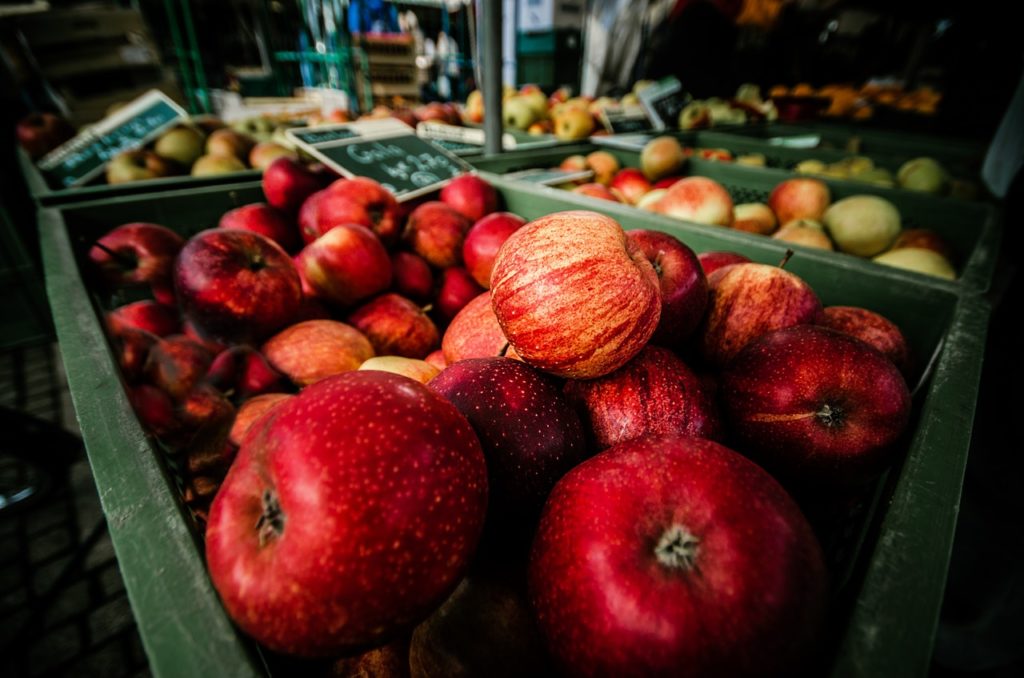 Eve knew what she was talking about. Apples are the ultimate delicious, scrumptious delight. You can cook or bake them any way you'd like, and they add a sweet (but not too sweet) taste to salads, soups, deserts and your favorite breakfast cereal. It's also bushels of fun to go on an apple picking outing at a local farm. Plus, apples make great DYI spa treatments– see the recipe below for an Apple Pie Spa Skin Polish from the spa gurus at Bliss.
In addition, apples are chock full of antioxidants, vitamins, filled with fiber and potassium and are an excellent source of vitamin C and B-complex vitamins. However, most of an apple's healthy antioxidants are in the skin so be sure to use un-peeled, organic apples.
Choose Your Favorites
Once upon a time there were over 15,000 types of apples grown in the U.S. Today, we don't have access to that many varieties but lucky us, we can still find scores of varieties in most grocery stores. Plus, organic apple growers are re-introducing more heirloom types, with tastes for every palate.[1] (Think tart apples, sweet apples, juicy apples, crisp apples, McIntosh, Fuji, Gala, Grammy Smith, Golden Delicious– the list goes on.)
However, because apples rank near the top of Environmental Working Group's "Dirty Dozen" list of the most pesticide-laden fruits and vegetables in the U.S, it is very important to eat organic apples.[2] They also taste better without all those added chemicals with names we can't pronounce.
Be An Apple Culinary Star
It is easy to be a superstar chef when you're cooking with a superfood like apples. Here are three tips that will make cooking with apples a breeze and have your guests asking for seconds.
This goes without saying: Invest in the highest quality, freshest, organic apples you can find.
Apple pie filling is easy but the crust can be challenging. In addition, it's loaded with carbs and fat. Just choose your favorite recipe and bake only the filling until its bubbly; if you want a little crunch, sprinkle some oatmeal or vanilla granola on top.
When you are baking any type of apple desert, think of sugar as a spice and cut back on the sweet stuff. Just substitute more cinnamon, nutmeg or vanilla to the recipe. (Check out a few of our favorites here.)
Apples are terrific in salads and soups. Add chopped apple to your pumpkin or squash soup recipe and we think you'll love the vitamin-filled result. And apples go especially well in a salad made from spinach, cranberries and pecans. Just before eating, add a simple dressing made from light oil, white vinegar, a teaspoon or two of chutney and a little dry mustard.
A Blissful Polish
Last but not least, here is the DYI Apple Pie Spa Skin Polish from Bliss.[3] Apples contain malic acid, an exfoliating enzyme that is useful for removing dead skin cells and surface dirt.
Combine and stir well:
2 tablespoons brown sugar
2 tablespoons granulated sugar
1 tablespoon fresh apple puree or applesauce
1/8 teaspoon cinnamon
In the bath or shower, apply scrub to skin in a circular motion. Rinse well, and apply a moisturizing body lotion. If you use on your face–or your skin is sensitive–only use brown sugar.
[1] Prevention, 25 Different Kinds Of Apples—And The Tasty Benefits Of Each, Jane Black, August 2016
[2] EWG.org, EWG's 2018 Shopper's Guide to Pesticides in Produce™, Sonya Lunder, April 2018
[3] WebMD, 9 Home Spa Makeovers for Body and Soul, Jenny Stamos Kovacs, Archives