Be a Kitchen Beautician: Raid Your Pantry for These 12 DIY Spa Treatments
Published: Wednesday, March 2nd 2016
in Beauty
---
by Sheila Cluff, internationally-known fitness expert, owner, and founder of The Oaks at Ojai
Like luxury beauty treatments? Who doesn't? However, if there is a way to get the quality beauty treatments without a stiff price tag I'm right with you. I've talked with a number of beauty consultants and want to share some of their best, most secret tips for beauty treatments from items you might have in your kitchen's pantry right now.
Olive Oil
Love it on salads and when sautéing?  It may be your next beauty secret.
Dry hair? Or is your crowning glory dismal from being over-processed and over-colored? Massage 1 tablespoon into hair and on scalp.  With plastic wrap, make a "turban" out of the film and cover head. Leave on for 20 minutes, wash hair and scalp well, repeating if necessary.
Dry skin? You are not alone if you feel the flakes come off when you rub your skin. For dry skin, before a bath or shower, smooth on a thin film of olive oil all over the body, massage into dry areas such as elbows, heels, forearms, and legs. Allow oil to penetrate the top layer of skin for about ten minutes and then in the shower or bath, using a very mild soap, gently suds off the oil. After the shower/bath, do not rub skin dry, but pat dry.
Cracked heels and flaky feet? You'll wonder why you didn't think of this sooner. Massage about 1 teaspoon, or perhaps a bit more, of oil into heels, soles, and around toes. Slip on socks and go for an hour-long walk. When you come home your feet will look five years younger.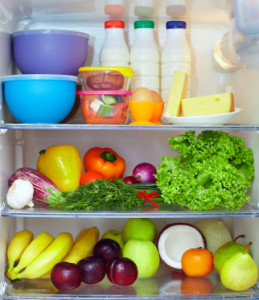 Milk
Whether it's milk from almonds, coconuts, or cows, try these beauty treatments.
Natural way to remove make up? Pour a half cup of milk in a small bowl and with cotton balls or a clean face cloth soaked in milk, smooth over your face. Rinse with water if you'd like.
Beauty bath, anyone? Add a quart of milk to your bath to moisture as you relax. For oodles of foam, throw in a cup of dried powered milk.
Oily skin? Before applying foundation, dab areas that are extra oily with milk. Let dry and then put on your make-up.
Need a natural body scrub? Make a face and body scrub by blending 1 cup of dried powered milk and just enough water to create a paste. Gently massage into face and body in circular motions, jump in the shower, rinse well.
Tired aching feet? We've all heard about soaking them in hot water, but cold works really well too. In a large bowl or basin, add 1 half gallon of milk. Soak feet in cold milk, adding ice cubes when the milk begins to warm. When you finished, pat feet dry and massage.
Citrus
Lemons, tangerines, and oranges are California-kitchen staples this time of year and they make fabulous beauty treatments too.
Want sun-streaked hair? In a clean spray bottle, add 1/2 cup water and juice from one fresh lemon. Shake well, spritz throughout hair and especially on the roots. With a hairdryer on high heat, dry hair completely. Gently shampoo hair and follow with a conditioner.
Need a steamy facial? Pollution, hormones, and/or lack of sleep can make the face look tired and without luster. Place a large bowl on the kitchen counter, add 1 quart boiling water and mix in the juice from 2 fresh lemons. Slip a towel over your head and lean into the soothing steam. Do not place your face in the hot water. (You can add a handful of crushed fresh mint or crushed rosemary.)
Want soft, youthful skin? Tangerines are part of the recipe that sounds odd, but is luscious especially for dry skin on the legs. Mix the juice from one tangerine and 1/2 cup dairy cream. Let curdle and then strain out moisture; discard or add to a bubble bath. Take what is in the strainer, your skin moisturizing cream, and smooth onto your legs, arms or hands. Especially good in the winter.
Dry hands? Take the juice of one orange and one ripe, mashed banana and add 1 tablespoon coconut oil. Massage into hands and especially around cuticles; leave on for about 30 minutes.Rinse well in warm, not hot, water. Smooth in a film of moisturizer.
Your kitchen can be a beauty bonanza with these treatments.  They're so good you'll want to share them with your friends and co-workers to stay beautiful and fit for life.