Microblading: How to Get That Celebrity Look
---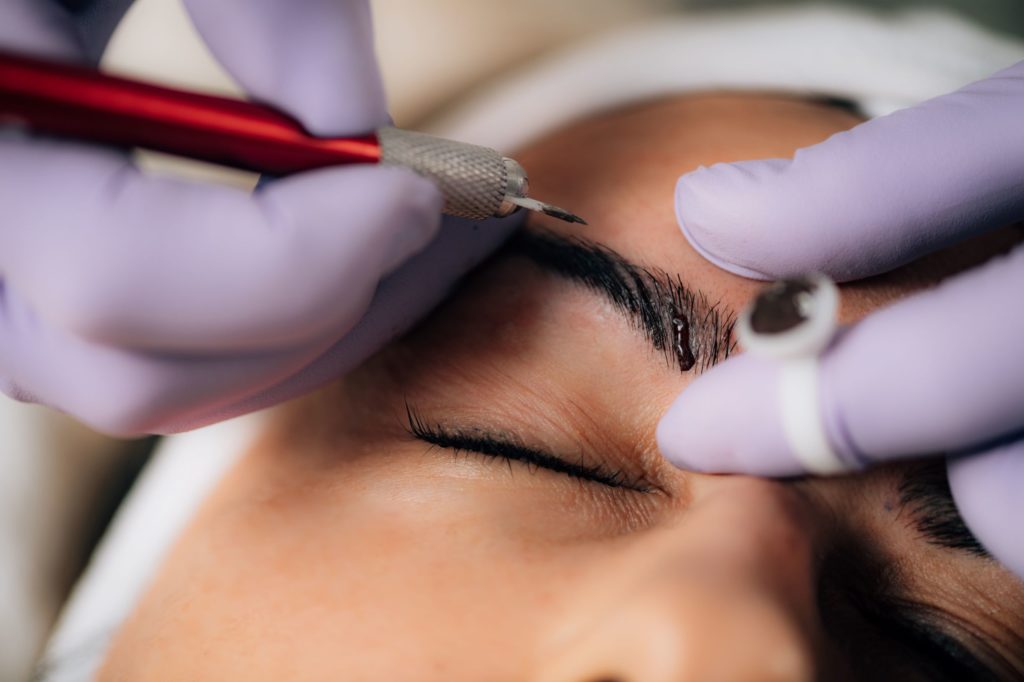 Back in the day, eyebrow tattooing was the way to fill in sparse, thin, uneven eyebrows and create a fuller brow line. But there are downsides, including ink that is too dark and unnatural looking results. Enter microblading, which today is the first choice for people looking for refined results and full, luxurious brows that are a hot trend
Microblading: What's In a Name
Personally, we think microblading is misnamed. The term blade conjures up visions of little knives cutting our skin, while in reality, a microblade is a hand-held device made up of teeny, tiny needles carrying a pigment. (We thought you'd like the idea of needles better.) A vegetable-based dye is then applied with hair-like strokes to mimic the hairs that grow naturally in your brow line. The idea is to give your brows a full, natural look.
Some salons and spas also do ombre brows, filling in the brow to give it a makeup look. And In microshading, a combination of microblading and ombre, the beauty technician does hair like strokes at the head of the eyebrow and shades in the rest of the brow.
Microblading Versus Tattooing
Microblading is a semi-permanent brow makeup that is similar to eyebrow tattooing but different in significant ways.
• First, because the technician is working with extremely small needles, she can achieve more refined, natural looking results.
• In addition, the pigment (ink) is subtle and gradually fades to a more natural looking shade.
• Tattoos are designed to be permanent and they are harder to remove if you don't like the shape of your brows or change your mind.
• A tattoo is applied with a vibrating needle, while microblades don't vibrate. This usually results in more accurate, detailed work.[1]
• Microblading results typically last up to 18 months but the pigment can take up to three years (or longer) to fully fade.
How Microblading Works
Depending on the technician, microblading takes one to two hours. Here is the process:[2]
• Your beauty specialist will rub a topical numbing cream on your brows and leaves it on for 20–40 minutes to work. (She removes it after the area is numb.)
• Next, she measures your face and brows and sketches on the shape that looks best for you.
• Then, she "draws" your brow's new shape, using those tiny needles to scratch your skin's surface and fills them in with light, hair-like strokes. (Think kitten whiskers.)
• After you are both happy with the design, your brow expert applies medical-grade ink (pigment) to your eyebrows and waits five minutes (or so) before removing it. She may apply the pigment twice before finishing.
• You will return for a touch-up in about four to six weeks. At that time, your technician will fill in any gaps, and fine-tune the shape. Many people then have touch-ups about every 18 months.
What to Expect
Depending on where you live–and the technician's skill and experience– microblading costs anywhere from $150 up to $700 or more. There will be some scabbing and flaking as your brows heal and you may want to stay home for a few days. Experts also recommend keeping your brows dry and avoiding exercise that makes you sweat.
Plus, it's important to be patient–and not panic. Your brow color will become lighter during the first two weeks, and you can expect to wait four to six weeks for the final result. Then it's time to have your touch-up session.
Good to Know
Be sure your brow expert draws the shape of your brows before she begins. No freehand microblading allowed! And be sure to do your research before booking an appointment. It's worth paying a bit more to get the results you want.
Find salons that specialize in microblading.
Give her the gift of beauty with a Spafinder gift card.

---
[1] Mirror, "Microblading: Everything you need to know before you have the treatment,"Rosie Hopegood, May 2019
[2] RealSelf, " Everything You Need to Know About Microblading, " Mari Malcolm, November 2018