Non-Invasive Body Contouring
---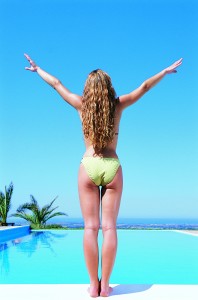 Unless you've got great superwoman genes or are 11 years old, we've all detected, or will detect, glimpses of cellulite and unwanted bulges somewhere on our bodies at some point in our lives. In fact, cellulite affects up to 90 percent of women, and it doesn't matter whether you're a size 0 or size 12. Other changes in our bodies happen over time or due to lack of exercise, and while eating well and staying active should be key constants in getting the body you want, a little help from the bevy of body contouring technologies and practices can make it easier for some.
Here are a few spa treatments highlighted by NewBeauty that are virtually painless and incorporate laser, heat and radiofrequency energy with suction and massage to even out fatty deposits, smoothing skin:
Endermologie uses vacuums and rollers to stretch out the fibrous bands of tissues, offering short-term benefits at most.
+ The Pro: Painless; helps with post-lipo irregularities.
– The Con: Multiple sessions are required. Any results garnered are not long-lasting.
Triactive uses suction rollers and massage to enhance microcirculation and improve skin elasticity and lymphatic drainage.
+ The Pro: Purportedly stimulates fibrolasts for smoother-looking skin by creating new collagen.
– The Con: Results are temporary at best.
Velashape II, a super-charged version of the original Velashape, merges suction, massage, radiofrequency lasers and heat.
+ The Pro: "It's more promising than other machines, but, at most, you'll get a 30- to 40-percent improvement," Kevin Tehrani, MD, a New York and Great Neck, NY, plastic surgeon told New Beauty.
– The Con: Can be difficult to gauge who will respond.
Velasmooth is a combination of radio waves, infrared light, suction and rolling massage.
+ The Pro: May temporarily work well on large areas.
– The Con: Maintenance sessions are needed.
SmoothShapes uses laser and light with vacuum and massage.
+ The Pro: "A study showed after six months and eight sessions, 75 percent of subjects had improved skin smoothness," San Francisco plastic surgeon Michael Kulick, MD, told New Beauty.
– The Con: Results that remain after one year have yet to be shown.
Thermage uses radiofrequency energy to tighten and tone.
+The Pro: Provides skin-smoothing benefits. Results last for about 18 months.
– The Con: Results and pain factor can vary depending on the person, and the treatment can be pricey. Also, results develop over time (generally takes about six months)
Another option to minimize the appearance of cellulite is to add fat to cellulite-affected areas (when performed in conjunction with cutting the septum) fills in dimples for smoother skin. Deeper cellulite almost always requires filler to keep the area elevated – some doctors have even used Radiesse (off-label), instead of fat.
+ The Pro: Offers long-term improvement. The best results are garnered when laser treatments are used, too.
– The Con: A secondary procedure may be needed since the results are unpredictable.
Many spas also offer lymphatic drainage, a less invasive treatment, which can help to smooth cellulite. Other benefits range from a decrease in facial puffiness and a boost in immune function to a soothing of muscle soreness. The specific treatment, actually called manual lymph drainage (usually referred to as MLD in the medical community), is the manual manipulation of the lymphatic ducts using gentle, rhythmic massaging of the skin to stimulate the flow of lymph and its return to the blood circulation system. The treatment is very gentle, and a typical session will involve drainage of the neck, trunk, and the extremity involved.
+ The Pro: Improves wellness and encourages relaxation; increases the volume of lymph flow, thereby helping to rid the body of toxins and alleviating some aches and pains.
– The Con: Results are temporary at best, and maintenance massages are necessary.
You might also like:
What to Expect for First-Time Visitors to a Med Spa
DIY Butt Lift: 5 Workouts to Build Your Best Butt
Reflexology 101: Not Just a Foot Massage
The Truth about Firming Creams: Do They Really Work?