"Protecting Your Largest Organ"
---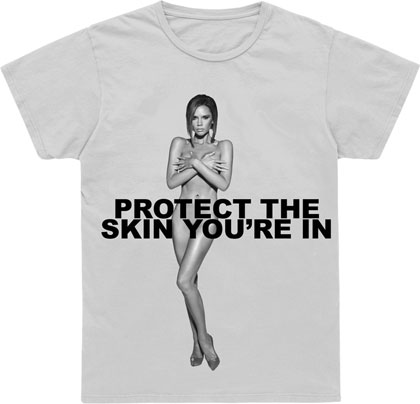 Back in 2006, Marc Jacobs, one of fashion's heavy hitters, and his business partner/friend Robert Duffy first took it upon themselves to bring awareness to a cause that happens to be close to our hearts also: melanoma prevention.
And when it comes to raising awareness, Jacobs knows that nothing gets more attention than nudity!  He enlisted the likes of celebs Heidi Klum, Julianne Moore, Victoria Beckham, Dita Von Teese, Naomi Campbell and Helena Christensen to strip down to their birthday suits and pose for images to be printed onto t-shirts featuring the slogan "Protect The Skin You're In."  Jacobs himself posed nude for a tee with the phrase "Protect Your Largest Organ."
Having been re-issued each year since their first run in 2006, the nudie tees have raised more than $1million (donated to NYU's Interdisciplinary Melanoma Cooperative Group), and brought awareness about the dangers of melanoma to fashionistas worldwide.
The campaign pays tribute to Duffy's friend, the late dermatologist Dr. Jesse Rubin, who worked at NYU's Langome Medical Center.  Dr. Richard Shapiro, a surgeon at NYU's Cancer Institute who treated Dr. Rubin, has said, "Marc and Robert have taken very personal experiences and used their creative energies to truly impact the direction of melanoma research and care here."
We know that melanoma kills one person every hour, but we also know that the disease is often curable when detected early.  Dr. Shapiro urges everyone to use the ABCDE method of detection, and not to be ashamed of stripping down in front of a doctor or loved one who may be able to help with spotting cancerous moles or spots.
Unfortunately, the t-shirt series will not be reissued again this year for melanoma awareness month, but to learn more about the efforts being made by the Interdisciplinary Melanoma Cooperative Group and NYU's cancer research center visit their website.