Pumpkin Facials: Good Enough To Eat
---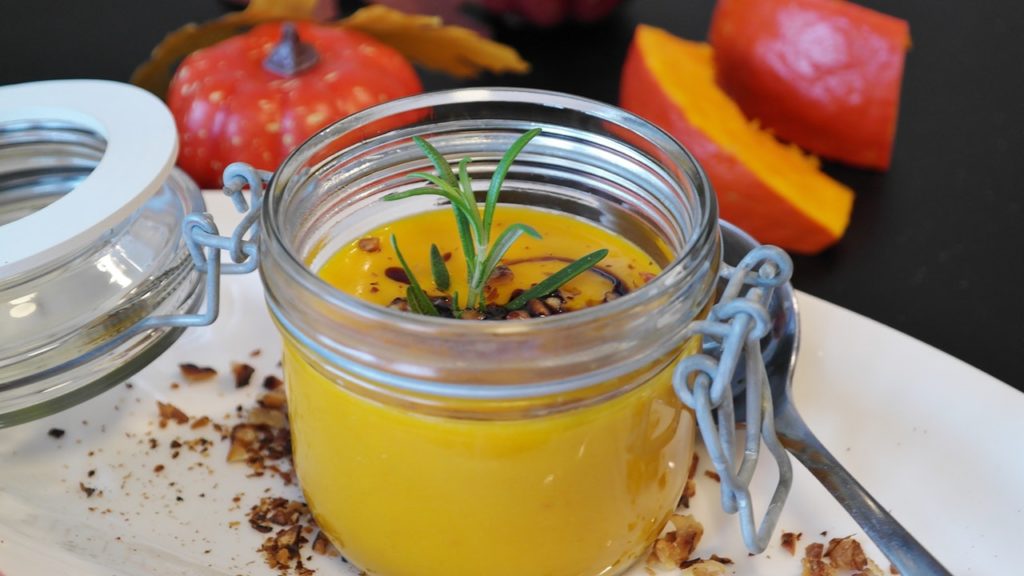 Pumpkin is packed with tasty nutrients like antioxidant beta-carotene and the wrinkle-fighting vitamins A, C and E. In addition, pumpkins are a terrific source of B-complex vitamins and minerals including calcium, potassium and phosphorus.  While our tummies love to gobble up tasty goodies made from pumpkin, fall is the perfect time to treat your skin to a healthy serving of this gorgeous super food–just hold the whipped cream.
The Sun-fighting Orange Super Food

The skin has pores and can absorb nutrients–meaning you can take in the benefits of pumpkin through your skin. In addition, pumpkins have lots of carotenoids, the deep orange and yellow compounds that protect plants from sun damage. Plus they may protect against various cancers.[1] That's a lot of yummy benefits!
True confession: we are addicted to the mouthwatering taste of pumpkin pies and lattes. We also can't get enough of pumpkin-enhanced spa treatments, from facials to scrubs to wraps. Your facial might begin with an enzyme mask designed to perk up dry skin with pumpkin extract, Vitamin A, and hyaluronic acid. A pumpkin polish to help your skim glow often follows this step.  Spas also offer pumpkin wraps packed with enzymes, beta-carotene, and antioxidants.
Fall Spa Treatments: Second Helpings, Please!

This season, Watercourse Way Bath House Spa in Palo Alto is serving a delicious Pumpkin Pear Treatment that includes an Eminence Pumpkin Cream Body Wrap, an Eminence Organic Facial with Stone Crop Cleanser and a Pumpkin Latte Masque. The spa is styled as a Japanese bathhouse and you can unwind with hot tubs, a sauna, steam room and cold plunge.
The JW Marriott Desert Springs Resort & Spa – Desert Springs, CA­–has featured a popular Pumpkin Cranberry Facial. Natural fruit enzymes, including a cranberry pomegranate mask, combined with pumpkin help to rejuvenate skin. In addition to a gorgeous spa, the resort boasts a fitness center, eucalyptus steam rooms, saltwater lap pool, boutique and full-service salon.
The Spa at Camelback Inn at JW Marriott Camelback Inn Resort & Spa in Scottsdale, AZ
has received rave reviews for its Caramel-Covered Apple Wrap: The body treatment starts with a body scrub consisting of apple, cinnamon and brown sugar, combined with an intoxicating ginger-pecan flavored body scrub, followed by a wrap, scalp massage and more. It's not pumpkin but we're not complaining.
DIY Pumpkin Facial

Pumpkin facials are easy breezy to make at home.  If you have dry to normal skin, mix about ¼ cup of canned pumpkin with a few teaspoons of honey to seal in moisture. If you have oily skin, add a dash of apple cider. Some DIYers recommend mixing in an egg or a ½ tsp. of milk for more tightening. (Vegans can use soy or almond milk.) Smooth the magic pumpkin potion on your face, relax for 15 to 20 minutes, rinse and enjoy your radiant complexion. This is a fun project to enjoy with your kids.
Treat yourself to a fall beauty treatment with a Spafinder Gift Card.
[1] SuperFoodsRX, "Pumpkin Packs a Powerful SuperFoods Punch," Online