Skincare Scoop – Fraxel and Clear + Brilliant Treatments
---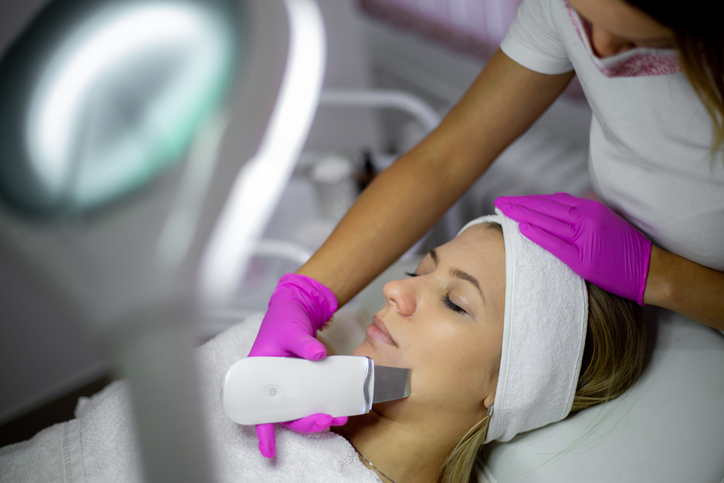 Skincare regimens with safe beauty products. A balanced diet that includes healthy fats. Daily use of sunscreen. Keeping your phone clean. Plenty of sleep and lots of water. These are all effective ways to keep your skin looking beautiful. But if your skin needs serious help, here's the scoop on laser resurfacing with Fraxel® or Clear + Brilliant®, considered among the most advanced skin treatments available.
Benefits of Facial Laser Skin Resurfacing
First let's talk about the top five benefits of laser skin resurfacing. Many are proven in clinical studies:
Reduce the appearance of fine lines and wrinkles and scarring
Tighten loose skin
Repair brown spots and freckles caused by sun damage
Create a more even skin tone
Can replace dull skin with new, radiant skin
How Fraxel and Clear Brilliant Work
Clear + Brilliant or Fraxel are non-ablative fractional lasers. (Ablative lasers remove the top layer of skin. Non-ablative lasers heat up underlying skin tissue so your body produces new collagen.) Both Fraxel and Clear + Brilliant create a "controlled injury" by using thermal energy to make micro tears in the skin. Your wonderful body then rushes in and makes more collagen while your skin quickly heals. The result? Your new collagen does its job and your skin is revitalized.
What Is Fraxel Laser Resurfacing
Our research shows laser resurfacing is the most intense type of skin resurfacing– and Fraxel is the most advanced resurfacing treatment. It treats sun damage, aging skin and wrinkles effectively, and usually only one treatment is needed. However, there is downtime (up to two to four weeks), and if you scar easily, Fraxel might not be recommended. And people with darker skin or acne may not be candidates for treatment
What About Clear + Brilliant?
On the other hand, Clear + Brilliant is gentler because it uses a less intense laser. Clear + Brilliant is good at maintaining healthy skin and treating superficial skin conditions such as small fine lines and minor sun damage. Because it reduces pore size, Clear + Brilliant is used for laser acne treatments. Dubbed the "lunch time Fraxel," there is no down time with Clear + Brilliant and the treatment typically takes under an hour. According to the publication Byrdie, Clear + Brilliant is used on all skin types and tones, "including those with deeper complexions who have been left out of many cosmetic laser treatments in the past."
If you decide to try laser resurfacing, consult with your dermatologist in advance and do your homework. This article from Web MD has helpful tips and advice for more intensive laser resurfacing.