Sleep Away Wrinkles Overnight
---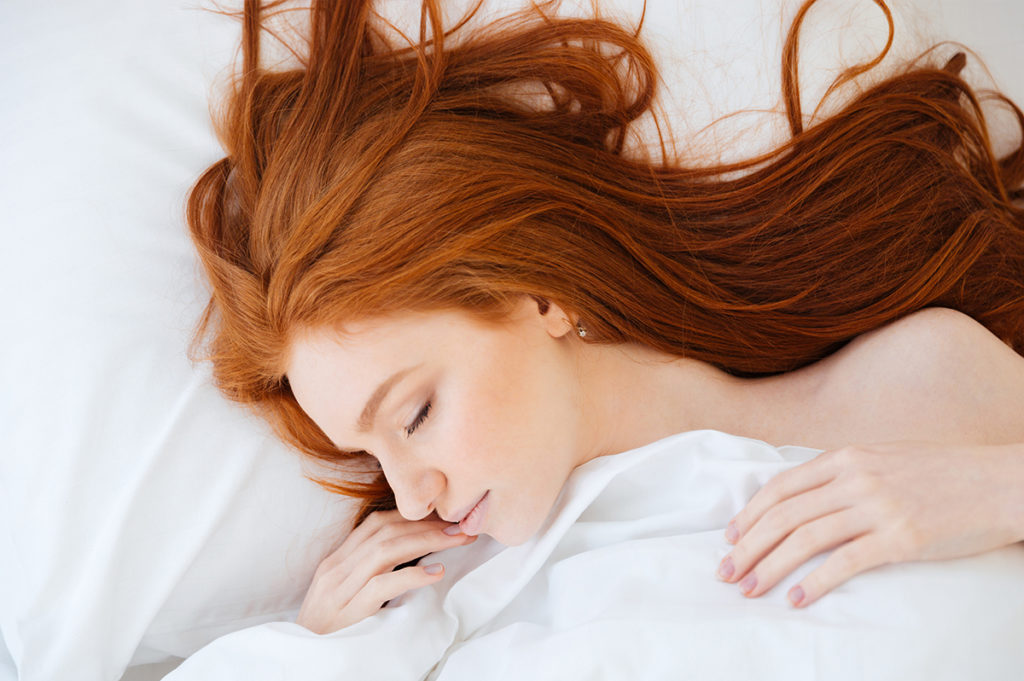 When your mom told you to get your beauty sleep, she was right: a good night's sleep is essential to your health and excellent for your skin. Maximize your Zzzzz's and sleep away wrinkles with these simple tricks and treatments.
Relaxing Those Facial Muscles while You Sleep
As we all know, there are many factors that contribute to aging premature and frowning is known to be a big culprit. When we are younger, the skin recycles itself faster so facial expressions don't really leave any marks on your face, but as we age the skin renewal cycle slows down, collagen starts breaking down and wrinkles show up.
Many of us tend to frown considerably at night while we are sleeping, so some of the staff members at Spafinder decided to try some of a few products that claim to reduce sleep wrinkles. We tested Facial Smoothies to Frownies which has been around over a century. Both are essentially strips that you place on wrinkles after applying moisturizer just before going to bed. We tried both overnight for over 10 days. Facial Smoothies was our favorite as it was easier to apply and had different shapes for most wrinkle-prone areas.
Sleep Smoothly
Many beauty experts say sleeping on a silk pillowcase, rather than cotton, can prevent wrinkles.  The premise is that your skin slides on silk, rather than crunching up in folds.
In our experience, strips worked best when combined with a sleep pillow and a satin pillowcase that essentially helps you prevent compressing your face against your pillow when sleeping on your side. It does not need to be a fancy or costly pillow and anything that helps you keep you from rolling on your side will do. You just need to try what works for you.
Moisture is Your Friend
Dry skin leads to wrinkles but an easy way to deal with dryness is by sleeping with a humidifier in the room, which put moisture back in the air. The added moisture helps prevent dull, flaky skin, and you may notice that you are sleeping better and your sinuses and throat are less dry. (Your plants will also thank you!) Just be sure to use distilled or mineral-free water; change the water daily; clean the humidifier once a week; and change filters as directed.
Plants are also a great way to add moisture as they release humidity during the photosynthesis process. In addition, some plants such as the "Snake Plant", the Areca Palm and the Boston fern are known for removing harmful elements and purify the air. Check your local nursery & gardening shop.
The Beauty of Creams & Serums
Night creams are generally heavier versions of creams and lotions that you use on your face during the day.  To avoid and fight wrinkles, many dermatologists and spa estheticians recommend applying a serum each night, followed by a moisturizing cream–after you carefully cleanse your face.  There are thousands of serums and creams on the market, from drugstore products to high-end brands, and it can be challenging to choose the ones best suited for your skin. The next time you have a facial or skin checkup, ask your doctor or aesthetician for suggestions and options.
If you like to make your own beauty products, aloe vera can do wonders while you sleep. Smooth a thin layer over your face and let its healing, soothing qualities do their work.  Just be sure you are using pure aloe vera, which is easily found in vitamin and retail stores and online. The same goes for coconut oil known for its moisturizing property. Just use it alone at night time and wake up refreshed.
Masks are Popular for Good Reasons
Masks have been a craze for several years and many beauty lovers are obsessed with Korean sheet masks, which are formulated to treat common skin types from dry to oily, combination to normal, and more.  For added benefits, some masks can be left on overnight, especially versions formulated to restore moisture, but read the label and check with an expert at the beauty counter before you spend the night sleeping in your favorite.
For an intensive treatment, we like to sleep the night away in a thin layer of Peter Thomas Roth's Cucumber Gel Mask, recommended for all skin types.  And Dr. Jart's Water Fuse Water-Max Sleeping Mask is said to strengthen the skin barrier and lock in moisture and nutrients while you "beauty sleep."
Don't Forget Your Tootsies
Hands and feet can also get wrinkled, a.k.a. dry and cracked. Slathering on a moisturizing cream or Vaseline and sleeping in cotton socks and gloves can do the trick. The socks and gloves hold in moisture and your skin will likely be softer by the next morning.
Sweet dreams!