Do Slenderizing Body Wraps Really Work?
Published: Tuesday, January 18th 2011
in Beauty
---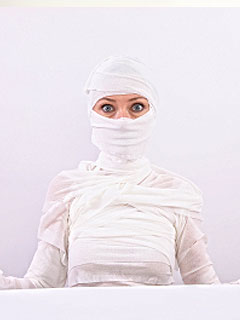 by Susan Crandell
Dirty Dancing is on, and I'm groovin' to "She's Like the Wind," wrapped in linen bandages like I'm planning to play Queen Nefertiti in the big skit-show at the movie's end. I'm rehearsing Grail Springs's Inches Off Mineral Detox Wrap (also called the Hollywood's Red Carpet Mineral Wrap on the spa menu), which on the Canadian spa's website promises to take off at least 10 inches in the first session. I'm doubtful. If it were this easy, we'd all look like Halle Berry.
The Suddenly Slender wrap Grail Springs uses was developed by Victoria Morton in 1969, borrowing an idea from nomads who bathe in mineral springs for health and rejuvenation. With no background in chemistry, Morton hit the books to develop the formula, and her wraps are now offered at more than 200 body-wrap shops and spas worldwide. It's also popular with Hollywood before red-carpet events like the Oscars.
The wrap treatment at Grail Springs (CAD$225) lasts a total of two hours.  You're wrapped snugly from top to toe in sopping wet mineral-soaked bandages. For about 45 minutes, you move around ("to increase circulation"), as the attendant periodically douses you with more mineral water. I'm a fashion nightmare as I shimmy to and fro in my ersatz bandage dress. And I feel constricted but not uncomfortable. When my therapist completes 19 before-and-after measurements (neck, jaw line, abdomen, ankle, you name it), I watch carefully. No, she is not pulling the tape extra taut, and, yes, she is recording the real number. I am astonished to find I'm down more than 12 inches altogether. I know it isn't dehydration, as I didn't sweat during the treatment, and I was offered water to drink.
The wraps have never been scientifically tested, but Morton claims the secret isn't simply compression: "If that were so, every woman who wears a girdle would have slim hips."
I measure my waist the morning after my wrap, and I've maintained a one-inch loss. I'm an empirical-evidence advocate through and through, so I continue to take a skeptical view of long-term slenderizing. But if I had a wedding to go to tomorrow, in a dress that was looking unflatteringly tight, this wrap might do the trick.
Read about the basics of body wraps here.