Spa 101: Introducing Shirodhara
Published: Tuesday, April 20th 2010
in Beauty
---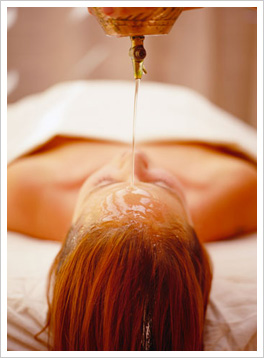 Part of Ayurveda, the traditional medicine of India, shirodhara is the pouring of a thin, steady stream of warm, herb-infused oil onto the center of the forehead. You lie face up while the oil runs from a copper funnel that hands overhead; the therapist may move the apparatus so that the oil falls in small circles or figure eights, and the oil runs off your forehead and into your hair. (If you can stand to leave it in, it works wonders as a deep conditioner.  If not, it's easier to wash out if you lather your hair with shampoo before wetting it.)
Fans say shirodhara is profoundly relaxing, and it has taken off in resort spas—it's the Ayurvedic service most-likely to show up as a feel-good treatment. But purists regard it much more seriously; Ayurveda holds that the center of the forehead is the seat of intuition and spirituality. Traditional Ayurvedic doctors prescribe shirodhara for conditions like emotional disorders, migraines and insomnia and only as part of a closely supervised therapeutic regimen.

The benefits of shirodhara include balance and harmony of the mind, increased memory function, replenishing of the skin's oils and natural luster, and the strengthening of hair.  And, that is not to mention the relaxation of a gentle shoulder and facial massage.
Find spas in your area offering the Shirodhara treatment.