Products We Love: Clark's Botanicals Skin Clearing Face & Body Wash
Published: Friday, August 5th 2011
in Beauty
---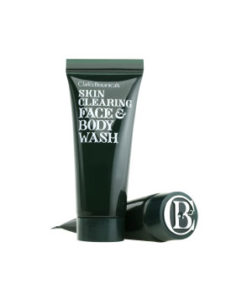 If you're anything like me, your tub is lined with an almost unreasonable number of products or your shower caddy may be weighing down your pipes and showerhead, threatening to maim your plumbing terribly. Yes, every day, new grooming products are introduced to the market with all-new and improved claims of expert, lasting, unparalleled results—and I, personally, usually feel compelled to try them! And thus, a plethora of scrubs, body washes, serums, conditioners, deep conditioners, rinses, treatments, cleaners and the like in varying stages of use litter my bathroom. So when I'm introduced to a product that serves multiple purposes, combining the powers of say, a facial cleanser and exfoliating body wash into one conveniently packaged tube, naturally I cannot resist.
Clark's Botanicals' Skin Clearing Face & Body Wash, an algae-enriched exfoliating formula that's gentle enough to be used on the face, but also works for clearing up body breakouts and ingrown hairs is ideal for anyone looking to maximize their shower storage space without losing the effectiveness of two separate products. The inflammation-fighting formula is packaged in a simple, eco-friendly tube with a convenient twist cap, making it simple to open and close completely. The efficient packaging and two-in-one nature of the product makes it ideal for travel, but the real benefits lie within. Created with the maximum-allowed percentage of salicylic acid without needing a prescription, the cleanser refines skin, minimizing the appearance of pores, while sloughing away dry, flakey skin. Luxurious ingredients like jasminum officinale, willow bark extract, eucalyptus globulus leaf extract, algae and seaweed are so sumptuous, they will leave skin feeling clean and refreshed with a scent to match.
"The algae calms down redness and softens skin, while salicylic acid exfoliates, preventing breakouts and ingrown hairs while fighting the signs of aging," says founder Francesco Clark. And if it means getting to toss two tubes of cleanser to be replaced by one multitasking product, we're all for it!