Products We Love: MËNAJI Skincare 911 Eye Gel
Published: Friday, August 19th 2011
in Beauty
---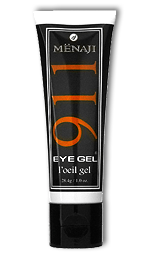 Earlier in the week, in honor of ISPA's annual spa conference, we at SpaFinder celebrated with a fabulous in-office party that industry insiders have come to expect as a reunion of sorts. And like at any good gathering, we sipped cocktails, passed hors d'oeuvres, chatted and shared tips, gossip and laughs late into the evening. And like after any good party, the next morning was a little tougher than usual…
Lucky for me, one of the perks of industry events (when your industry is spa and wellness) is being introduced to all of the top beauty and wellness remedies available. Enter MËNAJI Skincare a skin care line created by beauty expert and makeup artist Michele Probst. Created especially for men to enhance the natural healing properties of their skin, MËNAJI Skincare includes a full line or products including a face and body scrub, aftershave, concealer for covering blemishes and shaving nicks and more. But as I was learning about this line designed for dudes, I was introduced to their 911 Eye Gel. The natural, chamomile- and aloe-based gel was just what I needed the morning after a late night out. A tiny dab under both eyes and just a short time later, my eyes looked brighter and less puffy.
While I'm not a man, my Y-chromosome-less-ness had no impact on the effectiveness of this emergency eye treatment, and I'd recommend it to anyone who's suffering from lack of sleep, puffiness from allergies or who just wants to soothe their under-eye area. I'd also suggest sticking it in the 'fridge for an ultimate cooling effect.
Have you tried MËNAJI products? Let us know what you think in the comments!