Products We Love: SpaRitual In Pink Collection 2011
Published: Friday, July 29th 2011
in Beauty
---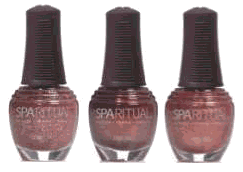 SpaRitual's vegan nail lacquers are more than nail polish. With a theory based on color's physiological power to soothe or invigorate, each three-free (sans DBP, Toluene and Formaldehyde) nail color represents a unique message and is assigned a numerological value and fortune (numerology is a based on the purported mystical relationship between a count or measurement and life) to provide the wearer "a quick mental retreat and moment of contemplation," making every mani a little more meaningful.
But the lacquer line's dedication to being a beauty brand of substance  doesn't end there; this September SpaRitual will release their second annual In Pink Collection, an assortment of three shades of pink ranging from an ruddy shimmer with golden earth tones to a high shine glitter polish that's feminine and dramatic, and all in the name of charity.
The collection of polishes are made with pink diamond powder, giving them a captivating shimmer, and 20% of all proceeds will be donated to Cancer Schmancer, an organization started by Fran Drescher (of "The Nanny") as an early detection and education advocacy program for women. The program's dedicated to helping women experiencing any stage of cancer and fighting it before it progresses. Drescher, a cancer survivor herself, became involved in the cause after being misdiagnosed and mistreated by several doctors. To learn more about the organization and get tips on early cancer detection visit www.cancerschmancer.com .
And remember to pick up your In Pink polishes in "Strength", "Knowledge" and "Clarity" this September.