Varicose Veins Removal Treatments – Explore All Your Options
---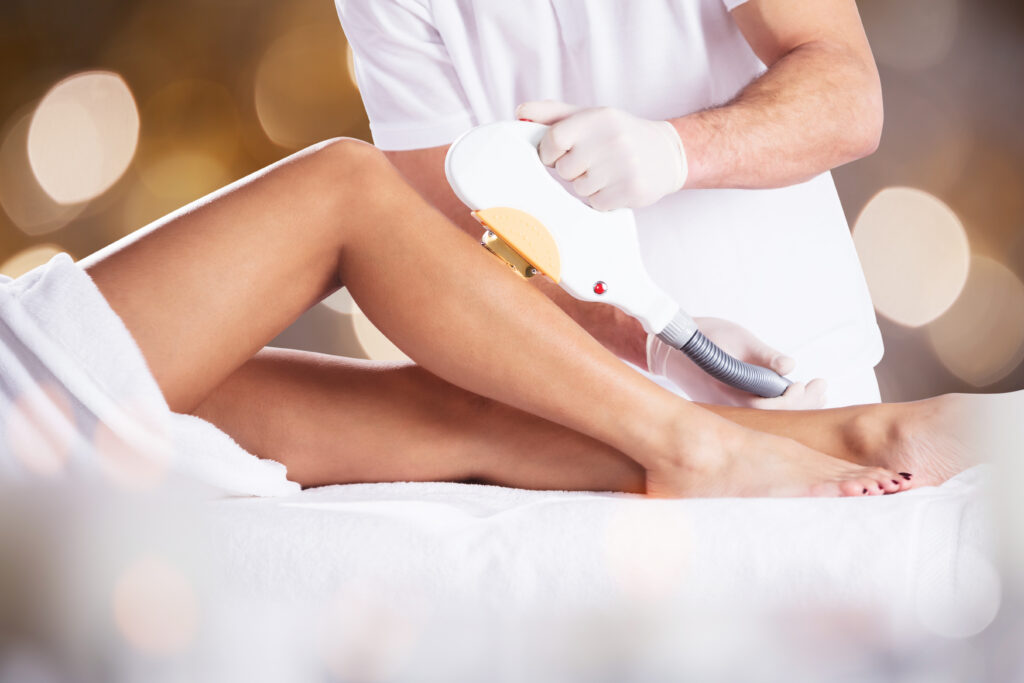 Pain and/or discomfort. Appearance. An increased risk of complications like blood clots. There are options available no matter the reason for wanting to treat varicose veins. Some are cosmetic; others garner lifestyle changes. Keep reading for just a few.
Why Varicose Veins Happen
Experts say varicose veins are usually genetic (weak vein walls run in families). This article from the Spafinder archives explains why varicose veins happen—and 10 tips to prevent them.
Varicose Vein Removal Treatments
First, let's look at six varicose vein treatments that improve the cosmetic appearance of your legs or face. These treatments may also be used to help with pain or medical complications.
Sclerotherapy
Treats: small- to medium-size varicose veins
Treatment: Your practitioner injects a solution into the vein, causing it to collapse and eventually disappear; often delivered in a series of treatments.[1] The American Academy of Dermatology Association (AAD) states sclerotherapy is the most common treatment for leg veins.
Post-Treatment: You'll be able to resume most normal activities the following day. At-home care likely includes daily walks and donning compression socks. Veins should vanish anywhere from three weeks to a three- or four-month time frame.
Radiofrequency ablation
Treats: large varicose veins
Treatment: Uses local anesthesia. Your practitioner inserts a catheter into the vein via a small incision to the skin. A laser or radio waves heat up the vein, causing it to collapse and seal it.
Post-treatment: A compression bandage adorns your leg; however, plan on resuming your everyday activities the next day.
It will take about a year for the treated vein to disappear.
Endovenous laser therapy
Treats: small varicose veins
Treatment: Similar to radiofrequency ablation, except a laser fiber is inserted into the vein.
Post-treatment: Execute most typical goings-on the following day; again, daily walks and compression socks/stockings will probably be part of your post-procedure routine.
The treated vein will vanish in about a year.
Laser therapy
Treats: small varicose veins
Treatment: No cuts or needles necessary: High-intensity laser light delivered directly to the vein closes it off; best done in a series of treatments.
Post-treatment: Potential side effects include discoloration. Carry on with activities the following day whilst sporting compression socks/stockings.
Treated veins may darken but should fade, then disappear within a three-month timeframe.
Ambulatory phlebectomy
Treats: varicose veins close to skin's surface
Treatment: The procedure removes veins through small cuts. Uses local anesthesia, although it is often an outpatient procedure.
Post-treatment: Side effects include temporary bruising and swelling.
Ligation and stripping
Treats: severe varicose veins
Treatment: Tying and removing of veins through small incisions to the skin; anesthesia used, although it is commonly an outpatient procedure.
Post-treatment: Legs will likely be wrapped in bandages, and compression socks/stockings are the norm, along with daily exercise. Recovery time is anywhere from one to four weeks. Side effects may include swelling, bruising, discomfort and discoloration.
Prevent New Varicose Veins with Lifestyle Changes
While the following lifestyle changes won't eliminate existing varicose veins, they can help prevent new ones, according to the AAD.
Wear compression or support stockings
Exercise or lose weight
If you sit down too much (i.e., lengthy office hours), walk
Or on the opposite end of the spectrum, if you stand too much, sit every half hour or so
Elevate your legs
Avoid crossing legs while seated
Good to Know Before You Choose a Varicose Vein Treatment
Check with your insurance company; many will cover varicose vein treatments.
Undergoing a physical exam prior to treatment is recommended.
---
[1] https://www.spafinder.com/blog/health-and-well-being/spa-wellness-glossary/#s