What Is An IPL Treatment–and Is It Right for You
---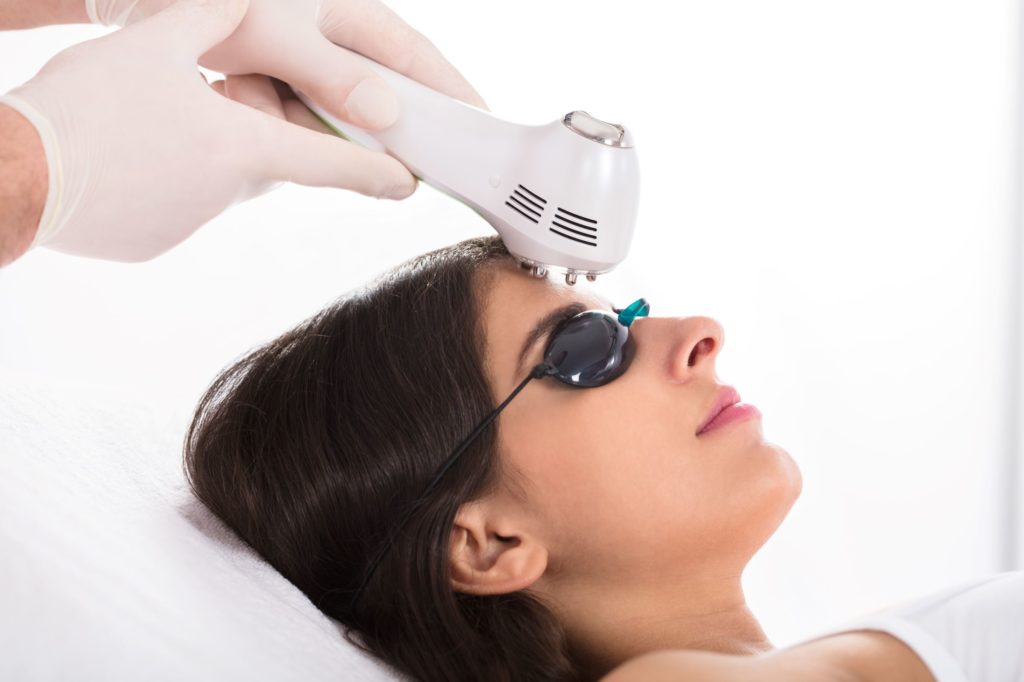 IPL, intense pulsated light, photo facials, laser treatments: what's the difference between these high-tech beauty treatments–and which one is best for you? Here's a quick look at how these popular procedures work, what to expect and the ones to avoid, depending on your skin type.
Intense Pulsated Light, IPL and Photo Facials
First we can take the mystery out of intense pulsated light, IPL and photo facials because they are all the same. During an IPL treatment, the clinician directs small blasts of a polychromatic, high-intensity light towards your skin. This pulsating light stimulates the melanin just below your skin's surface, which is the root of pesky age spots and broken capillaries. After your skin repairs the damage, you will see evener skin, with less spots. IPL also boosts the production of collagen and elastin–the skin-plumping miracles that help us looking fresh and healthy.
IPL or photo facials are most effective in a series of treatments, administered about a month apart.
Laser Treatments
There is a wide array of laser treatments for skin, from traditional lasers, to Fraxel, to CO2 ablative lasers and non-ablative lasers, to name a few. Basically, lasers are a form of skin resurfacing or anti-aging procedure used to even skin tone, reduce hyperpigmentation, remove acne scars and build collagen. The laser technique directs short, concentrated pulsating beams of light at irregular skin, removing the damaged skin. A new layer of fresh skin then grows. Lasers are on a specific wavelength to target a single condition. (We'll be writing more about lasers in future posts.)
What to Expect from Your IPL Treatment
While not as specific as a laser, photo facials or IPL treatments are an effective all-purpose treatment. For best results, dermatologists and clinicians recommend a series of treatments over a period of months. IPL can be somewhat uncomfortable but a photo facial is generally less intense than a laser. Your clinician may put a cooling gel on your skin–and be sure to speak up if the procedure is painful. Everyone has a different pain tolerance.
In general, photo facials are effective for people with light skin who have sun damage, broken capillaries, and some lack of firmness and want to treat all three at the same time. In addition, IPL is usually a bit cheaper than a laser treatment.
Not for Everyone
Dermatologists note that people with darker skin tones should talk with their doctor before getting IPL. Dark skin absorbs light energy more easily and a photo facial could result in hyperpigmentation, blistering or even burns. There may be alternative treatments that get results with less risk. [1]
Good to Know
IPLs are not used to remove tattoos and your clinician should avoid any tats that you'd like to keep. Also, be sure to ask about your esthetician's training and experience. In other words, she should have a license, specific training beyond the manufacturer and experience.[2]
Find IPL or photo facial treatments at day spas and salons near you.
---
[1] TripSavvy, "IPL (Intense Pulsed Light) Treatment," Anitra Brown, May 2019
[2] Ibid