Which Type of Chemical Peel Is Best for You?
---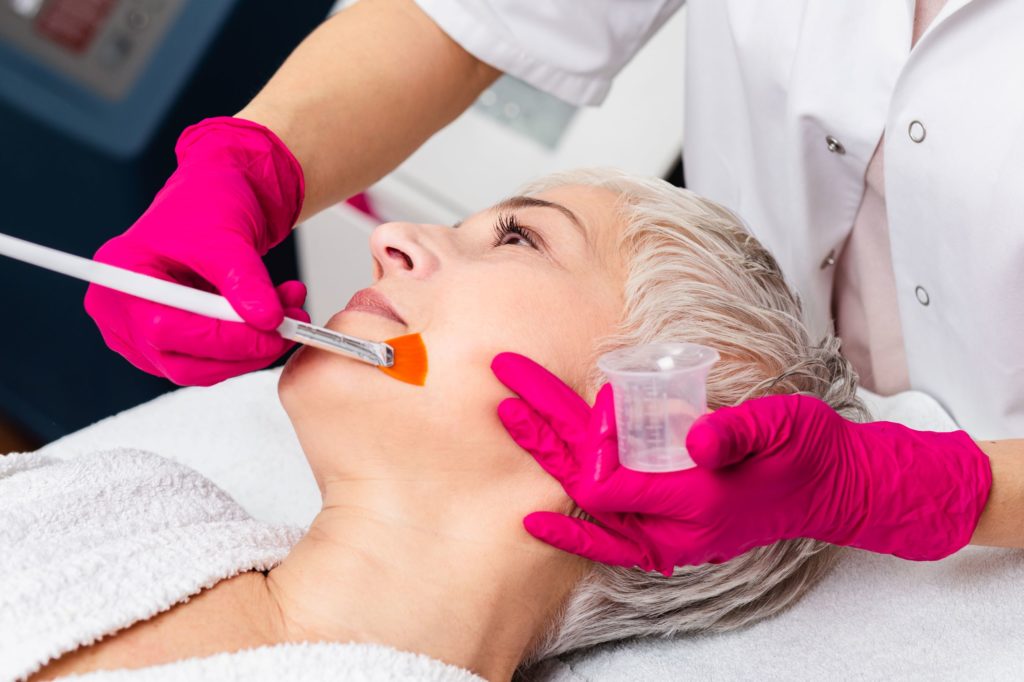 Chemical peels are a type of exfoliation used to treat wrinkles, improve dull skin and reduce dark spots and sun damage. There are three basic types of treatments: the refreshing or "lunchtime" peel and medium or deep peels, which are performed by a dermatologist or plastic surgeon. Depending on your goals, all are effective but there are major differences. Read more to discover what to expect—and to choose the best chemical peel for you.
First, Who Should Get A Chemical Peel?
Peels generally work best on people with fair skin and lighter hair. They can also be very effective for people who are older or haven't been exfoliating. However, if your complexion is darker, be sure to discuss the treatment thoroughly with your esthetician or dermatologist before scheduling. You could be more likely to experience uneven skin tone.[1]
In addition, if you're looking to correct severe wrinkles or sagging, don't expect miracles from a chemical peel. Other cosmetic treatments, such as laser resurfacing or fillers, may be more effective.
How Chemical Peels Work
Chemical peels exfoliate your skin with an acid that dissolves and removes dead cells on the surface, revealing younger cells below. Light peels only exfoliate the outermost layer of skin, called the epidermis. Medium and deep peels go into the skin's dermis (living tissue) and require more healing time. How acidic the peel is and how long it stays on your skin determines the strength.[2]
According to the American Academy of Dermatology Association, there are three types of chemical peels. Here's what to expect.
Light or Lunchtime Peel
This refreshing peel is often called the lunchtime peel because beauty lovers can have a peel at a day or medical spa on their lunch hour. There is little or no downtime and an esthetician will typically perform the treatment. (Estheticians can only work on your skin's outer layer or epidermis.) You can expect to have smoother and brighter skin.
• Expect to have some redness and possibly light scaling for one to seven days.
• Apply lotion or a special cream daily until your skin heals. And be sure to use sunscreen!
• It's usually ok to start using makeup the same day of your peel.
• You may need a series of peels to get the results you want. Wait two to five weeks between peels.
Medium Peel
A medium chemical peel is just what it sounds like: not as intense as a deep peel but usually more effective than a light peel. A dermatologist or plastic surgeon at a medi-spa or medical office supervises this type of chemical peel.
• Your skin will be red and swollen for one to two weeks. Swelling will be more intense during the first 48 hours.
• Expect your skin to crust and peel off during this period.
• Your doctor will recommend daily soaks and treatments with special ointments and prescribe an antiviral medication.
• Avoid the sun until you heal!
Deep Peel
A deep chemical peel is a serious procedure for people looking for serious results. This type of peel penetrates deep into the skin and must be performed by a licensed physician.
• A deep peel takes 14 to 21 days to heal. Your doctor will bandage the area.
• She will recommend four to six daily soaks while you heal. You will apply an ointment after each soak.
• Do not wear makeup for 14 days.
• You will take an antiviral medication.
• Your doctor will schedule follow up visits during the first week.
• Avoid the sun completely for three to six months.
What to Expect
The medical experts at the American Academy of Dermatology Association note that you may need to follow a skin care plan for two to to four weeks before your chemical peel. Your dermatologist will let you know if this is necessary.
• When it's time for your peel, first, the clinician or doctor will clean your skin.
• If you are planning a deep peel, you will be put to sleep with a general anesthesia.
• The peel is applied quickly and evenly and removed at the time that's best for you.
• After the peel, follow the recommended procedures (see above).
There is some downtime after a medium peel and a deep chemical peel means recuperation at home for two to three weeks.
If a chemical peel is appealing (we couldn't resist the pun), we suggest starting with a light peel to see if you like the results. You can always work up to a medium or deep peel, which are more serous procedures.
Find chemical peels near you.
Send the gift of beauty with a Spafinder Gift Card.

---
[1] WebMD, "Chemical Peels and Your Skin"
[2] TripSavvy, "What is a chemical peel and what does it do for your skin," Anitra Brown, Updated May 2019