11 Ways to Prevent (& Treat) Annoying Maskne
---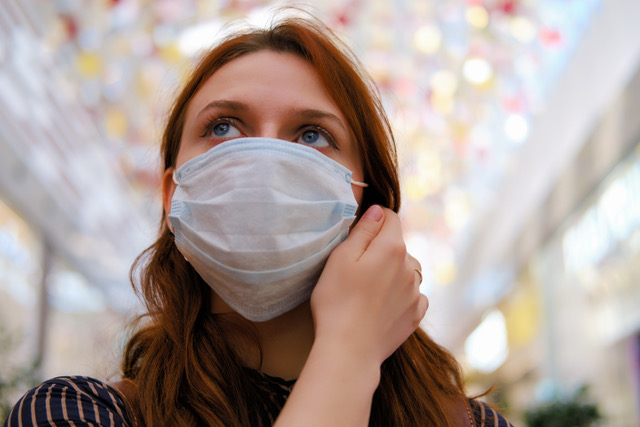 If you haven't yet suffered from maskne (aka mask acne), you're a.) lucky or b.) the exception. Wearing masks nearly round the clock (or at least far more than you ever have) can result in breakouts, rashes, dryness, peeling, redness or irritation…the list of skincare woes goes on. And if you have a preexisting skin condition, you're possibly further exacerbating it—or (maybe worse?) causing new issues in the process. (And, not-so-fun fact: It may not even be maskne you're contending with—it could be contact dermatitis caused by something as minor as your mask fabric. Sigh.)
But here's the deal. We all have to do our part. Therefore, continue to wear your mask to protect yourself and others—we can't emphasize this enough. But don't suffer from maskne or the like because of it. Implement these skincare tips to put your best face forward (even behind a mask).
How to Prevent Mask Acne
Pare down on the skincare products. Does your everyday regimen incorporate a cleanser, toner, three types of serum, a moisturizer…etc.? Lessen the number of products and go simple, at least for the time being. A gentle cleanser (we're digging micellar water at the moment) and moisturizer (preferably one devoid of fragrance) is currently all you need.
Same goes for cosmetics. Eliminate makeup as much as possible to let your skin breathe.
Keep your mask as clean as you can. Think about it: The outside layer of your mask is exposed to environmental elements and stressors; the inside's caked with your oil, dirt and sweat. Um, gross. Wash your mask(s) on a regular basis. Try a fragrance-free, hypoallergenic, mild laundry detergent.
Nix the new beauty products. Stick to what you've been using (scaled back, of course—see item #1) and what works for you. Niacinamide? AHAs? Retinol? If you've never used these before, probably not the greatest idea to begin now. And if you do apply skincare active ingredients such as these but are seeing more irritation, consider lessening your dosage or usage.
Do your best not to stress, as it can trigger breakouts. We know it's tough right now, but try to remain relaxed.
Take a tip from the American Academy of Dermatology (AAD): Schedule a 15-minute "mask break every four hours" (if you're able, of course). And only remove said mask after you've washed your hands.
How to Treat Maskne
Apply the proper products. It's no secret we're huge fans of Dr. Jart+, and the skincare brand has now added a "maskne essentials" section to its site. Among its product lineup? The Focuspot™ Blemish Micro Tip™ Patch with Vitamin B3.
Spot treat with an over-the-counter benzoyl peroxide.
The AAD also offered its take on how to curb face-mask skin issues by applying moisturizer before and after wearing your mask. Choose a moisturizer appropriate for your skin type. For example, those with acneic or oily skin should opt for a gel moisturizer; those with normal/combo skin can select a lotion form, while the drier skin types should use a cream. Moisturizers containing ceramides, hyaluronic acid and dimethicone are a good choice.
Wash your face before putting on your mask and after taking it off.We'll reiterate the gentle cleanser here; and if you possess an acneic or oily complexion, purchase one containing salicylic acid.
If skin irritations don't heal or remain a concern, consider calling your dermatologist.