Quarantine Countdown – DIY Hair Coloring
---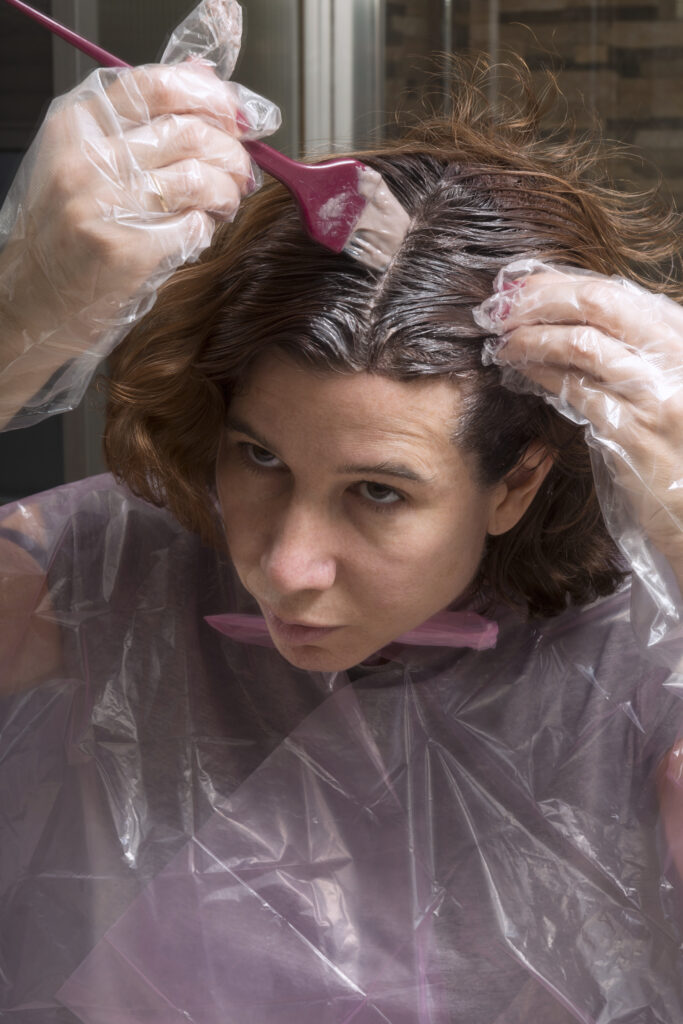 It's coronavirus-quarantine-whatever-week-we're-on, and our roots. are. no. joke. Our hair stylist will have her hands full once we're able to return to our regular salon appointments. (Fingers crossed the roots fade to a beautiful ombré effect, but we're not banking on that.) So we've decided to brave DIY hair coloring. Because COVID-19 may be making us self-isolate, but it's not going to make us forget about self-care.
Who's on board for this at-home beauty treatment? Tips ahead:
What You Need for At-home Hair Touch Ups
A protective cover you don't mind getting stained. An old shirt, cape, maybe a towel to wrap around your shoulders (tuck into your shirt collar if you don't have a clip).
An old sheet or towel to protect your sink, tub or bathroom floor
A mixing bowl and color brush (preferably like the ones hair stylists use at salons)

Many experts suggest disregarding the bottle applicator that comes with most boxes of hair dye. Opt for a color brush for more natural-looking, precise results.

4 hair clips for sectioning
The color itself. And you have options!

Or search online for coloring options. There are amazing sites like Madison-Reed and esalon.com that provide custom at-home hair color delivered to your door.

Reach out and see if your stylist suggests a product or formula. Or, if he/she is willing to whip up your usual formula (most likely they have it on file), so you can pick it up. Find your hair salon in the Spafinder network.
Helpful Tips for Touch Ups
When buying boxed hair color, purchase not one, but two—especially if a.) your locks are thick or b.) cascade past your shoulders.
So many colors…which dye to choose? Here's a fantastic hair tip from Allure: Those with frizzy or curly hair should pick warm hues like golden, copper or bronze—but one that's a little bit lighter than your natural hair color. Those sporting fine or straight hair should select cooler hues (champagne, beige) that are a tad darker than your natural color.

What definitely not to do: Try anything drastic like a complete color change—leave the experimenting to the salon professional.
Swipe a thin coat of Vaseline along your hairline to stop dye from staining your skin. Fresh, brightened up tresses: Perfection. A stained forehead: Not cute.
Your hairline should be clean…your hair not so much. Dye unwashed hair only. Why? Natural oils act as a protectant against irritation, plus, clean hair doesn't hold color as well.
Brush hair to rid it of tangles. (And if you're highlighting hair, run a comb through it to create its natural part.)
Divide hair into four sections for accuracy (especially in the back where areas can be easily missed). This goes for both all-over-color and highlights. This Madison Reed video provides a good tutorial:
Ace the strand test. Before you go full-on hair dye happy, apply color to a tiny section of your locks to a.) see how the color reacts and b.) to determine proper timing.
Looking for natural, subtle highlights? A (clean) toothbrush or a paintbrush does the trick if you don't have a salon-style color brush.
Deep condition hair immediately upon rinsing the dye to seal the color.
Have a family member help, Brad Paisley style.
Now if the thought of DIY hair coloring gives you anxiety, try a root spray like Rita Hazan Root Concealer Touch Up Spray ($25) or Garnier Express Retouch Instant Gray Hair Concealer ($9.99). Spray or dab on hair and go about your business.
SPAFINDER LIVE!
Spafinder is supporting wellness at home with classes in meditation, yoga and more. Check out the SPAFINDER LIVE! April calendar.
Special occasions call for Spafinder. Gift today, spa tomorrow.