Bachelorette Spa Getaways, Bridal Boot Camp and Planning Tips
Published: Tuesday, May 10th 2011
in Fitness
---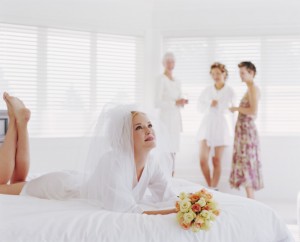 Whether your wedding plans are winding down or they're in the works, we encourage you to say "I do" to SpaFinder's bridal and getaway spa tips before your walk down the aisle.
Before You Get Hitched, Get Some Girl Time

• Bachelorette Spa Getaways: Spend some serious relaxation time with your fave girls by booking a trip to a spa resort, hotel or destination spot. What better way to melt away pre-wedding jitters than by socializing and spa-ing with your besties? Whether you're looking for a beachfront oasis where spa and surf coincide, an action-packed adventure vacation or a more-secluded yoga retreat, there's a spa getaway to accommodate any type of bride. Read our list of top bridal/bachelorette getaways. Plus, visit the Group Specials section on SpaFinder.com.
• Not sure if you can steal some time away before your ceremony? If your schedule doesn't permit an overnight stay at a spa resort, celebrate your upcoming nuptials by setting a date with your BFFs at your local spa. Many day spas are happy to accommodate groups or bridal parties, providing one or two treatments to each guest, offering discounts of 10%-15% for groups larger than four or six and designating a common area for just the party-goers. Some spas are even open to hosting the event or allow renting out the entire facility. (Quick tip? Inquire with the spa if champagne is available to toast the bride-to-be. If not, consider bringing your own!)
• Just because you're married doesn't mean you have to miss out: For a new twist on bachelorette or bridal spa parties, reunite with your former bridesmaids and have a ball!
Tone Up Before Tying the Knot
• Your wedding may just be the best motivation to get in shape (with class reunions coming in a close second!). To look and feel your best from the inside out, sign up for classic or less traditional wellness classes such as yoga, spinning, Pilates and Zumba, or opt for a personal training or nutrition consultation.
• Military-style Bridal Boot Camp, found at resorts like Amansala Bikini Boot Camp in Mexico, is another amazing workout, aimed at shedding pounds and boosting energy. Bring along your girlfriends, your groom or your bridesmaids and it's bound to be a good time.
Stress-Free Planning Tips to Suit Any Bride
• Decompress with a massage. It not only helps you unwind, it's healthy. Find the best type of massage for you.
• Skincare services should be performed more than a few days prior to the special day (mainly due to the fact that you may have an allergic reaction to lotions or creams and because many facials draw out impurities, therefore initiating breakouts that might take some time to clear up.) SpaFinder's facial guide can give you a better idea of the different skincare treatments spas offer, or ask your esthetician what he/she recommends; a series of treatments may be in order to give you a radiant complexion. The same goes with waxing – it's also recommended one week prior to the wedding.
• A glowing sun-kissed complexion is oh-so-pretty on your wedding day. Achieving it by hitting the tanning bed? Not so much. Instead, opt for a sunless tan applied via a spray-on booth or by an esthetician (many spas/salons have different levels of spray to accommodate your skin tone, from subtle, golden glow to deep bronze.
• Many spas/salons feature bridal makeup and hairstyling services. Schedule trial consultations with plenty of time in advance (usually about six to eight months in a big city), and, if you're wearing a veil or tiara on your wedding day, bring it with you to the salon.
• Get your pearly whites even brighter for those wedding pics with teeth whitening procedures (see SpaFinder's complete list of dental spa partners as well.)
We cordially invite you to check out SpaFinder's Bridal Spa Guide for additional tips.