All in the Family Wellness
Published: Monday, May 21st 2012
in Fitness
---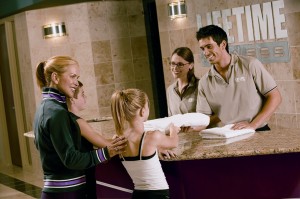 Spafinder is deeply rooted in the concept of family wellness. One of the ten trends we identified in the Spafinder's 2012 Spa Trend Report™ was called Spas Become a Family Affair.
"Now that spas are broadly associated with wellness (rather than fussy 'grown-up' pampering), far more families, and many concerned about the growing childhood obesity epidemic, want to get their spa-on together….
As more families travel with children to spas, the industry is evolving to accommodate the under-18 set – from opening kids-only spas to offering services focused on everything from childhood obesity to the development of lifelong wellness practices," the trend report says. "Whole families are spa-ing together, and more spas are finding creative ways to welcome the entire clan."
Because we here at Spafinder live and breathe the art of wellness, and we encourage you to flex your muscles with a different family-style spa approach: bringing the little ones to the spa, fitness center or yoga studio has the potential to truly make a difference. Among other advantages, family spa-ing teaches kids the importance of wellness at an early age and, vice versa, reminds adults that it's never too late to jump start or maintain a fit lifestyle. Family wellness also inspires and demonstrates a healthier self-esteem and body image.
One spa who is leading the way is Rancho La Puerta, whose "Summer Camp" Family Weeks (August 4-11, 2012 and August 11-18, 2012; for children seven years of age and older) will "welcome a new generation of families." The Family Weeks initiative marks a return to what was once a regular event at the Ranch, according to Sarah Brightwood Szekely, president of Rancho La Puerta and daughter of founders Edmond and Deborah Szekely.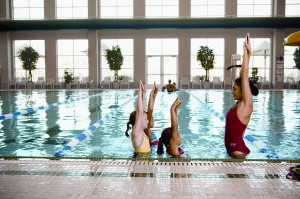 "When I was a child growing up here [at Rancho La Puerta] there were kid's programs throughout the school holidays… Summers at the Ranch were spacious, informal and lots of fun.
Many of the children returned year after year, and we became a community," Sarah says. Kids haven't been a strong presence in recent years at the Ranch, though a lineup of summer camp-esque activities combined with learning experiences are bound to draw and impress a younger crowd.
Life Time Fitness, under the motto "healthy way of life," is another excellent example; the brand provides communities an outlet to reach their wellness goals via large sports, professional fitness, family recreation and spa destinations in North America, many of which operate round-the-clock, seven days a week, so fitness devotees can get their exercise on 24 hours.
As its name suggests, Life Time Fitness caters to all ages and plants the seed of practicing a healthy lifestyle early, from babyhood on: Progressive, unique programming takes a proactive, educational approach with school break camps, swimming lessons, sports and fitness classes, rock climbing, childcare centers and even kids' tri series swim-bike-run events in select cities.
There are 105 Life Time Fitness locations in the U.S. and Canada – find one in your area!