How Not to Look Like a Hot, Sweaty Mess: 3 Tips to Get Post-Workout Pretty
Published: Thursday, February 14th 2013
in Beauty
---
By Wendy Toth
Have a dinner date after your favorite fitness class, or just trying not to look like a sweaty, hot mess after a workout? Because we know how fitting in a long workout can mean less time to primp before leaving the gym,  we talked to the spa team at Rancho La Puerta in Baja, California, to find out how we can refresh the way we freshen up post-workouts. Try these tips – who said you can't have it all?
Hair: Go Ballerina
Post-workout, try pulling your hair up into a high ballet bun or ponytail; it's the best way to make gym hair look chic, especially if you don't have time to shower.
Longer-haired ladies: Go for a topknot! Those of you with shorter hair can pull it into a low ponytail and twirl that into a low bun – secure it with pins. Super-short-haired styles just need a skinny headband or two.
Tip: Try the Twistband to look pulled together.
Makeup: Mineral Makes It Easy
Rancho La Puerta just started selling the Jane Iredale mineral make-up line, which offers natural and long-wearing make-up for all skin types.
Apply a skin-evening concealer along with blush and eye color to make your features pop without spending a lot of time on application.
Tip: The Jane Iredale starter kit is a Rancho La Puerta favorite. It has all the necessities and is small enough to carry around in your gym bag.
Body: Hydration = A Beauty Basic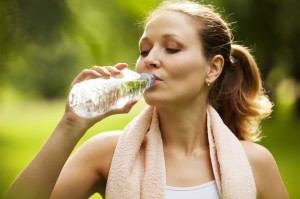 Drinking water helps your skin maintain a healthy glow. Stay hydrated before, during, and after your workout to look and feel your best.
Tip: No matter the time of year, avoid direct contact with the sun and apply sunscreen.
You might also like:
Best Foods to Eat Before & After a Workout
10 Fitness Tips for Women on the Go
3 Skin Benefits of Exercise, Plus Post-Workout Skin Care Tips
Eat Your Water: Debunking the "8 Glasses of Water" Myth
Cindy Barshop Explains How To Keep Skin Healthy and Hydrated