IM=X Pilates 101
Published: Saturday, March 12th 2011
in Fitness
---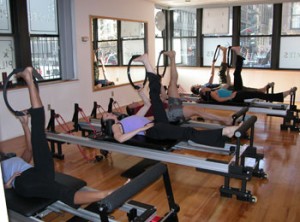 X marks the spot in midtown Manhattan for Pilates enthusiasts who want to stretch their workout routine. IM=X, short for integrated movement xercize, maintains the classic Pilates principles of muscle toning and lengthening while going mano a mano with strength and cardio training for a more athletically oriented workout. Get prepared to practice Pilates moves with resistance training and plyometric jumps, and work it out on the IM=X Pilates reformer, or the Xercizer, with sequences that target your hips, legs, abs, spine, upper back, arms, and more. Reform school has never been so fun.
And with IM=X Pilates locations in New York and New Jersey now part of SpaFinder Wellness Week™, you can be on the fast track to reaching your fitness goals – at lean prices. This fitness formula is tailored toward all body types, levels, and ages, and offers programs designed for weight loss, athletes, pregnancy, golf, and back pain.
The said benefits of IM=X Pilates:
• Increases flexibility, endurance, muscle tone, and range of motion
• Strengthens the spine, abdominal core, and muscles
• Boosts metabolism
• Improves posture
• Converts fat to lean muscle mass
Find Pilates studios offering deals during Wellness Week™, March 21-27!