Sprint and Soothe: Sports Massage for NYC Marathoners
Published: Tuesday, October 25th 2011
in Fitness
---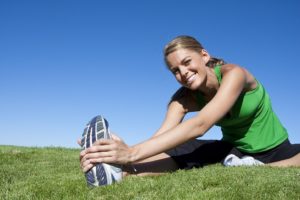 November 6, 2011 will mark the 41st year in the history of the New York City Marathon, where thousands of runners from around the globe come to New York City to huff and puff to the tune of 26.2-miles. Sponsored by ING and broadcast live on NBC, the marathon routes participants through New York's five boroughs. While the schedule of events, which begins Sunday, October 30 and runs through Monday, November 7, includes a marathon kickoff, health and fitness expos, fireworks and an International Taste of Travel event, one important item that seems to be left off is relaxation – both pre- and post- push to the finish line.
Sports massage is not everyone's go-to treatment, but for more active patrons, it could be. With possible benefits such as improved fitness endurance and performance, increased flexibility and recovery time, and injury prevention – we suggest stopping into one of the city's many spas that offer the treatment, before or after the marathon (or even just a hard workout at the gym). Traditionally, sports massage is a deep-tissue massage that targets the deepest layers of muscle, in order to stimulate blood flow.  It is best done before or after the event as a means to later restore or rehabilitate.
Faina European Day Spa, in Midtown West, offered some great insight on the benefits of Sports Massage;
Pre-event
Deep Tissue or Sports massage is given within the four hours preceding an event to improve performance and help decrease injuries. It is used as a supplement to an athlete's warm-up, to enhance circulation and reduce excess muscle and mental tension prior to competition. It is normally shorter (10-15 minutes) than a regular conditioning massage, and focuses on warming-up the major muscles to be used, and getting the athlete in a good mental state for competition. It also improves tissue pliability, readying the athlete for top performance. Certain massage techniques can help calm a nervous athlete, and others can be stimulating.
Post-event
Post-event sports massage or Swedish is given after a competition and is mainly focused on recovery. It is geared toward reducing muscle spasms and metabolic build-up that occur with vigorous exercise. Recovery after competition involves not only tissue normalization and repair, but also general relaxation and mental calming. A recovery session can range from 15 minutes to 1.5 hours in length.
Looking to Sprint and Save? Many spas in the New York City area offer sports massage and even if it's not in prep for or after the big marathon, it is an excellent massage option for someone with an active lifestyle.
Revitalizing Body Treatment 1 Hour 30 Min regular $165.00 Special $132.00
Post-Marathon – Full body exfoliation of dead skin cells, to increase circulation and improve skin tone Followed by an Anti-Stress body massage to relieve stress and sore muscles, and restore balance to your body and mind
Deep Tissue Massage 60 Min regular $110.00 Special $95.00
Pre-Marathon -Focuses on realigning deeper layers of muscles and connective tissue. It is especially helpful for chronically tense and contracted areas such as stiff necks, low back tightness, and sore shoulders.
Anti-Stress Swedish Body Massage 60 Minutes regular $95.00 Special $80.00
Post Marathon -This treatment will relax the entire body, relieve stress and sore muscles, increase circulation and restore balance to your body and mind.
From October 19 – November 15, 2011
Forever Young Sports Spa,
Forever Young Sports Massage – Forever Young Sports Massage – This 60 minutes deep tissue massage designed to support all levels of athletic activities by targeting specific muscle groups. Firm gliding pressure is coupled with oscillating pressure allowing deep muscle spasms to be treated with sustained static pressure until muscles release and regain their normal resting length. This massage is a must for pre and/or post workouts. Pre workout = it prepares muscles and joints for strenuous workout with minimal chance of injury and soreness. Post workout = it flushes out post workout toxins and assists with rapid recovery which ultimately allows individual to maximize athletic performance.
YeloSpa
Sports Massage therapy that helps minimize fatigue, enhance recovery and alleviate pain associated with sports and other physical activities. Our sports massage therapists can also help you prevent injury with flexibility-increasing massages. Our sports massage also helps rehabilitate and restore muscle function.
Lia Schorr Day Spa,
Sports Massage – For anyone who works out, plays a sport or plans to, this massage will help remove excess lactic acid from the body system .You will leave with muscles and tissue in top condition. A great way to relieve or prevent aches and pains. 50 minutes.
Dorit Baxter New York Day Spa,
The sports massage skillfully uses trigger points to release lactic acids that's trapped in the muscles during exercise. It also includes compressions and strokes to reduce fatigue and reenergize the body. The sports massage is recommended before or after exercise/physical activity.