Gyrotonic Unraveled: Help Your Body Massage Itself
---

Is it a dance move? Something to do with Middle Eastern sandwiches? Partly relating to dance, but nothing to do with sandwiches, Gyrotonic is a form of exercise that incorporates the principles of dance, yoga, tai chi, gymnastics and swimming, and uses system-specific equipment that focuses on strength, flexibility, coordination and range of motion. Fluid movements and a focus on breathing are a key component in Gyrotonic exercise, which makes it popular with dancers, especially. But even if you're not a classic ballerina, you too can reap the benefits of Gyrotonic.
While the exercise focuses on the core, just like Pilates, Gyrotonic also incorporates musculature, as well as skeletal orientation with hands, feet, arms, legs, ribcage and pelvis assisting in the exercise, creating not only stability, but mobility. This makes Gyrotonic not only a fun and productive way to exercise, but an alternative form of physical therapy or rehabilitation for many as well.
"Gyrotonic is unique in the way it opens up the physical structure of the body and, at the same time, promotes awareness, physical ease, comfort and a reconnection to nature," says Billy Macagnone, Gyrotonic instructor and owner of BodyEvolutions Studio in New York City. "Unlike the movements of most conventional exercises, all Gyrotonic motion patterns are natural, turbulence-free and pure. This bridges a gap between contraction and extension through the rotating movements of the joints."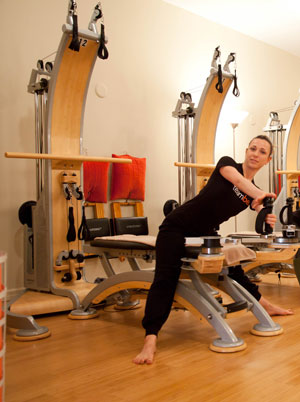 As I tried out one simple movement on the pulley tower unit, the piece of equipment on which the foundation of the work is done and what a newbie uses to start with, I felt as though my back was massaging itself as I moved my body forward, one vertebrae at a time, while using the machine to guide my arms in a circular motion (like what the instructor is doing in the image to the left).
"As the spine opens up and gets stronger, you start to reclaim space and some people actually get one to two inches taller," Macagnon tells me. "After a session, one feels 'lighter on their feet,' so to speak; a new home in their body or a sense of being more comfortable in the body. All daily movements become effortless and soon you start to feel the joy that comes from being able to move freely in a non-restricted fluid body. Gyrotonic exercise simultaneously stretches and strengthens the entire body with minimal effort. We treat the body as a whole biological unit and make sure all aspects of the body become more alive and well as a result of the practice."
Some things to know:
–          The system works in what is called "The Seven Progressions." These progressions are introduced in a very A, B, C, fashion where each progression leads to the next and fully supports the strengths of the body and how to build on them progressively and safely.
–          There are over 300 different exercises on the pulley tower alone. As you progress, it is important to always vary the exercises (within the progressions) in order to promote and stimulate growth, and continue to add intelligence to the body as a whole.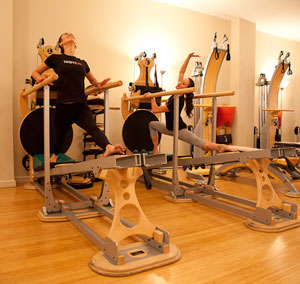 –          For muscle memory to kick in, and also for regeneration and reorganizing of the cells, Macagnon says practicing Gyrotonic two times a week is best.  If people can only come once a week, his team always gives homework to do in between sessions so to help the process.
–          You won't burn a lot of calories from Gyrotonic. "Most high impact exercises, like running, burn lots of calories but then do damage to the body in the long run," Macagnon says. "We deal with lots of runners who suffer from many bone-joint problems from the years of impact on the body."
–          While you won't burn a significant amount of calories for weight loss, "when your body is alignment what weight you do have on your body is draped more evenly over the bones, so you appear longer and leaner even though the scale has not gone down," Macagnon says.